Market Snapshot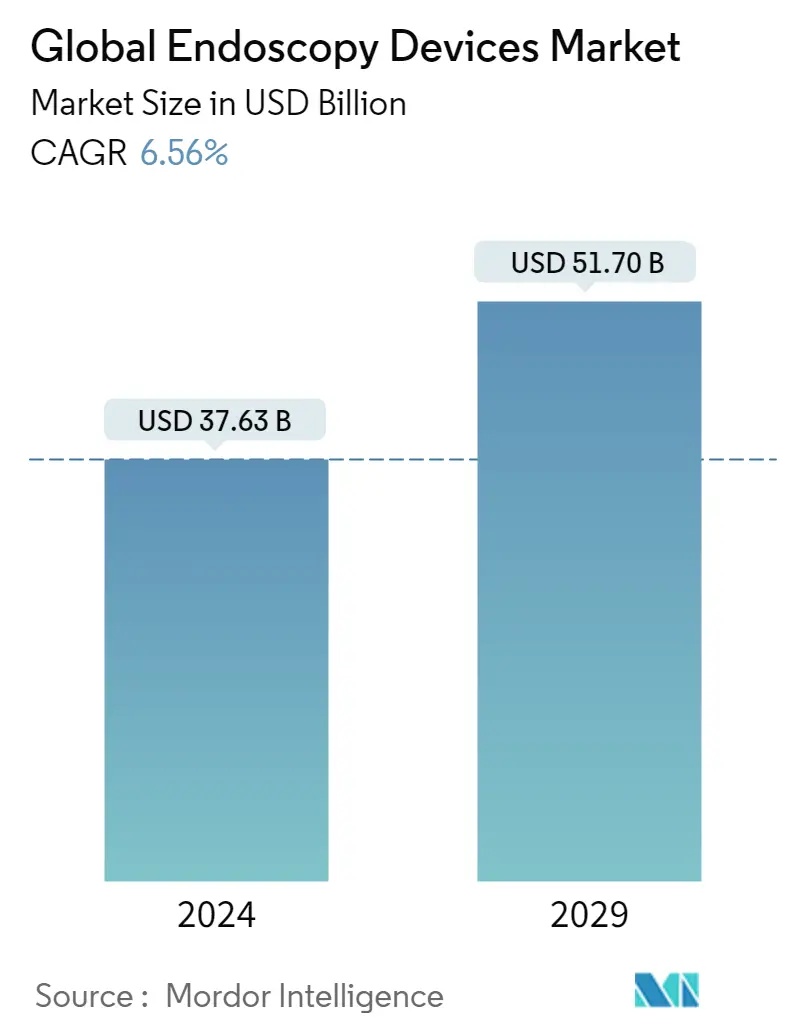 Study Period:
2019-2027
Base Year:
2021
Fastest Growing Market:
Asia Pacific
Largest Market:
North America
CAGR:
6.5 %
Need a report that reflects how COVID-19 has impacted this market and its growth?
Market Overview
The Endoscopy Devices Market is poised to grow at a CAGR of 6.5% during the study period, 2022-2027.
The COVID-19 pandemic led to disruption in not only the research and development activities of other therapies and drugs for medical conditions other than COVID-19 but also impacted the treatment procedures and supply chain of the medical devices around the world which also impacted the studied market of endoscopy devices. According to the article "Guidelines for Robotic Flexible Endoscopy at the Time of COVID-19," published in February 2021, due to the COVID-19 pandemic, endoscopic procedures were significantly reduced to acute, urgent cases. In addition, endoscopic procedures currently rely on patient protective equipment, comprehensive room, equipment cleaning, and air circulation, which varies from endoscopy suites, thus impacting the studied market during the COVID-19 pandemic.
Moreover, due to the current COVID pandemic, robotic-assisted flexible endoscopy intends to improve the patient's exam tolerance because, with robotic assistance, the physician can manipulate the flexible endoscope within a certain distance, thus reducing the chances of causing infection. According to the article, "Technology Can Make Endoscopy Safer," published in October 2020, a combination of new technologies, such as robotics and computer vision, can help improve the situation of colorectal cancer, the third most common malignancy globally. The robotic flexible endoscopic system can be used for endoscopic applications where navigation in unstructured environments requires bronchoscopy, pancreatic endoscopy, and gastroscopy as these diseases need urgent treatment during the COVID pandemic. Thus, above-mentioned factors indicate that the studied market had signiifcant impact on the studied market.
The growing preference for minimally-invasive surgeries, increasing adoption of endoscopes for treatment and diagnosis, and technological advancements leading to enhanced applications are the major factors leading to the growth of the market studied.
Minimally invasive surgeries (MIS) cause less post-operative pain, and hence, patients receive smaller dosages of pain killers. As there are minimal cuts or stiches involved, the hospital stay is relatively shorter, and patients need not visit the hospital frequently. Currently, people are showing interest toward the minimally invasive procedures rather than opting for traditional open surgeries that involve long incisions made through the muscles, and these muscles take a considerable amount of time to heal. Minimally invasive surgeries (MIS) involve smaller incisions, leading to quicker recovery. In addition, the body scars involved in minimally invasive surgeries (MIS) are barely noticeable. The main advantage of minimally invasive surgeries (MIS) over the traditional open surgeries is higher precision due to video-assisted equipment, which produces a better and magnified image of the organs or body parts being operated. These surgeries are gaining wider acceptance among the geriatric population, due to the relatively shorter recovery time.
According to the article "Anatomic Study of Endoscopic Transnasal Approach to Petrous Apex," published in January 2020, endoscopy systems are commonly used in minimally invasive surgeries to find the cause of specific issues and symptoms. Traditionally, most of the space difficult to observe by microscope can be exposed through endoscopic assisted technology. Endoscopy can flexibly change the angle and observe the surrounding anatomical structure through the natural human foramen. It can provide the surgeon with an unobstructed visual field and an operation channel without retraction, which significantly improves the quality of surgery. Thus flexible endoscopy systems are mostly preferred by surgeons.
Thus, owing to the above-mentioned factors, the endoscopy devices market is expected to show significant growth over the forecast period, globally. However, the lack of skilled technicians and infections caused by few endoscopes is hindering the market growth.
Scope of the Report
Endoscopes are minimally-invasive devices and can be inserted into natural openings of the body, to observe an internal organ or a tissue in detail. Endoscopic surgeries are performed for imaging procedures and minor surgeries.
The Endoscopy Devices Market is segmented by Type of Device (Endoscopes, Endoscopic Operative Device, and Visualization Equipment), Application (Gastroenterology, Pulmonology, Orthopedic Surgery, Cardiology, ENT Surgery, Gynecology, Neurology, and Other Applications), and Geography (North America, Europe, Asia-Pacific, Middle East and Africa, and South America). The market report also covers the estimated market sizes and trends for 17 different countries across major regions, globally. The report offers the value (in USD million) for the above segments.
By Type of Device

Endoscopes
Rigid Endoscope
Flexible Endoscope
Capsule Endoscope
Robot-assisted Endoscope

Endoscopic Operative Device
Irrigation/Suction System
Access Device
Wound Protector
Insufflation Device
Operative Manual Instrument
Other Endoscopic Operative Devices

Visualization Equipment
Endoscopic Camera
SD Visualization System
HD Visualization System
By Application
Gastroenterology
Pulmonology
Orthopedic Surgery
Cardiology
ENT Surgery
Gynecology
Neurology
Other Applications
By Geography

North America
United States
Canada
Mexico

Europe
Germany
United Kingdom
France
Italy
Spain
Rest of Europe

Asia-Pacific
China
Japan
India
Australia
South Korea
Rest of Asia-Pacific

Middle East and Africa
GCC
South Africa
Rest of Middle East and Africa

South America
Brazil
Argentina
Rest of South America
Key Market Trends
The Gastroenterology Segment is Expected to Show Better Growth in the Forecast Period
Gastrointestinal endoscopy is a type of endoscopic procedure that permits physicians to examine the digestive system by inserting a long, flexible lighted instrument called an endoscope either through the rectum or down through the throat. These gastrointestinal endoscopy procedures may be performed to evaluate and treat disorders of the esophagus, stomach, small intestine, colon, pancreas, and bile ducts.
The main factors driving the growth of the gastroenterology segment are due to the rising incidence of gastrointestinal diseases in the young, adult, and geriatric groups, worldwide. Dyspepsia, irritable bowel syndrome and constipation are some examples of gastrointestinal disorders. Furthermore, gastroesophageal reflux disease is a prevalent form of organic gastrointestinal disorder. The increasing burden of gastrointestinal diseases, coupled with the growing geriatric population, is driving the demand for gastrointestinal endoscopy.
Gastrointestinal tumors are the second-largest cause of cancer-related deaths worldwide. Endoscopy has proved to be the standard for the diagnosis of gastrointestinal cancers. Thus, an increase in endoscopic procedures for early diagnosis of gastrointestinal cancers is expected to boost the market in the coming years. The majority of gastrointestinal stromal tumors usually start in the rectum, colon, and esophagus. Most people diagnosed with a gastrointestinal stromal tumor are over 50 years of age. the rising prevlance of these tumors will drive the market. As per the American Cancer Society (ACS) in 2022, there will be an estimated 106,180 new cases of colon cancer and 44,850 new cases of rectal cancer in the United States. According to ACS, overall, the lifetime risk of developing colorectal cancer is about 1 in 23 (4.3%) for men and 1 in 25 (4.0%) for women. As per the World Health Organization (WHO), in 2020 there were around 1.93 million cases of colon and rectum cancer.
Moreover, the rising product approval in the segment will also contribute to the market growth. For instance, in February 2022, Ambu recieved the 510(k) regulatory clearance form United States Food and Drug Administration of the Ambu aScope Gastro and Ambu aBox 2 in the United States . aScope Gastro is Ambu's first sterile single-use gastroscope and includes new advanced imaging and design features in a combined solution with next-generation display and processor technology.
Thus, owing to the above-mentioned factors, the segment is expected to show significant growth over the forecast period.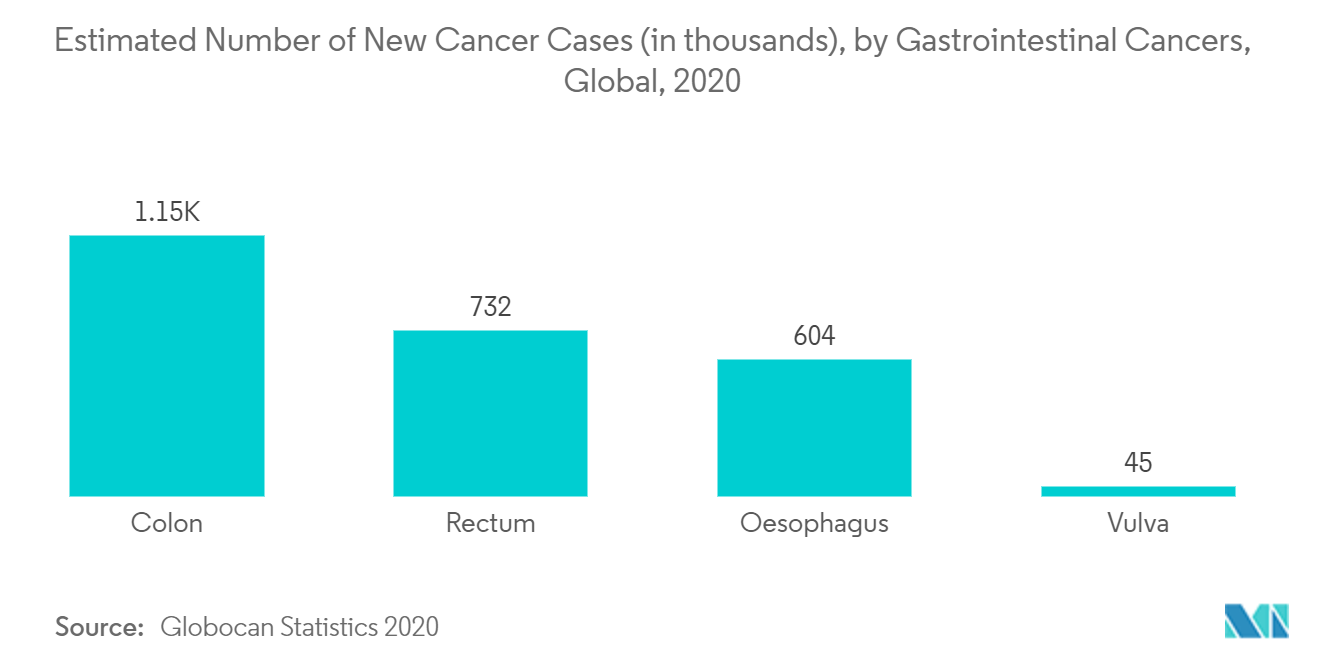 To understand key trends, Download Sample Report
North America is Expected to Hold a Significant Share in the Market and Expected to do Same in the Forecast Period
North American region includes the United States, Canada and Mexico. The increasing prevalence of chronic disorders like cancer and ageing population, increasing demand for flexible endoscopes, technological innovations and new product launches are expected to drive the endoscopy devices market in the North America region during the forecast period.
According to American Cancer Society, colorectal cancer is the third leading cause of cancer-related deaths in men and in women, and the second most common cause of cancer deaths in the combined population in the United States. It is estimated that the country will have 106,180 and 44,850 new cases of colon and rectal cancer, respectively in 2022 leading to 52,580 deaths during 2022. Thus, the high incidence of colorectal cancer will drive its diagnosis and treatment, therefore driving the endoscopy devices market.
Moreover, the new product launches in the studied market will also boost the market in the region. For instance, in October 2021, FUJIFILM Healthcare Americas Corporation launched El-740D/S dual-channel endoscope for both upper and lower gastrointestinal applications. And, in July 2020, FUJIFILM Medical Systems U.S.A., Inc. launched ELUXEO Surgical System, which is expected to deliver unparalleled visualization while performing both flexible and rigid endoscopy from a single tower. Therefore, new product introduction in the market will aid the market in growing.
Moreover, in April 2021, Ambu Inc. received Health Canada clearance for the aScope 4 Cysto, an innovative flexible cystoscope platform for urology. Therefore, the approval for products from regulatory bodies is expected to contribute significantly to the market growth.
In addition, key initiatives taken by the market players like mergers, acquisitions and partnerships strengthen their product portfolio in the region, thereby driving the market. For instance, in November 2021, RoundTable Healthcare Partners's portfolio company, Healthcare Components Group ("HCG") acquired Endoscopy Development Company ("EDC") which will bring all endoscopy components under one shop in both the optical and flexible categories. Therefore, strengthening the presence of HCG in the country, thus driving the country.
Thus, owing to the above-mentioned factors, the studied market is expected to grow significantly in the market over the studied period.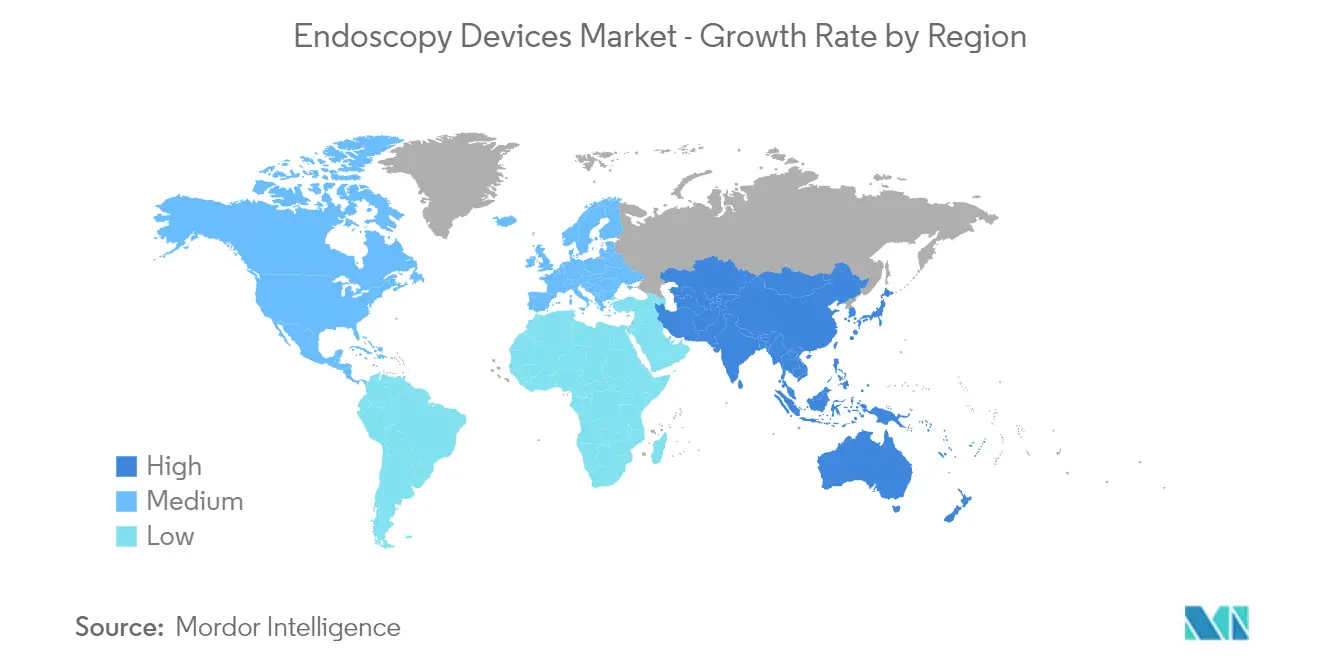 To understand geography trends, Download Sample Report
Competitive Landscape
The market is highly competitive and consists of several global players. As the market is progressing, the firms are trying to achieve clear differentiation in endoscopic systems, based on their application. Due to the requirements of high-quality imaging and operative capabilities, various customer groups are shifting toward optimized visualization systems that integrate endoscope and camera. The major market players are Boston Scientific Corporation, Medtronic PLC, Olympus Corporation, Cook Group Incorporated and Johnson & Johnson.
Recent Developments
In July 2022, Zsquare, developer of high-performance, single-use endoscopes, received Food and Drug Administration 510K clearance to market its product, the Zsquare ENT-Flex Rhinolaryngoscope in the United States.
In June 2022, Getinge released an updated version of the ED-Flow automated endoscope reprocessor featuring a higher level of digital connectivity and data management to Getinge's endoscope reprocessing customers, which will result in improved uptime and increased productivity.
Table of Contents
1. INTRODUCTION

1.1 Study Assumptions and Market Definition

1.2 Scope of the Study

2. RESEARCH METHODOLOGY

3. EXECUTIVE SUMMARY

4. MARKET DYNAMICS

4.1 Market Overview

4.2 Market Drivers

4.2.1 Growing Preference for Minimally-Invasive Surgeries

4.2.2 Increasing Adoption of Endoscopy for Treatment and Diagnosis

4.2.3 Technological Advancements Leading to Enhanced Applications

4.3 Market Restraints

4.3.1 Lack of Skilled Technicians

4.3.2 Infections Caused by Few Endoscopes

4.4 Porter's Five Forces Analysis

4.4.1 Threat of New Entrants

4.4.2 Bargaining Power of Buyers/Consumers

4.4.3 Bargaining Power of Suppliers

4.4.4 Threat of Substitute Products

4.4.5 Intensity of Competitive Rivalry

5. MARKET SEGMENTATION (Market Size by Value - in USD Million)

5.1 By Type of Device

5.1.1 Endoscopes

5.1.1.1 Rigid Endoscope

5.1.1.2 Flexible Endoscope

5.1.1.3 Capsule Endoscope

5.1.1.4 Robot-assisted Endoscope

5.1.2 Endoscopic Operative Device

5.1.2.1 Irrigation/Suction System

5.1.2.2 Access Device

5.1.2.3 Wound Protector

5.1.2.4 Insufflation Device

5.1.2.5 Operative Manual Instrument

5.1.2.6 Other Endoscopic Operative Devices

5.1.3 Visualization Equipment

5.1.3.1 Endoscopic Camera

5.1.3.2 SD Visualization System

5.1.3.3 HD Visualization System

5.2 By Application

5.2.1 Gastroenterology

5.2.2 Pulmonology

5.2.3 Orthopedic Surgery

5.2.4 Cardiology

5.2.5 ENT Surgery

5.2.6 Gynecology

5.2.7 Neurology

5.2.8 Other Applications

5.3 By Geography

5.3.1 North America

5.3.1.1 United States

5.3.1.2 Canada

5.3.1.3 Mexico

5.3.2 Europe

5.3.2.1 Germany

5.3.2.2 United Kingdom

5.3.2.3 France

5.3.2.4 Italy

5.3.2.5 Spain

5.3.2.6 Rest of Europe

5.3.3 Asia-Pacific

5.3.3.1 China

5.3.3.2 Japan

5.3.3.3 India

5.3.3.4 Australia

5.3.3.5 South Korea

5.3.3.6 Rest of Asia-Pacific

5.3.4 Middle East and Africa

5.3.4.1 GCC

5.3.4.2 South Africa

5.3.4.3 Rest of Middle East and Africa

5.3.5 South America

5.3.5.1 Brazil

5.3.5.2 Argentina

5.3.5.3 Rest of South America

6. COMPETITIVE LANDSCAPE

6.1 Company Profiles

6.1.1 Boston Scientific Corporation

6.1.2 Conmed Corporation

6.1.3 Cook Group Incorporated

6.1.4 Richard Wolf GmbH

6.1.5 Johnson & Johnson

6.1.6 Fujifilm Holdings Corporation

6.1.7 Medtronic PLC

6.1.8 Olympus Corporation

6.1.9 Karl Storz SE & Co. KG

6.1.10 Stryker Corporation

6.1.11 Hoya Corporation

6.1.12 Smith & Nephew PLC

6.1.13 Medrobotics Corporation

*List Not Exhaustive

7. MARKET OPPORTUNITIES AND FUTURE TRENDS
**Competitive Landscape Covers - Business Overview, Financials, Products and Strategies, and Recent Developments
You can also purchase parts of this report. Do you want to check out a section wise price list?
Frequently Asked Questions
What is the study period of this market?
The Global Endoscopy Devices Market market is studied from 2019 - 2027.
What is the growth rate of Global Endoscopy Devices Market?
The Global Endoscopy Devices Market is growing at a CAGR of 6.5% over the next 5 years.
Which region has highest growth rate in Global Endoscopy Devices Market?
Asia Pacific is growing at the highest CAGR over 2021- 2026.
Which region has largest share in Global Endoscopy Devices Market?
North America holds highest share in 2021.
Who are the key players in Global Endoscopy Devices Market?
Medtronic PLC, Olympus Corporation, Cook Group Incorporated, Johnson & Johnson, Boston Scientific Corporation are the major companies operating in Global Endoscopy Devices Market.
80%

of our clients seek made-to-order reports. How do you want us to tailor yours?