The PSA market in Asia-Pacific was estimated at USD 3,991.5 million in 2017. The market is anticipated to register significant growth over 2018 to 2023 (the forecast period), at a CAGR of 7.52%. The tape segment was observed to be the largest application segment in the Asia-Pacific PSA market, which accounted for approximately 62% share of the overall market, by revenue in 2017, and is expected to witness healthy growth over the forecast period, at a CAGR of 7.56%.
Increasing Demand for Lightweight Automobiles
Unlike traditional manufacturing methods, adhesives offer the advantage of flexibility during the production process of automotive components. It has been observed that during new car assessment programs and crash tests, vehicles bonded with adhesives perform better compared to welded vehicles, as they do not affect the substrate used in automobile assembly. Moreover, the recent advancements in the adhesives technologies are aiding automobile manufacturers in the production of lightweight and fuel-efficient vehicles. The PSA market in Asia-Pacific is led by the packaging industry, and it is expected to grow significantly over the forecast period, at a CAGR of 7.65%.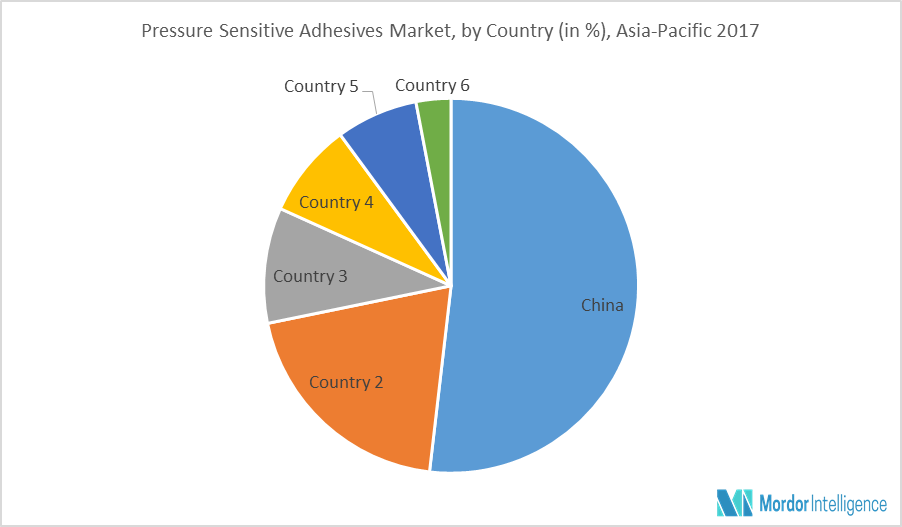 The demand for low-cost flexible packaging has been consistently growing in Asia-Pacific, due to a steady rise in food exports and growth in the food-processing sector. In addition, lifestyle changes, workplace habits, and shifting preference toward modern food habits are increasing the demand for packaged food.
China Dominates the Market
The Chinese pressure-sensitive adhesive market is witnessing strong demand from numerous international industries involved in the automotive and electronics sectors. Similarly, high domestic demand for PSA is experienced from the food & beverage and hygienic product industries, due to the huge population of the country. The packaging industry accounted for the maximum share, over 38%, of the pressure-sensitive adhesives market in 2016. The packaging market in China is expected to grow during the forecast period, driven by the steady growth in the consumer goods market, including packaged food, beverages, home care, and beauty and personal care, supported by the rising household income.
Key Developments
March 2017: Avery Dennison Corporation acquired Hanita Coatings, a pressure-sensitive material manufacturer of specialty films and laminates, from Kibbutz Hanita and Tene Investment Funds.
January 2017: H.B. Fuller Company announced the purchase of the industrial adhesives business of Wisdom Worldwide Adhesives, a provider of adhesives for the packaging, paper converting, and assembly markets.
Major Players: 3M, Adhesive Technologies Inc., Ashland Inc., Avery Dennison Corp., Bostik SA, Buhnen, among others.
Reasons to Purchase this Report
Current and future Asia-Pacific pressure-sensitive adhesive market outlook in the developed and emerging markets
Analyzing various perspectives of the market with the help of Porter's five forces analysis
Segment that is expected to dominate the market
Regions that are expected to witness the fastest growth during the forecast period
Identify the latest developments, market shares, and strategies employed by the major market players
3 months analyst support, along with the Market Estimate sheet (in excel)
Customization of the Report
This report can be customized to meet your requirements. Please connect with our representative, who will ensure you get a report that suits your needs
1. Introduction
1.1 Research Phases
1.2 Study Deliverables
1.3 Scope of the Report
2. Executive Summary
3. Market Insight
3.1 Industry Value Chain Analysis
3.2 Industry Attractiveness – Porter's Five Forces Analysis
3.2.1 Bargaining Power of Suppliers
3.2.2 Bargaining Power of Consumers
3.2.3 Threat of New Entrants
3.2.4 Threat of Substitute Products and Services
3.2.5 Degree of Competition
4. Market Dynamics
4.1 Drivers
4.1.1 Increasing Adoption of Low-cost Flexible Packaging Aids
4.1.2 Increasing Demand for Lightweight Automobiles
4.1.3 Dynamic Economic Development in APAC
4.2 Restraints
4.2.1 Stringent Environmental Regulations regarding VOC Emissions
4.3 Opportunities
4.3.1 Adoption of Bio-based PSAS
5. Market Segmentation and Analysis (Market Size, Growth, and Forecast)
5.1 By Technology
5.1.1 Water-based
5.1.2 Solvent-based
5.1.3 Hot Melt
5.1.4 Radiation Cured
5.2 By Application
5.2.1 Tape
5.2.2 Label
5.2.3 Graphics
5.2.4 Others
5.3 By Resin
5.3.1 Acrylic
5.3.2 Silicone
5.3.3 Elastomer
5.3.4 Others
5.4 By Mode of Application
5.4.1 Permanent
5.4.2 Peelable/Removable
5.5 By End-user Industry
5.5.1 Packaging
5.5.2 Woodworking & Joinery
5.5.3 Medical
5.5.4 Commercial Graphics
5.5.5 Transportation
5.5.6 Electronics
5.5.7 Others
6. Regional Market Analysis (Market Size, Growth, and Forecast)
6.1 Asia-Pacific
6.1.1 China
6.1.2 India
6.1.3 Japan
6.1.4 South Korea
6.1.5 Thailand
6.1.6 Malaysia
6.1.7 Indonesia
6.1.8 Australia & New Zealand
6.1.9 Rest of Asia-pacific
7. Competitive Landscape
7.1 Mergers and Acquisitions, Joint Ventures, Collaborations, and Agreements
7.2 Market Share Analysis**
7.3 Strategies Adopted by Leading Players
8. Company Profiles (Overview, Financials**, Products & Services, and Recent Developments)
8.1 3M Company
8.2 Ashland Inc.
8.3 Avery Dennison Corp.
8.4 Beardow & Adams (Adhesives) Ltd
8.5 Bostik
8.6 DIC Corp.
8.7 Dow Chemical Company
8.8 Drytac
8.9 Franklin International Inc.
8.10 H.B. Fuller Company
8.11 Henkel Ag & Co. Kgaa
8.12 Huntsman Corporation
8.13 Illinois Tool Works Inc.
8.14 Jesons Industries Ltd
8.15 Mactac AG
8.16 Mapei Malaysia Sdn. Bhd.
8.17 Momentive Specialty Chemicals Inc.
8.18 Paramelt BV
8.19 RPM International Inc.
*List not Exhaustive
9. Disclaimer
**Subject to Availability on the Public Domain