Market Trends of Specialty Nitriles Industry
This section covers the major market trends shaping the Specialty Nitriles Market according to our research experts:
Automotive Components to Dominate the Market
Automotive components stands to be the dominating segment, where its requirement is widely driven by the growing need for lightweight, high fuel efficiency and low emission vehicles.
Increasing application of nitrile rubber in the pipelines, hoses, tubes, conveyor belts, shoes, seals and glues, etc. and rising utilization in adhesive and automotive are expected to provide thrust to specialty nitriles market.
Initiatives under Clean Energy Ministerial (CEM) like electric vehicle initiative and the growing popularity of electric vehicles is likely to increase the consumption of specialty nitrile in the automotive industry.
Since 2018 automotive industry experience a decline in production in countries like United States of America, China, and Germany, etc. owing to which consumption of specialty nitrile is anticipated to drop. However, from 2021 the automotive industry is likely to regain production which is expected to increase the demand from automotive applications during the forecast period.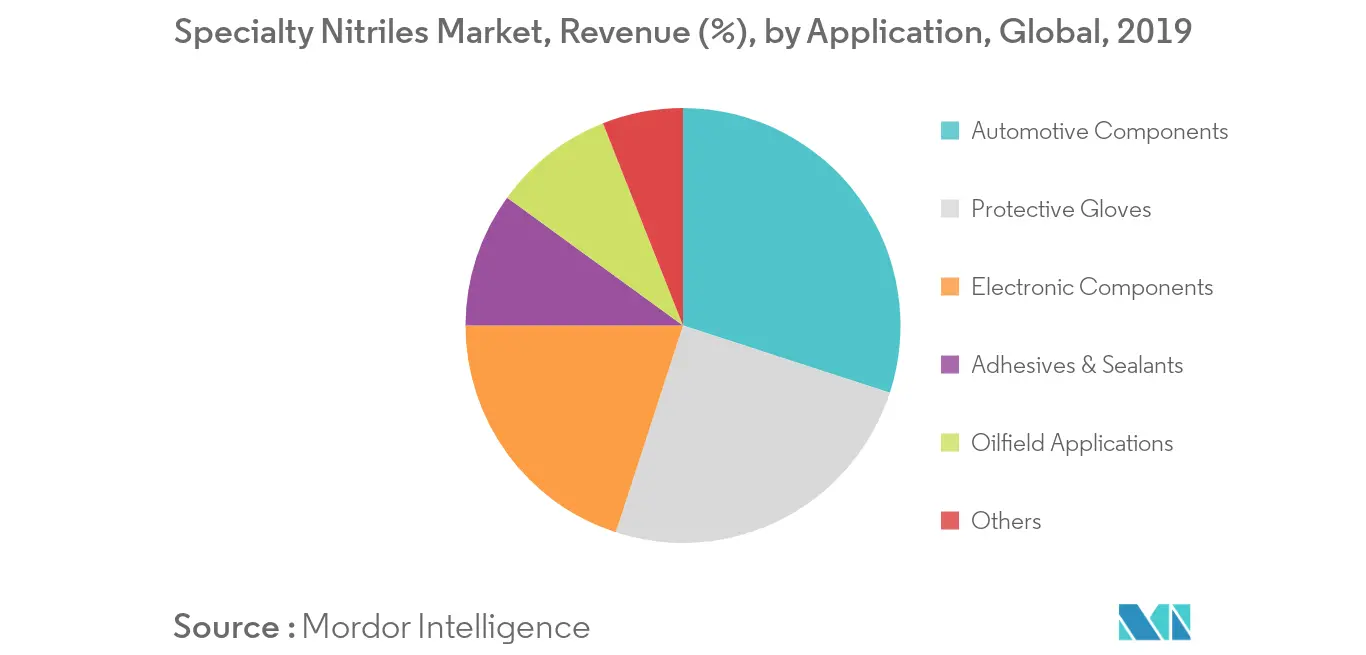 To understand key trends, Download Sample Report
Asia-Pacific Region to Dominate the Market
Asia-Pacific region stands to be the largest and fastest-growing market for specialty nitriles. Factors, such as increasing utilization in pharmaceutical, adhesives and automotive segment is likely to drive the market growth.
Nitrile containing compounds widely used in therapeutic drugs as specialty nitrile can alter the physicochemical and pharmacokinetic properties to improve bioavailability, enhance the selectivity and binding affinity to target proteins by hydrogen bond interactions. Hence with increasing consumption of therapeutic drugs; the demand for specialty nitrile has been increasing in the pharmaceutical industry.
Beneficial attributes of specialty nitriles like good resistance to oil, heat, ozone, chemicals give it a secure position in the automobile, adhesives and electronics industry.
Asia-Pacific region is considered to be the base for electrical & electronics manufacturing across the globe. Countries like China, India, Japan, South Korea, and Vietnam contribute most to the electronic components manufacturing in the region.
Due to its property of sturdiness, it is extensively used in protective gloves used in chemistry laboratories to resist the effect of the chemicals and stringent regulations regarding industrial protective gears, has propel the demand for gloves consequently driving the market growth.
Asia-Pacific is the fastest-growing region for protective gloves due to the high production and usage of protective gloves in the healthcare, manufacturing, food & beverage, construction, and transportation industries.
Hence, all such market trends are expected to drive the demand for specialty nitriles market in the region during the forecast period.
To understand geography trends, Download Sample Report
Specialty Nitriles Report Snapshots