Market Trends of South Africa Savory Snacks Industry
This section covers the major market trends shaping the South Africa Savory Snacks Market according to our research experts:
Rising Demand for Convenient Snacking Options
The consumers in the country are constantly seeking convenient snacking options that are being upgraded by major manufacturers operating in the South African savory snacks market. The demand for convenient snacks is increasing due to changes in social and economic patterns, as well as increased expenditure on food and beverages. Convenient snacks like potato chips, extruded snacks, nuts and seeds, and popcorn, among others, are becoming extremely popular, especially among the working population of the country and the rising young generation consumers due to their hectic lifestyles. Moreover, the on-the-go snacking concept is linked to easy consumption and is relatively easier to handle, which savory snacks like popcorn and potato chips offer. Also, popcorn, nuts and seeds, and extruded snacks can help in preventing people from getting too hungry for junk foods, as these serve as ideal eatables in between breaks or whenever people do not have time to cook. Because of the increased focus on fitness and physical well-being, health-conscious customers are increasingly gravitating toward healthier snack options like low-fat savory snacks, indicating great market potential. As per the US Department of Agriculture, imports of nuts and dried fruits in South Africa increased from USD 2.8 million in 2015 to USD 9.2 million in 2018.Savory snacking options help the consumers save time on cooking at home, especially in times of minor hunger urges, serve as convenient tiffin options for school/college-going children, and even in between work sessions. Due to the global pandemic, the shift in shopping behavior has seen a positive change in snacking behavior because of the growing in-home consumption.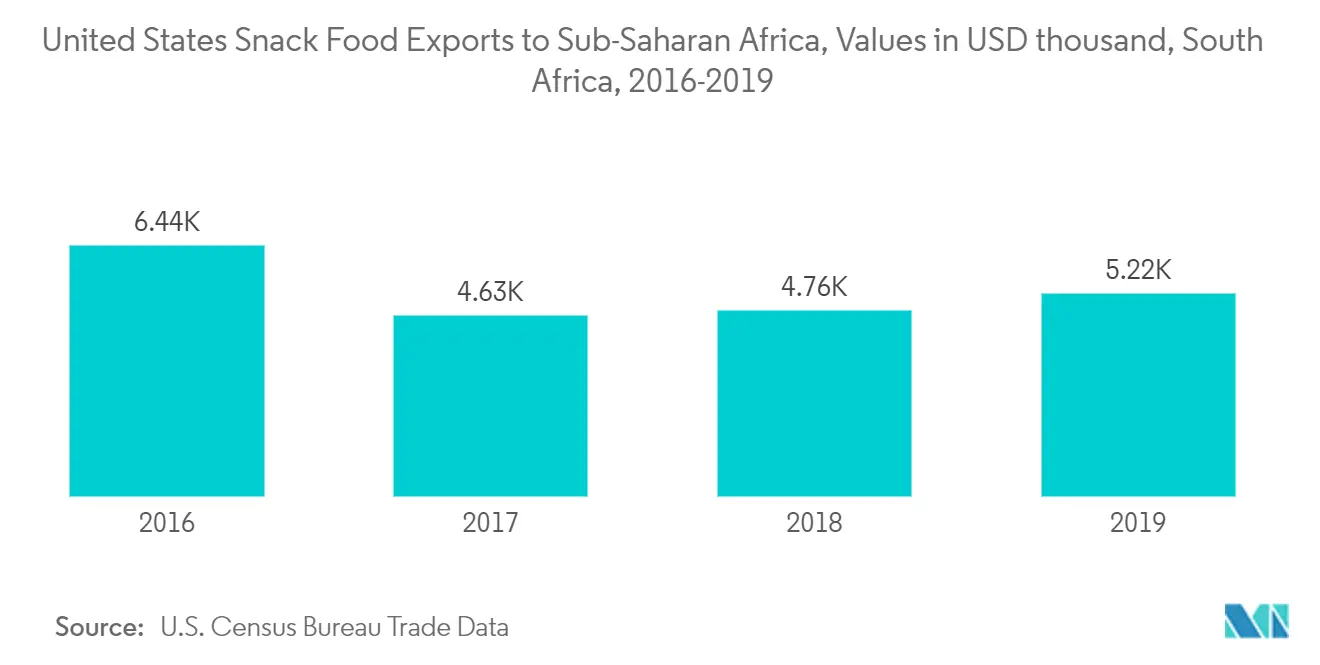 To understand key trends, Download Sample Report
Potato Chips Holds a Promising Market Share in the Country
Potato chips are preferred by consumers of different demographics in the market studied, with a large population of youth trying out new and unique flavors. This factor is motivating the savory snack manufacturers to offer new and innovative snacks and fried potato chips. Further, flavored potato chips include a variety of flavors, including barbecue chips, salt and vinegar, sour cream and onion, spicy jalapeno, rotisserie chicken, cheddar and sour cream, and sweet onion, among others, which are being well perceived by consumers all around the market. Additionally, the players are opting for local flavor ranges to grab the marketspace. For instance, in 2020, Simba® announced the launch of two locally inspired flavors: Chakalaka and Shisanyama. Chakalaka and Shisanyama are iconic South African foods that are consumed in the market. South Africa implemented a regulation (R.214 legislation) for maximum sodium content in flavored potato chips (excluding salt and vinegar flavored) to 650 mg in 2016 and 550 mg in 2019, whereas the rate ranges to 1,000 mg (2016) and 850 mg/100g by 2019. Thus, the leading players and the local ones had a chance to grab their share in the evolving market by launching the standard-complying products at the earliest. Further, South African potato producers have been experiencing many challenges brought on by COVID-19, the cost-price squeeze, and the temperature change that has resulted in rising input costs of the local produced raw material. However, in 2021, regulating bodies have made imported potato chips from Belgium and the Netherlands at least 30% cheaper than locally produced chips, altering the value chain for a minimal period at least.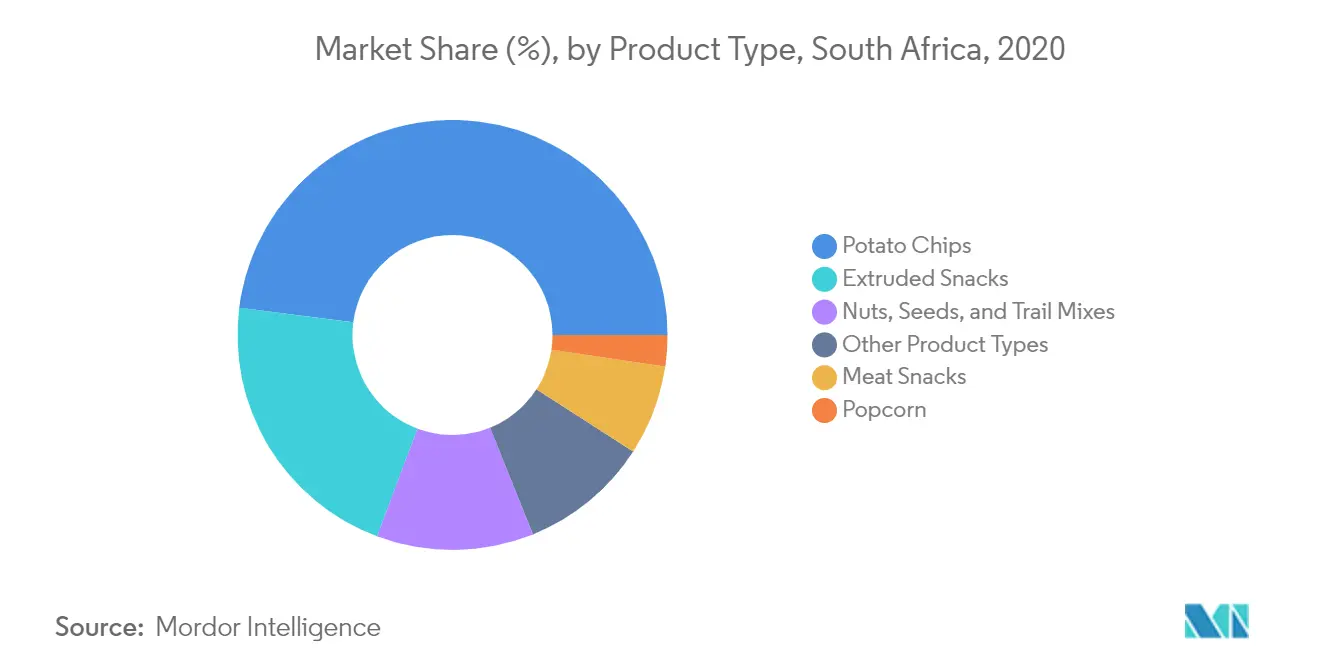 South African Savoury Snacks Market Report Snapshots