Market Trends of Paper Packaging Industry
Food and Beverage Expected to Hold Significant Market Share
Paper and paperboard are among the most common materials for packaging food. Paper is an eco-friendly option in packaging, making it an ideal choice for food. It is predominantly used for packaging in direct contact with food and transporting and storing primary packages. Also, paper and paperboard are used in making microwave popcorn bags, baking paper, and fast-food containers. All this is expected to promote growth for paper packaging worldwide. The market growth in paper packaging is anticipated to be driven by high consumer awareness of packaged food, particularly packaged food delivery.
In addition, paper is one of the readily available, inexpensive resources. It is used extensively in the packaging of the food and beverage sector and the creation of papers. These materials can be recycled to create excellent molded products for packaging applications and other beverage-containing contact items like cups, pouches, and liquid cartons. The pandemic highlighted important health and wellness realities and the significance of consumers' dietary and lifestyle decisions. According to Mintel's Global Covid-19 tracker, consumers value eating and drinking healthily the most.
Most consumers lead on-the-go lifestyles. As a result, they are continuously seeking simpler foods to pick up, handle, eat, or carry. Brands are working harder to make food packaging portable to address this need. Packaging manufacturers depend on paper packaging for food products because it is extremely lightweight and easy to carry. Moreover, food packaging became more environmentally friendly in recent years. Big firms abandoned single-use plastics in favor of biodegradable, recyclable, or reusable packaging due to the desire for eco-friendly solutions.
Further, the growth of the food industry, which in turn is driving demand for folding cartons, corrugated boxes, and liquid paperboard boxes, is propelled by the increased need for ready-to-eat, frozen, and packaged goods. For instance, according to US Census Bureau, Retail food and beverage store sales in the United States reached an annual value of approximately USD 947 billion in 2022, a steady increase from the previous year and forward increasing the amount recorded from the last 5 years, thus increasing sales of food and beverage impact the growth of the paper packaging market.
Moreover, the quick shifts in beverage packaging patterns nationwide are one of the main drivers of industry expansion. The use of innovative packaging solutions grew significantly. Creating new active systems that can interact with the product or its surroundings, customer acceptability, food security, and enhancing the preservation of various beverages are the primary areas of recent developments in beverage packaging.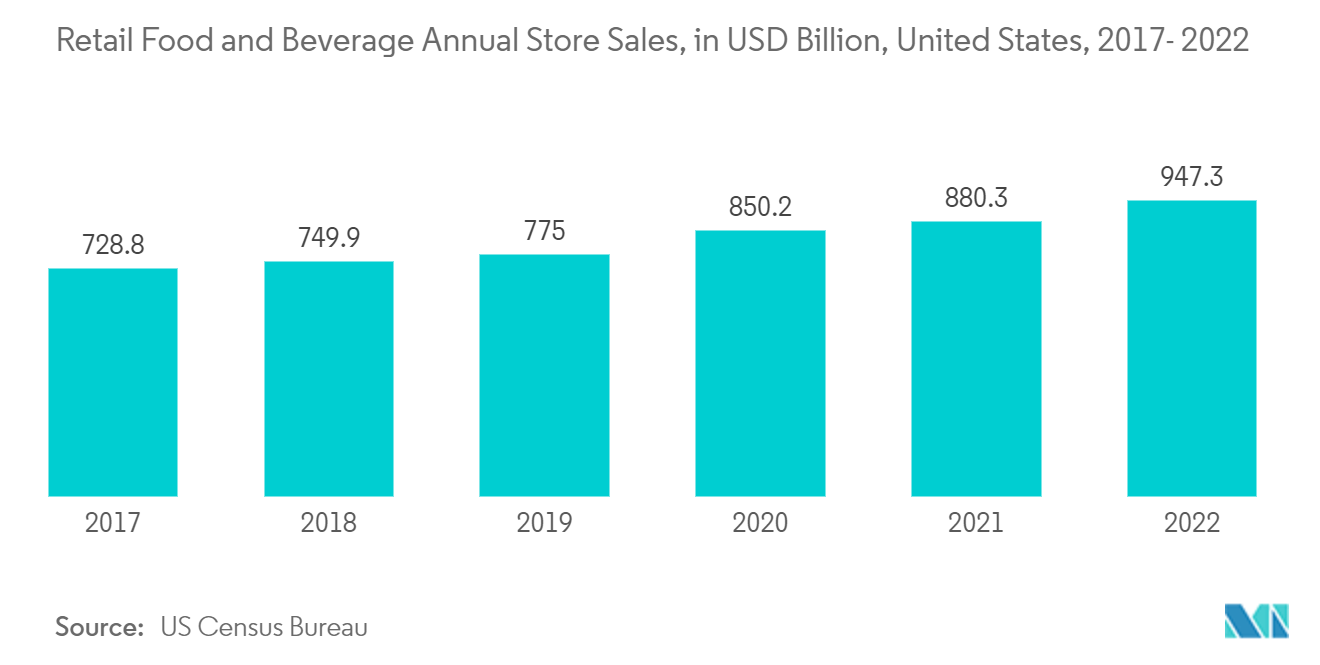 To understand key trends, Download Sample Report
Asia-Pacific Expected To Include Significant Market Share
The Asia-Pacific is expected to include significant growth. The market is expanding due to the increasing number of production facilities throughout the area, rising consumerism, and the transit packaging industry in the APAC region. The region is expected to expand the fastest due to the rising demand for paper pulp in developing nations like China and India. In China, the transportation packaging market is growing along with consumption, fueling a rapidly rising demand for paper packaging.
The growing urban population, evolving e-commerce package industry, dropping pulp prices, and improving population awareness about environmentally friendly packaging are expected to propel China's paper packaging market. Furthermore, the industry's key trends and developments are increased folding boxboard consumption, increased containerboard capacity, and technological breakthroughs.
Moreover, the demand for paper pulp is increasing in developing countries like China, the fastest-growing paper per capita user. The increase in the paper packaging sector in China is further governed by the booming retail and e-commerce industry and a boost in demand for environmentally friendly packaging products in the region. Furthermore, significant growth in online shopping platforms and online shoppers, changing consumer attitudes regarding sustainable packaging, and implementing favorable government policies increased the demand for paper and paperboard packaging products.
Since India's food and beverage, cosmetics, and other industries are rising faster, this industry is rapidly expanding. Furthermore, several government measures to limit plastic waste influence the market's growth. As a result, rising consumer awareness and the rise of India's organized food sector are driving market growth.
Moreover, India's paper and paperboard packaging growth is further driven by continued demand for quality FMCG products, pharmaceuticals, textiles, organized retail, booming e-commerce, and other segments. Additionally, Fruit pulp, juices, other concentrates, sauces, and ketchup bottles are driving the growing demand for paper and paperboard packaging in India. The industry in India went up the sustainability curve and became far more technologically advanced.
Japan significantly uses paper-based products in various industries, including newspapers, packaging, printing and communication, sanitary products, and other miscellaneous uses. There is a recent movement in the packaging sector to utilize paper because of consumer awareness about sustainable packaging, worries about deforestation, and raw material availability, among other factors.
Companies are forced to adapt to environmentally friendly packaging due to this aspect. Nestle, a Japanese company, is looking into new packaging options for various brands and goods. It is also aggressively researching materials to further lessen its environmental impact, as it sells approximately 4 million products daily.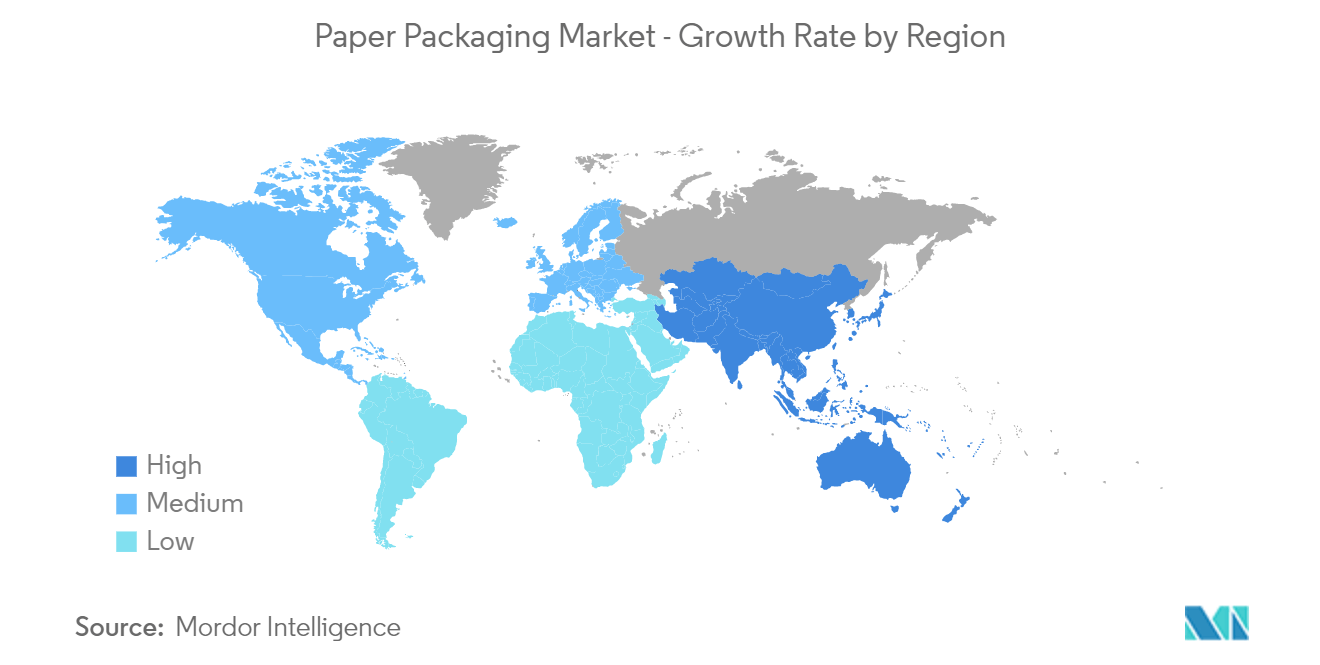 To understand geography trends, Download Sample Report
Paper Packaging Market Report Snapshots