Market Trends of Latin America Factory Automation And Industrial Controls Industry
Automotive End User Industry Segment is Expected to Hold Significant Market Share
Smart factory offers the automotive industry options to react faster to market requirements, enhance the efficiency of supply chains, reduce manufacturing downtimes, and expand productivity.
The automotive industry is a primary sector with significant automated manufacturing facilities. It is followed that the production facilities of various automakers are automated to maintain accuracy and efficiency. Further, the increasing trend of replacing conventional vehicles with electric vehicles (EVs) is expected to augment the automotive industry's demand.
Automobile manufacturers, such as Hyundai and General Motors, collaborate directly with additive manufacturers on the technology's application. Virtual and augmented reality is also used to address manufacturing difficulties, such as machine failure, occupational injuries, and technical shutdown. Like many other industries, the auto industry wants to make the most of Industry 4.0, where "connected" machines communicate with one another and human operators to deliver workplace safety and productivity benefits. As a result, the rising need for automation in the vehicle industry affects automakers' attitudes about worker safety, resulting in a spike in the studied market.
According to the National Association of Motor Vehicle Manufacturers, Brazil's passenger car production has rebounded after the dramatic decline in 2020. As of 2022, about 1.8 million units of passenger cars were manufactured in Brazil. In comparison to 2021, this represented an increase of nearly seven percent. Further, in 2022, the Brazilian automotive industry exported approximately USD 6.6 billion worth of motor vehicles. Meanwhile, over USD 8 billion worth of auto parts were exported that same year.
According to the National Institute of Statistics and Geography (Spanish: Instituto Nacional de Estadística y Geografía (INEGI)), the number of light vehicles produced in Mexico amounted to nearly 2.8 million in 2022, representing an increase of around 10 percent compared to the production volume reported a year earlier. The increase in automotive production in the region is likely to offer lucrative opportunities for the growth of the studied market.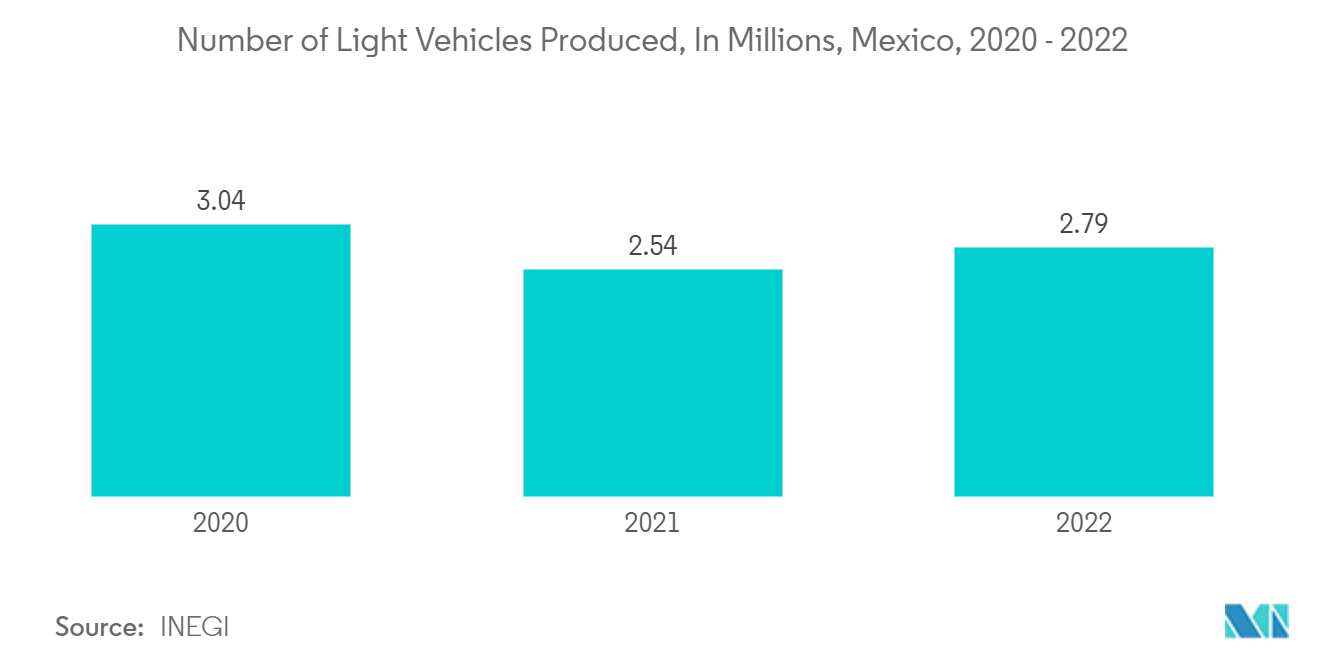 To understand key trends, Download Sample Report
Brazil is Expected to Hold Significant Market Share
Brazil is a highly developed manufacturing nation in Latin America and the second-largest exporter of appliances and electrical goods, following Mexico. As per the Organization for Economic Co-operation and Development (OECD), the manufacturing industry's value-added contribution to Brazil's gross domestic product increased by 0.9% (+8.81%) since the previous year, 2021. Consequently, the Brazilian manufacturing industry share reached a pinnacle in 2022, accounting for 11.12%. Therefore, it is anticipated that the market is expected to experience growth due to the prevalent use of automated processes and systems in manufacturing factories and industries.
The implementation of robots in the transformation of industrial automation is currently in progress in Brazil, a country with significant potential for automation. As per IFR, the Brazilian automotive industry is the foremost adopter of industrial robots, with 47% of operational robots and 22% of new installations in 2021. This capability enables the automotive industry to maintain its position as one of the most significant users of robots and possess one of the most automated supply chains globally.
Furthermore, the increasing production and consumption of oil and gas in the country will likely offer lucrative opportunities for the growth of the studied market. For instance, according to the Brazilian National Agency for Petroleum, Natural Gas and Biofuels (ANP), in 2022, offshore production represented about 97 percent of Brazil's crude oil output, amounting to more than 1.07 billion barrels. Natural gas production in Brazil has more than doubled in one decade, reaching over 50 billion cubic meters in 2022. In comparison to 2021, this represents an increase of three percent. Brazil's natural gas production is primarily concentrated offshore.
Moreover, massive shifts in manufacturing due to Industry 4.0 and the acceptance of IoT require enterprises to adopt agile, smarter, and innovative ways to advance production, with technologies that complement and augment human labor with automation and reduce industrial accidents caused by process failure.
To that extent, in September 2022, Nestlé and Ericsson collaborated on smart factories in Brazil to promote 5G technology in Brazil, using the Ericsson Private 5G solution, which enables fast data processing. Nestlé, a food and beverage giant, utilizes 5G technology to advance with everything that Industry 4.0 offers. Embratel developed the private 5G network in So Paulo, while Ericsson supplied the manufacturing equipment.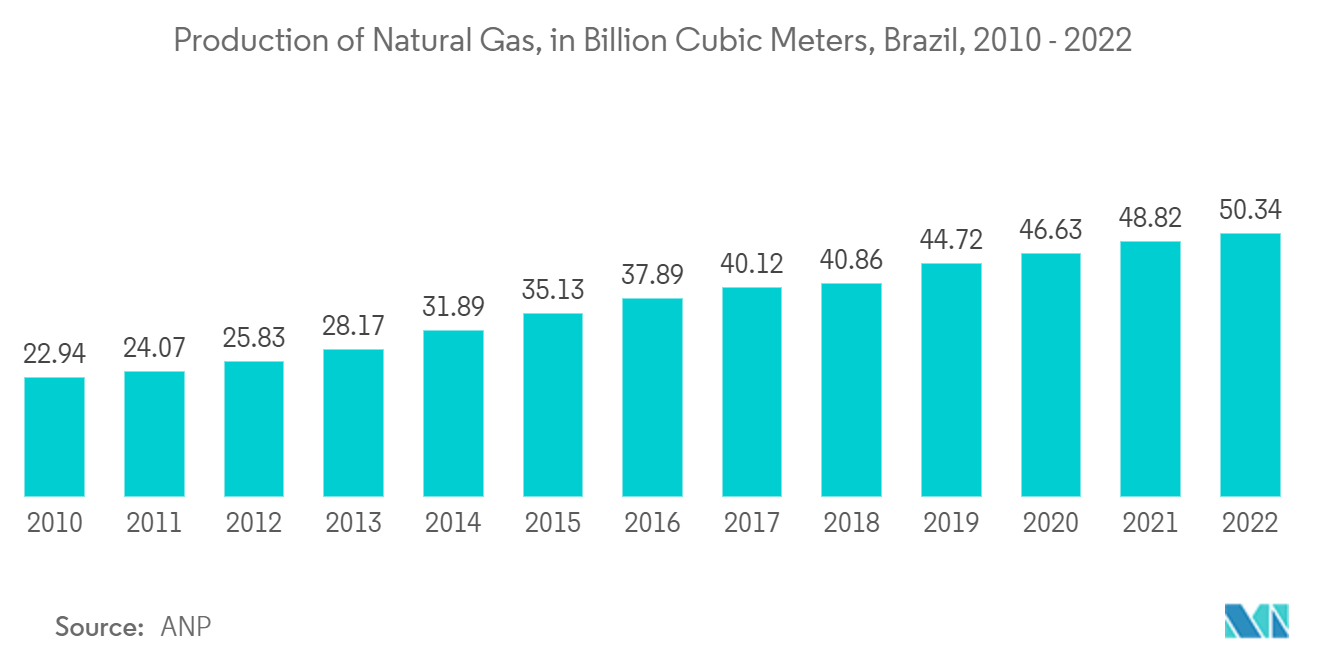 To understand geography trends, Download Sample Report
Latin America Factory Automation And Industrial Controls Market Report Snapshots