Market Trends of Italy Hair Care Industry
Increased Consumption of Hair Care Products Due to Rising Incidence of Hair Related Problems
The incidence of hair-related problems, including alopecia areata, telogen effluvium, and other issues, has been on the rise among consumers. This trend has led to an increased demand for effective hair care products in Italy. These products are commonly used to prevent hair fall, dandruff, scalp itching, and other hair-related issues. As consumers become more aware of the availability of various hair care products, particularly in the hair oil, shampoo, and conditioner segment, the demand for these products continues to grow.
The penetration of organized retail in Italy has enabled consumers to seek information about various brands and compare prices and quality, which results in a better purchase decision. As of 2021, around 58 percent of the new launches of cosmetic products with "green" claims in Italy were labeled as sustainable, while 48 percent were considered natural or biological. Consumers with sensitivity tend to prefer natural and fragrance-free products.
According to research by the Battelle Memorial Institute and Silent Spring Institute, the analysis of 18 commonly used hair care products detected 66 chemicals with potentially toxic effects, which has increased the demand for natural ingredients in the market. This trend has led most companies to launch natural-inspired products, such as plant-based and premium botanical ingredients. For example, in June 2022, P&G launched shampoo bars with paper-based packaging for its European hair care portfolio.
The demand for clean ingredients and sustainable products is rising, especially among millennials, due to increased awareness. Moreover, the growing awareness about hair care products through social media, magazines, and TV advertisements encourages consumers to explore various hair care brands. All of these factors are contributing to the increased demand for hair care products in Italy.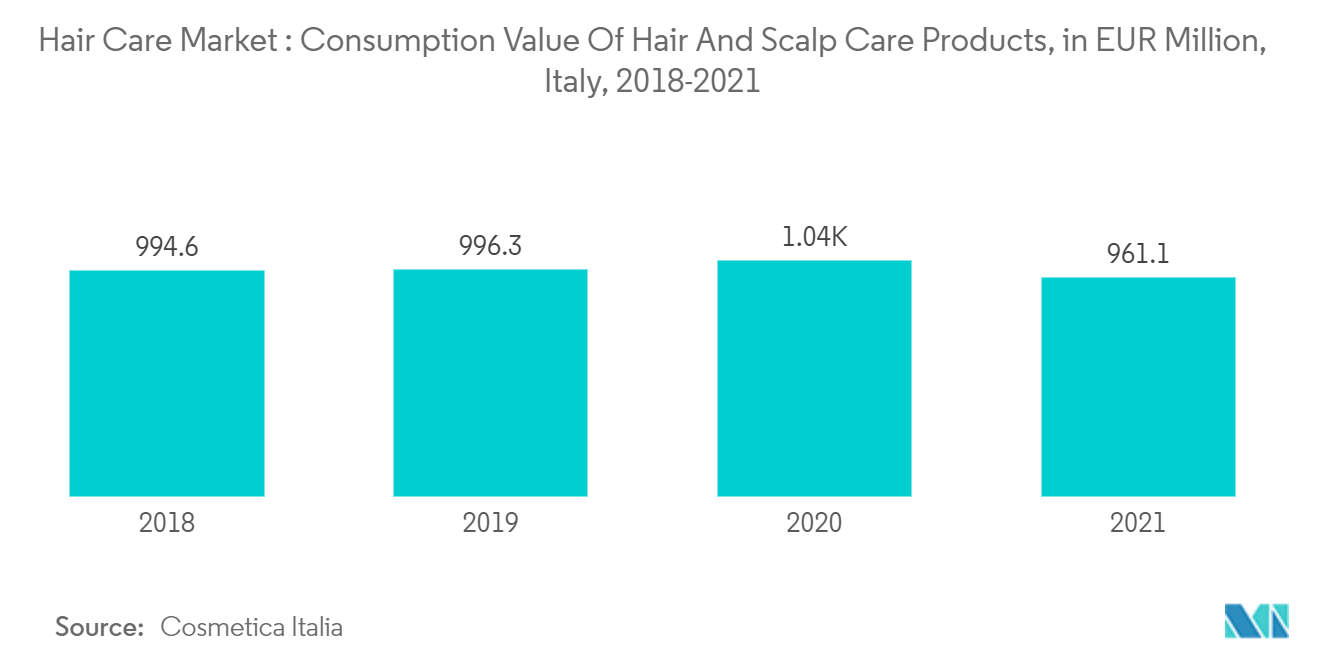 To understand key trends, Download Sample Report
Shampoo Segment Dominates the Market
The Italian hair care market is experiencing a surge in consumer awareness regarding hair and scalp health. As a result, there has been a rise in the import of shampoos and other hair care products from foreign markets. According to the Italian National Institute of Statistics, the import quantity of shampoos to the Italian cosmetic industry increased significantly between 2018 and 2021, with 51,867 tons of imported shampoo in 2021, up from the previous year.
However, companies in Italy are also innovating their products by offering various sizes, materials, packaging, and designs to gain a larger market share. The demand for different types of shampoos to address various hair-related problems, such as hair fall, oily hair, dryness, itchiness, split ends, and others, is expected to drive the shampoo segment's growth. This growth is also supported by lifestyle changes and urbanization, along with increasing environmental stress, such as air pollution, a major cause of many hair-related problems, including dandruff.
Consumers are now more aware of products and ingredients and are seeking specific solutions to their hair problems in the formulations of the products. These informed consumers prioritize hair care and hygiene and are willing to spend money to maintain their well-being, propelling the segment's growth.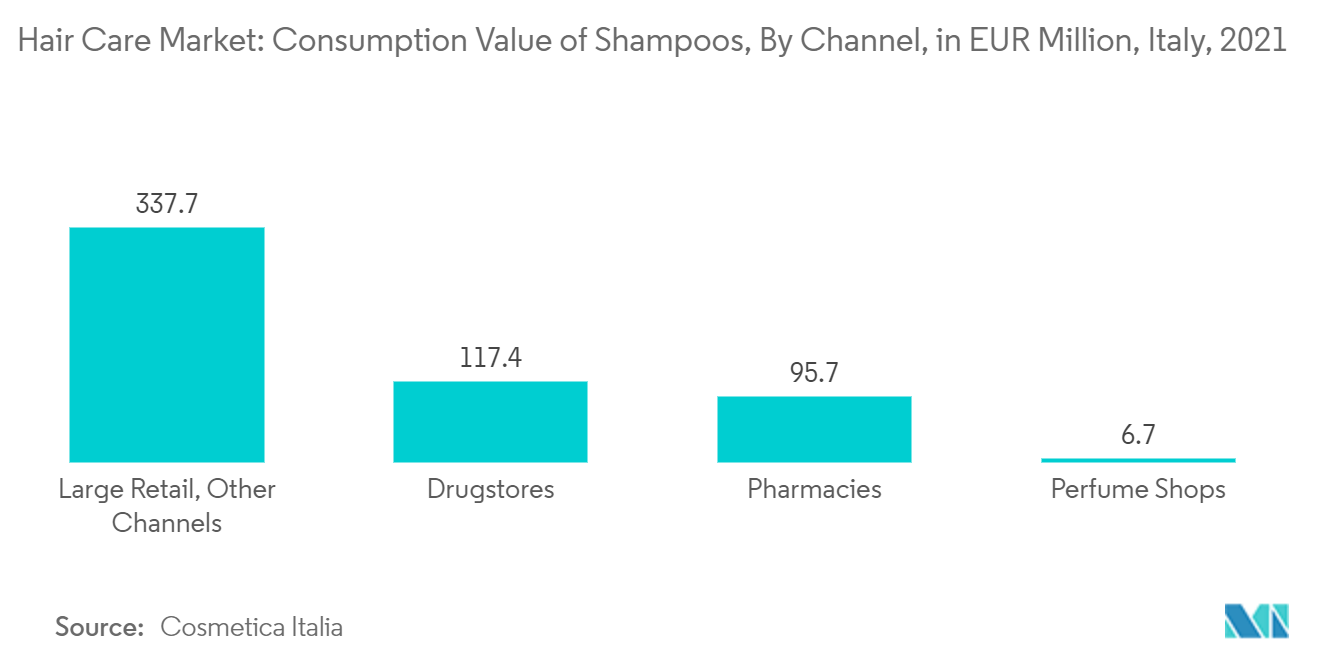 Italy Hair Care Products Market Report Snapshots