Market Trends of Europe Sports Drink Industry
Growing Fitness and Sports Participation
The sports drink market is mostly driven by the popularity of athleisure trends like health and wellness. An increasing number of people participating in sports, such as athletics, bodybuilding, weightlifting, and cycling, drives the market for sports drinks in Europe. For instance, according to Sport England, in England, at least twice a month between May 2020 and May 2021, 1.5 million people played team sports.
In 2021, according to Sport England, a survey revealed that 18% of male participants claimed to have cycled at least once a month, whereas 8.5% of females and 13.2% of individuals identifying as other genders were found to have cycled once a month for any purpose in the country. International sports events, such as cycling championships like UCI Road World Championships and Tour de France (a bicycle race), and others, also encourage the involvement of consumers in cycling. This, in turn, drives the market's growth.
Moreover, Sports drinks manufacturers are capitalizing on the growing interest of active consumers in sports drinks, who are looking to hydrate before, during, and after exercise, thus taking strategic initiatives such as partnerships, product innovation, expansion, and others to gain a significant share in the market.
For instance, in May 2021, RAW organic sports drink partnered with Alpine F1 Team. Per the company's claim, it offers healthy hydration for athletes and is made with organic and nutritionally functional ingredients, no additives, and no added sugars. It is suitable for a celiac and vegan diet. Thus, all the above-mentioned factors are positively impacting the market's growth.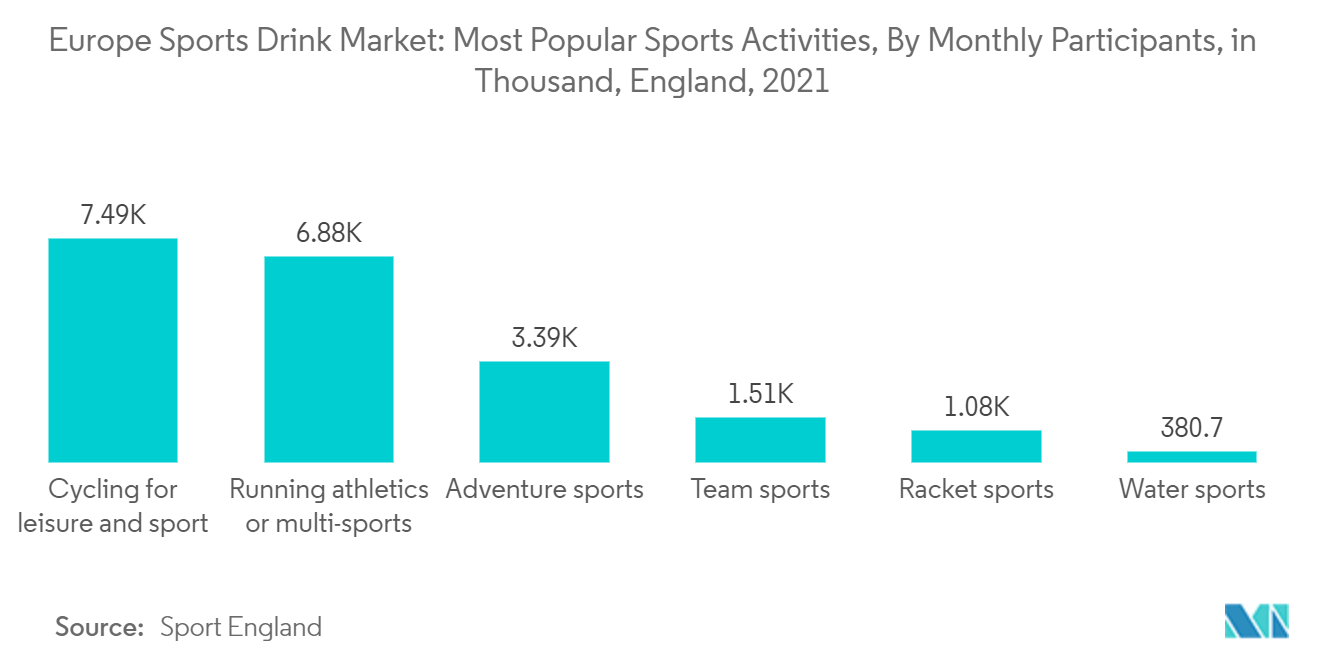 To understand key trends, Download Sample Report
Spain Dominates the European Sports Drink Market
Due to the rising awareness about health and wellness and the increasing prevalence of lifestyle medical conditions like obesity and diabetes, individuals indulge in physical body workouts to keep themselves active and fit. This, in turn, drives the demand for sports drinks to replenish glucose, fluids, and electrolytes lost during strenuous exercise and enhance endurance. According to a survey by the Ministry of Education, Culture, and Sport, in 2022, more than one-quarter of male respondents reported having practiced some sports daily, while approximately 21% of female respondents said the same.
Another main factor behind the significant market growth is the booming fitness industry. In 2022, a survey conducted by the Ministry of Education, Culture and Sport in Spain revealed that 19.8% of men and 21.3% of women were members of gyms. Meanwhile, 16.9% of male respondents reported being members of sports clubs, with a lower membership rate among women. Across all age groups in Spain, gym memberships had a more extensive penetration than sports clubs that year. Apart from this, prominent players are adopting innovative approaches, such as combining functional ingredients with natural flavors like turmeric, ginger, and honey, to make the products appealing and exciting to consumers. Such innovations will likely influence the demand for sports drinks in the country and contribute to the overall market growth in Europe.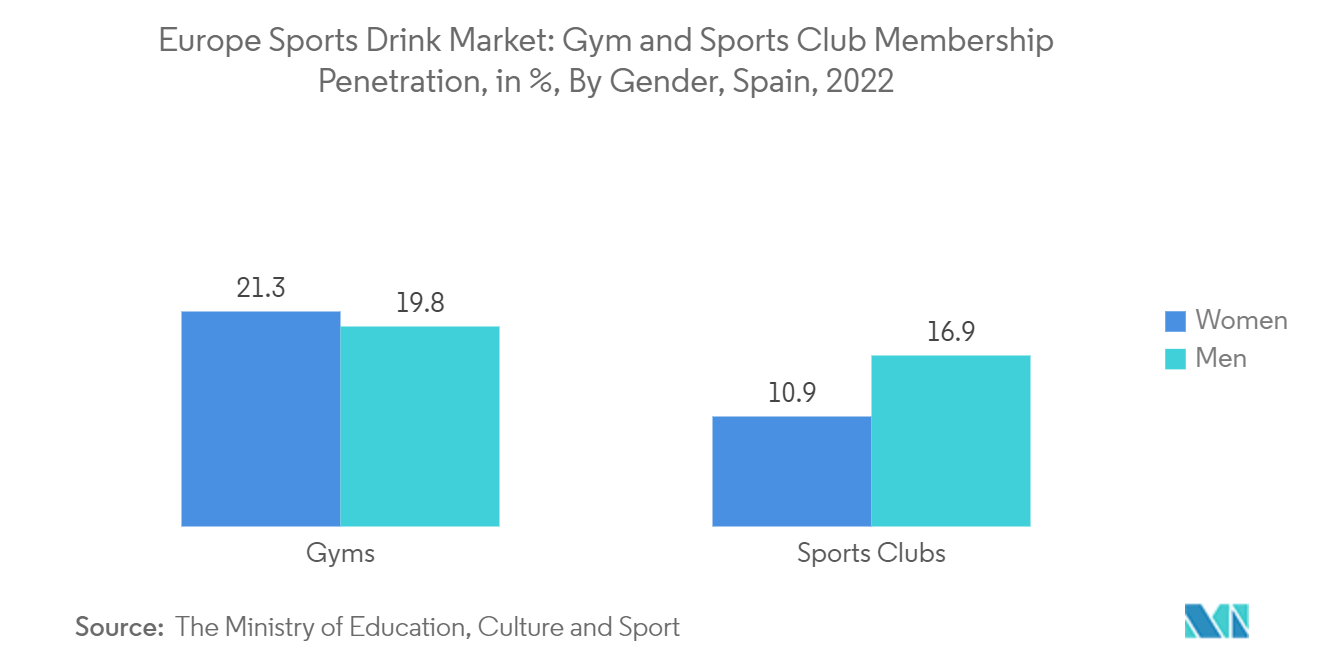 To understand geography trends, Download Sample Report
Europe Sports Drink Market Report Snapshots