The global bladder cancer therapeutics and diagnostics market is projected to record a CAGR of approximately 4%, during the forecast period (2018-2023).
Increasing Awareness about Bladder Diseases and Available Therapies
Based on the data from International Agency for Research on Cancer, bladder cancer is the 6th most commonly diagnosed cancer of males and the 9th leading cause of cancer deaths worldwide. Historically, bladder cancer has been associated with low patient awareness. Smoking has a high correlation with bladder cancer and this association is mostly unknown to the general public. But, in recent years, the awareness regarding bladder diseases and their management has drastically improved, particularly in developed nations. Also, the rise of immunotherapy therapies in cancer treatment has rekindled interest among eligible patients as it is a recently developed treatment modality, and has lower side effects when compared to radiation therapy and chemotherapy, which are conventional therapeutic options in bladder cancer management. Therefore, the increasing awareness about bladder cancer and related therapies is fuelling the growth of global bladder cancer therapeutics and diagnostics market. Apart from these, factors, like increasing healthcare expenditure and innovations in novel drug development, is also contributing to the growth of this market.
Asymptomatic Nature of the Disease
Bladder cancer is a common urologic cancer that has the highest recurrence rate of any malignancy. In North America, South America, Europe, and Asia, the most common type is transitional cell carcinoma. Bladder cancer is the fourth most commonly diagnosed cancer in men and the ninth most commonly diagnosed cancer in women in the United States. More than 90% of all cases of bladder cancer are classified as transitional cell carcinomas. Most newly diagnosed transitional cell carcinomas present as superficial tumors. However, the accuracy of diagnostic tests, like urine cytology for identifying bladder cancer is considerably low, particularly in asymptomatic patients with no history of bladder cancer. The symptoms for bladder cancer, like with most other cancers, manifest completely only in advanced stages and early stages have no peculiar symptoms, which can assist in patient differentiation. High rate of failure in early detection of bladder cancer is a direct outcome of this limitation. Therefore, the asymptomatic nature of bladder cancer is restricting the growth of global bladder cancer therapeutics and diagnostics market. Apart from these factors, like increasing number of patent expiries of onco-drugs is limiting the growth of this market.
North America is the leader in Bladder Cancer Therapeutics and Diagnostics
The ecosystem for research and development for drugs for cancer is well established in North America, particularly in US. Additionally the presence of a large number of biologics companies and biopharmaceutical companies is contributing to the large size and excellent growth of bladder cancer therapeutics and diagnostics market. North America also has best adoption rates of new diagnostic modalities that are introduced in commercial space. This trend is in contrast with other regions of the world where the most widely adopted technologies for cancer diagnostics are at least a decade old. Consequently, North America is leader in terms of market size in the global bladder therapeutics and diagnostics market.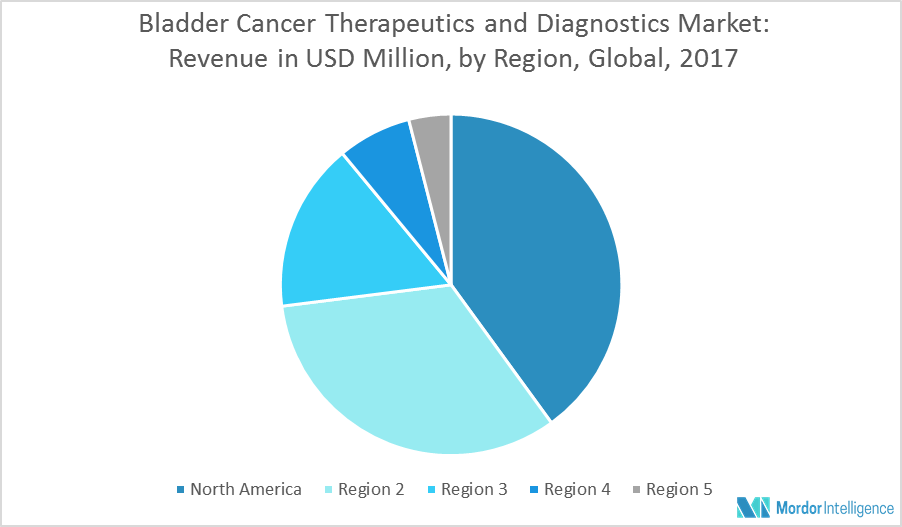 Key Developments in the Market
May 2017 – US FDA granted accelerated approval for Pfizer's immune-oncology drug Bavencio to treat advanced bladder cancer
December 2017 - TARIS Biomedical LLC, and Bristol-Myers Squibb announced that the companies have entered into a clinical trial collaboration to evaluate the safety, tolerability, and preliminary efficacy of TARIS' investigational product, TAR-200 (GemRIS™), in combination with Bristol-Myers Squibb's programmed death-1 (PD-1) immune checkpoint inhibitor, Opdivo (nivolumab)
The major players include – Novartis International AG, Pfizer Inc., GlaxoSmithKline Plc., Sanofi S.A., Eli Lilly and Co., Astra Zeneca Plc., Bristol Myers Squibb, Hoffmann-La Roche AG, and Celgene Corporation, among others.
Reasons to Purchase this Report
Current and future bladder cancer therapeutics and diagnostics market outlook in the developed and emerging markets
Analyzing various perspectives of the market with the help of Porter's five forces analysis
The segment that is expected to dominate the market
Regions that are expected to witness fastest growth during the forecast period
Identifying the latest developments, market shares, and strategies employed by the major market players
3-month analyst support, along with the Market Estimate sheet (in excel)
Customization of the Report
This report can be customized to meet your requirements. Please connect with our representative, who will ensure you get a report that suits your needs
1. Introduction
1.1 Market Definition
2. Research Methodology
3. Executive Summary
4. Key Inferences
5. Market Overview
5.1 Current Market Scenario
5.2 Porter's Five Forces Analysis
5.2.1 Bargaining Power of Suppliers
5.2.2 Bargaining Power of Consumers
5.2.3 Threat of New Entrants
5.2.4 Threat of Substitute Product and Services
5.2.5 Competitive Rivalry Within the Industry
6. Drivers, Restraints, Opportunities, and Challenges Analysis (DROC)
6.1 Market Drivers
6.1.1 Increasing Awareness About Bladder Diseases and Available Therapies
6.1.2 Increasing Healthcare Expenditure
6.1.3 Innovations in Drug Development
6.2 Market Restraints
6.2.1 Rise in the number of Patent Expirations
6.2.2 Asymptomatic Nature of the Disease
6.3 Opportunities
6.4 Key Challenges
7. Market Segmentation
7.1 By Cancer Type
7.1.1 Transitional Cell Bladder Cancer
7.1.2 Superficial Bladder Cancer
7.1.3 Invasive Bladder Cancer
7.1.4 Squamous Cell Bladder Cancer
7.1.5 Other Rare Types
7.2 By Therapeutics
7.2.1 Chemotherapy
7.2.2 Immunotherapy
7.2.3 Radiation Therapy
7.2.4 Others
7.3 By Diagnostics
7.3.1 Cystoscopy
7.3.2 Biopsy
7.3.3 Urinalysis
7.3.4 Bladder Ultrasound
7.3.5 Others
7.4 By Geography
7.4.1 North America
7.4.1.1 US
7.4.1.2 Canada
7.4.1.3 Mexico
7.4.2 Europe
7.4.2.1 UK
7.4.2.2 Germany
7.4.2.3 France
7.4.2.4 Italy
7.4.2.5 Spain
7.4.2.6 Rest of Europe
7.4.3 Asia-Pacific
7.4.3.1 China
7.4.3.2 Japan
7.4.3.3 India
7.4.3.4 Australia
7.4.3.5 South Korea
7.4.3.6 Rest of Asia-Pacific
7.4.4 Middle East & Africa
7.4.4.1 GCC
7.4.4.2 South Africa
7.4.4.3 Rest of Middle East & Africa
7.4.5 South America
7.4.5.1 Brazil
7.4.5.2 Argentina
7.4.5.3 Rest of South America
8. Competitive Landscape
8.1 Mergers & Acquisition Analysis
8.2 Agreements, Collaborations, And Partnerships
8.3 New Products Launches
9. Key Players
9.1 Astra Zeneca Plc.
9.2 Bristol Myers Squibb
9.3 Celgene Corporation
9.4 Eli Lilly and Co.
9.5 GlaxoSmithKline Plc.
9.6 Hoffmann-La Roche AG
9.7 Novartis International AG
9.8 Pfizer Inc.
9.9 Sanofi S.A.
*List Not Exhaustive
10. Future of The Market