Market Trends of Wireless Sensors Industry
This section covers the major market trends shaping the Wireless Sensors Market according to our research experts:
Energy and Power to Hold Significant Market Share
Energy conservation is increasingly essential to reduce any enterprise's power consumption and associated costs and minimize the environmental impact, including a business's ecological footprint. For improved energy conservation, accurate wireless sensor measurements are required in portable and stationary weather stations, wind energy systems, testing devices for diesel truck emissions, wind engineering concerning new building design aerodynamics, high-altitude weather research balloons, ocean research, water pollution devices, atmospheric studies, and smokestack mercury sampling.
Zero-power wireless sensors require energy processing low power management circuitry to monitor the transducer output power, store energy, and deliver power to the rest of the wireless sensor. Energy harvesting helps in powering wireless sensor networks in industrial apps. Advancements in low-power and reliable wireless communications and sensor and energy harvesting technologies make this type of communication more practical and efficient than a wired infrastructure.
With futuristic innovations, like electric cars and self-driving cars, the demand for these wireless pressure sensors is assumed to increase in the automotive sector. Powertrain applications represent more than 50% of the business, followed by safety, with tire pressure management systems (TPMS) being the most significant single automotive application. Driven by carbon dioxide emission reduction and automation, wireless pressure sensors will increasingly be adopted and used in the future.
Energy harvesting-based autonomous wireless sensor nodes are a convenient and cost-effective solution. Using energy harvesting removes one of the critical factors limiting the proliferation of wireless nodes. The scarcity of power sources has the characteristics necessary to deliver the energy and power to the sensor node for years without battery replacement. Significant economic advantages are realized when zero wireless power sensors are deployed vs. hard-wired solutions. According to BP, primary energy consumption in India recently amounted to some 35.4 exajoules, thus driving the demand for wireless sensors in the energy and power industry.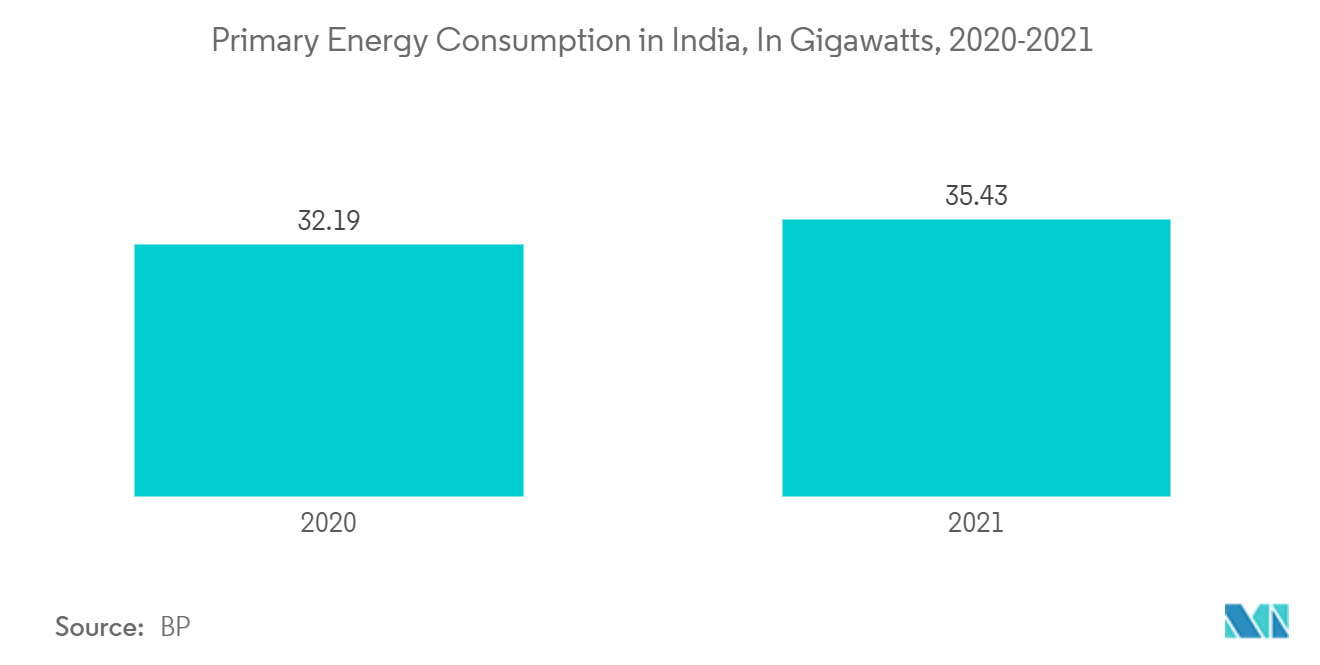 To understand key trends, Download Sample Report
Asia Pacific to Witness Significant Growth
The Asia Pacific is one of the largest regions in the electrical and electronics manufacturing market. The region is also a significant vendor of wireless sensor technologies, especially in China and Japan. China is also the world's largest car market and the world's largest production site for cars, including electric cars, with much growth potential. According to the China Association of Automobile Manufacturers (CAAM), recently, approximately 317,000 commercial vehicles were sold in China. Sales in China accounted for about 32.56% of global motor vehicle sales.
As these industries account for a significant portion of the wireless sensor market, the region offers an opportunity over the forecast period. The growing concept of connected cars and regulations regarding automotive safety is also expected to drive the adoption of wireless sensors in the region.
In automobiles, hydraulic brakes are a crucial component in passenger safety. The ability to control a vehicle using brakes is down to a complex blend of components, including pressure sensors. According to Auto Punditz, In the financial year 2022, the leading type of electric vehicle sold in India was two-wheelers, reaching around 231 thousand units, thus driving the demand for wireless pressure sensors in the automotive industry.
Another reason for increasing the adoption of wireless sensors is the region's high activity level in deploying them to enhance its growing IT healthcare market and innovate new healthcare equipment and devices.
Recently, Yokogawa Electric Corporation announced the release of the Sushi Sensor, an OpreX brand wireless solution, in Japan. The sensor is a compact wireless device with integrated sensing and communication functions that are intended to monitor plant equipment vibration and surface temperature.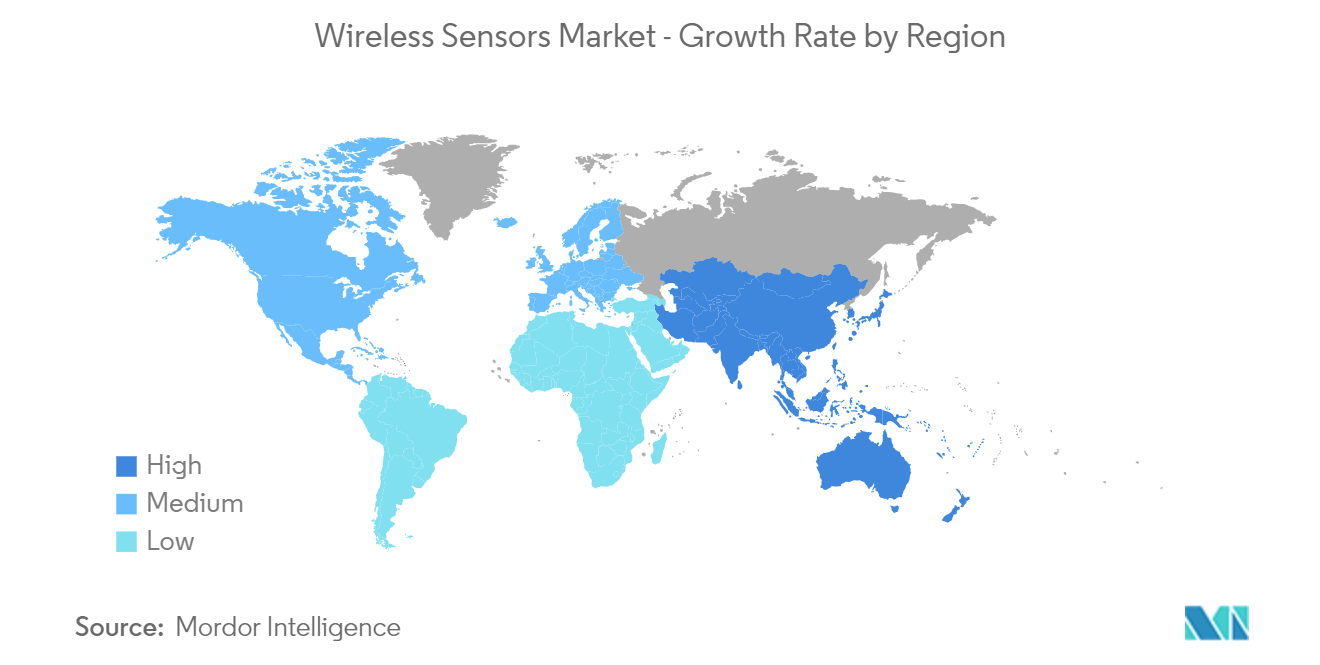 To understand geography trends, Download Sample Report
Wireless Sensors Market Report Snapshots