Market Trends of United Kingdom Veterinary Healthcare Industry
This section covers the major market trends shaping the UK Veterinary Healthcare Market according to our research experts:
Molecular Diagnostics Segment is Expected to Witness Significant Growth Over the Forecast Period
Molecular diagnostics refers to the class of tests performed on an animal to assess its health at the molecular level. It identifies specific sequences in genes, DNA, RNA, and proteins and provides insights into whether the animal has a disease or may suffer from an infection in the future. Molecular diagnostic tests are faster and have more sensitivity compared to conventional tests. However, they are more expensive than other diagnostic tests. Most commercial products in the United Kingdom's veterinary molecular diagnostics market are in the form of kits. These kits are predominantly based on polymerase chain reaction (PCR) techniques and help screen a family of related disorders. Meanwhile, the kits based on microarrays are witnessing a steady increase in their market share.
The polymerase chain reaction has become one of the standard procedures to diagnose almost all viral diseases in veterinary medicine, owing to its high sensitivity, versatility, and reproducibility. It has become an indispensable component of routine veterinary diagnostics in recent decades. Identifying and controlling pathogens in poultry, domestic, and wild animals in veterinary sciences represent continuous challenges. Moreover, many diagnostic techniques detect individual infectious agents to locate and confirm pathogens or genetic elements. The latest molecular diagnostic technologies are more advantageous, as they offer high throughput results, are more sensitive, and require less time.
The increasing product launches by the market players are one of the major drivers for the market. For instance, in June 2022, Thermo Fisher Scientific, a company focused on animal molecular diagnostic testing, organized the Animal Health Dx Summit to impart knowledge regarding effective testing techniques and technologies and efficient and economical ways to scale up testing. Similarly, in September 2020, Zoetis launched Vetscan Imagyst, a diagnostic platform that uses image recognition technology, algorithms, and cloud-based artificial intelligence (AI) to deliver accurate testing results to the clinic. With artificial intelligence-backed deep learning capabilities, Imagyst revolutionizes stool testing in visiting clinics by enabling veterinarians to quickly and accurately diagnose patients and treat them as needed. Such product launches will likely have a positive impact on segment growth.
Thus, owing to the abovementioned factors, the segment is expected to grow over the forecast period.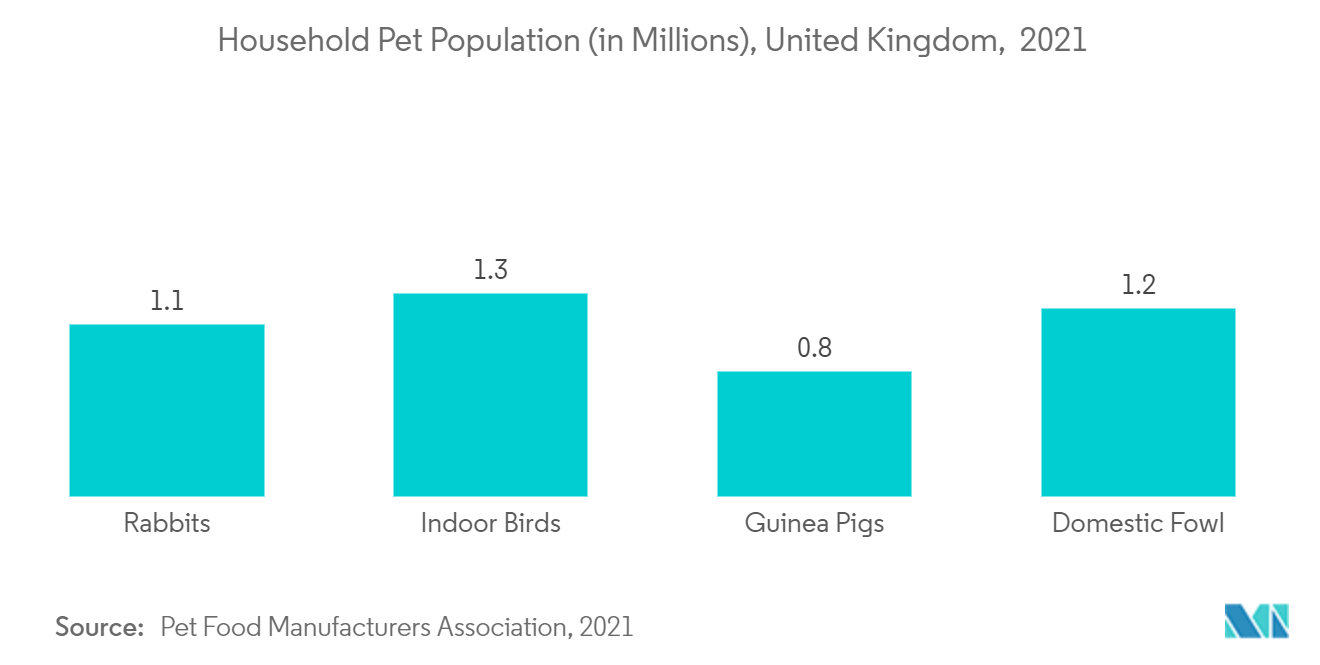 To understand key trends, Download Sample Report
Vaccines Segment is Expected to Witness Considerable Growth Over the Forecast Period
Vaccines comprise viruses, bacteria, or other disease-causing organisms that have been killed or altered so that they cannot cause any disease, thereby boosting immunity. New advanced vaccines contain genetically engineered components derived from those disease agents. This segment is expected to be driven by vaccine innovations, growing animal health awareness, increasing investments by government bodies and associations, and increasing cases of diseases among companion animals.
The key players' product launches are a significant driver for segment growth. For instance, in March 2022, Boehringer Ingelheim launched the Porcine parvovirus vaccine. ReproCyc ParvoFLEX offers safe and productive protection for healthy gilts and sows six months or older against reproductive failure caused by porcine parvovirus. Similarly, In April 2021, Boehringer Ingelheim launched PREVEXXION RN+HVT+IBD and PREVEXXION RN vaccines for Marek's disease in the UK and European Union countries. PREVEXXION RN+HVT+IBD is a unique, convenient, and high-performance solution combining PREVEXXION RN and VAXXITEK HVT+IBD in one ampoule.
Furthermore, in June 2020, the Federation of Veterinarians of Europe, in partnership with the European Union, announced that new legislation on veterinary medicines would be applicable in all EU countries from January 2022. Moreover, in May 2020, MSD Animal Health launched the NOBIVAC Myxo-RHD PLUS vaccine for pet rabbits in Europe. The vaccine reduces mortality and clinical signs of rabbits' three most common viral diseases. It is the first and only single-injection vaccine that helps to protect pet rabbits against the three most common and often fatal viral diseases affecting rabbits.
Therefore, such product launches by the key players in the UK are anticipated to create new opportunities for the market, thereby propelling the segment growth over the forecast period.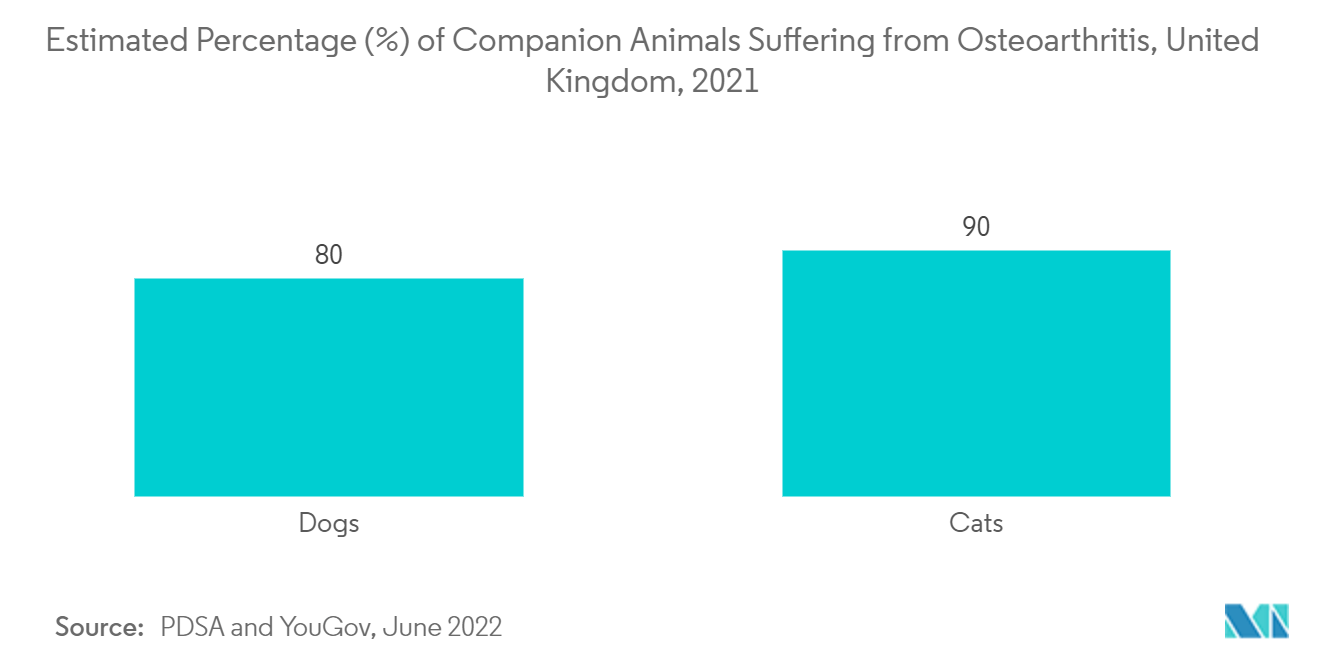 UK Veterinary Healthcare Market Report Snapshots