Market Trends of Semiconductor Etch Equipment Industry
Conductor Etching to Hold the Largest Market Share
Conductor etching equipment is used widely to shape the electrically activated materials used in different parts of the semiconductor device. Even a minimal variation in these small semiconductor structures can lead to an electrical fault impacting the device's performance.
The increasing demand for miniaturization of semiconductor circuits is anticipated to catalyze the ever-increasing demand for different types of conductor etching equipment, along with the need for high production of multi-film stacks with a minor fault during the forecasted period.
Conductor etching helps in shaping the electrically active materials of a semiconductor device. The presence of even a slight variation in these miniature structures can degrade device performance. Moreover, with the growing demand for DRAM chips, many players have introduced conductor etch systems for the volume production of advanced DRAMs.
For instance, Centris Sym3 Y is one of the most advanced conductor etch systems by Applied Materials and is tailored to critical conductor etch applications in 3D NAND, DRAM, and foundry-logic nodes. It enables chipmakers to precisely pattern and shape ever-smaller features in state-of-the-art memory and logic chips.
Moreover, the growth of usage of conductor etching in Metal Insulator Metal (MIM) capacitors also acts as an opportunity factor for Conductor Etching. MIM capacitors are important components for energy storage, signal filtering, and high-frequency tuning applications.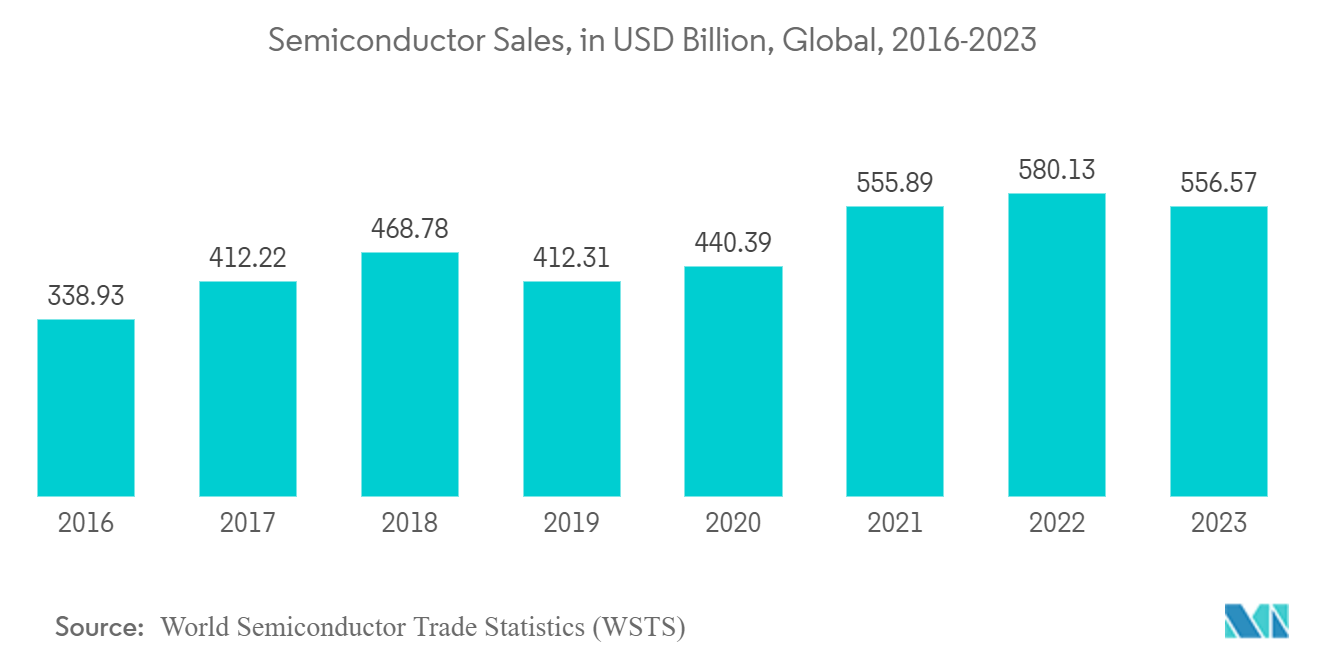 To understand key trends, Download Sample Report
Asia-Pacific to Witness Significant Growth
The Asia-Pacific region has the most prominent share of global semiconductor foundries, with major companies such as TSMC, Samsung Electronics, etc. Taiwan, South Korea, Japan, and China have a significant market share in the region.
According to a survey conducted by the Semiconductor Industry Association in July 2021, China mastered several chip technologies, and its commercial semiconductor industry is still relatively young. Still, the Chinese government is trying to close the gap, investing more than USD 150 billion in semiconductors between 2014 and 2030. Supported by booming markets and these government investments, China is poised to become increasingly competitive in some semiconductor market segments.
Moreover, as per a report by CNBC in December 2022, China is working on a more than CNY 1 trillion (USD 143 billion) support package for its semiconductor industry, in a major step toward self-sufficiency in chips and to counter the United States moves aimed at slowing its technological advances. Beijing has planned to roll out what is expected to be one of its most significant fiscal incentive packages, allocated over five years, mainly as subsidies and tax credits to strengthen semiconductor production and research activities at home.
Also, Japan's government is offering financial aid to encourage foreign chip makers to build plants in Japan, which is creating a positive growth outlook for the market. For instance, in June 2022, Japan's Ministry of Economy, Trade and Industry (METI) announced plans to offer subsidies worth up to JPY 476 billion (USD 3.5 billion) for a semiconductor plant being built in Kumamoto Prefecture by Taiwan Semiconductor Manufacturing Co. (TSMC), Sony Group and Denso. Total investment in the plant was expected to reach around USD 8.6 billion, with Japan's government supporting about 40% of the costs.
A similar trend has also been observed across other countries in the region. For instance, in February 2022, Lam Research, a US semiconductor equipment company, manufactured next-generation core equipment for semiconductor manufacturing in South Korea. These highly selective etching devices support Gate All Around (GAA) and 3D stacking technology. The new equipment is expected to play an important role in developing Samsung Electronics' next-generation memory and system semiconductors.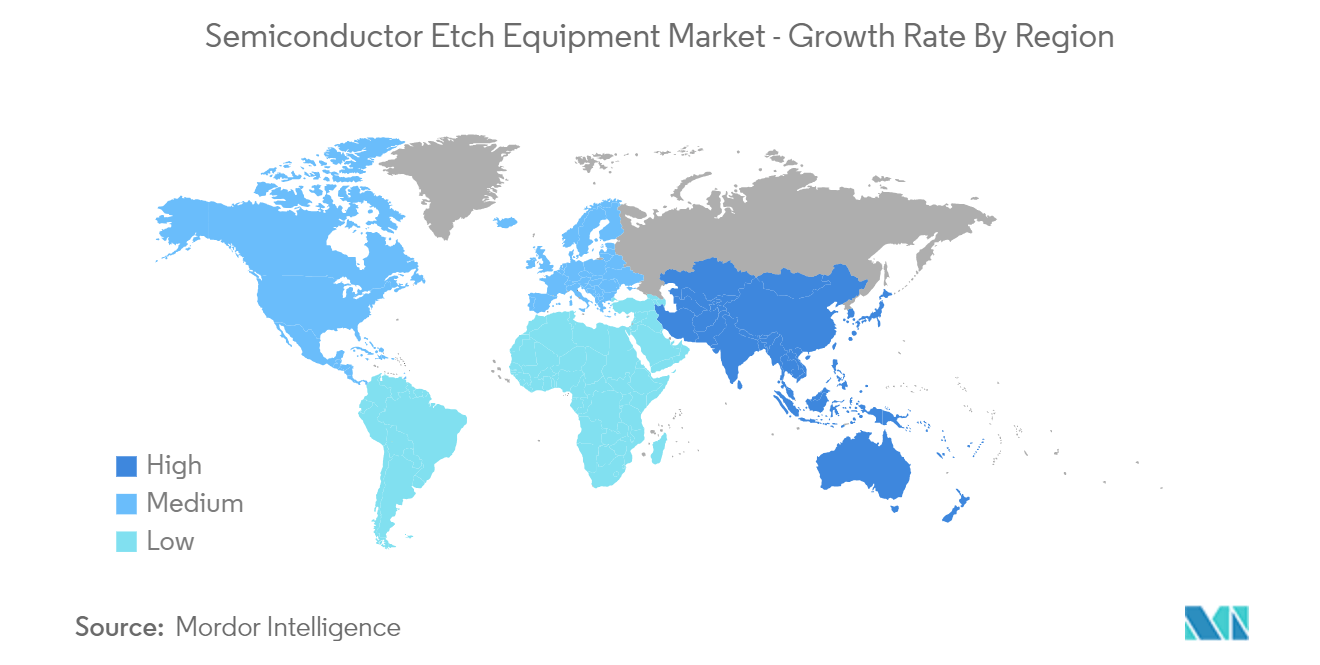 To understand geography trends, Download Sample Report
Semiconductor Etch Equipment Market Report Snapshots