Market Trends of Saudi Arabia Oil and Gas Midstream Industry
This section covers the major market trends shaping the Saudi Arabia Oil & Gas Midstream Market according to our research experts:
Pipeline Sector to Witness Growth
The country's oil refining capacity increased from 2,899 thousand barrels per day in 2015 to 2,905 thousand barrels per day in 2020, and the capacity is expected to grow as new refinery expansions are announced in the country.
Saudi Arabia's Aramco-controlled Jizan Refinery is currently running at 400,000 barrels per day (b/d), at 50% capacity. When fully operational, the Jizan complex is expected to process Arabian Heavy and Medium crudes to produce up to 75,000 b/d of gasoline, 250,000 b/d of ultra-low sulfur gasoil, and 90,000 b/d of vacuum residue for the power plant.
Saudi Aramco's Master Gas System (MGS), an extensive network of pipelines that connects its key gas production and processing sites throughout the kingdom, is currently undergoing an expansion. The system's current capacity is 9.6 billion standard cubic feet per day (bscfd) of natural gas supplying Eastern, Central, and Western industrial complexes.
Saudi Aramco also operates one of the world's largest refining businesses, with a gross refining capacity of 6.4 (million barrels per day) mmbpd as of December 31, 2020.
Saudi Aramco owns and operates 90 crude oil and petroleum products pipelines, totaling 12,000 miles (19,000 km), which link producing fields to processing plants, export terminals, and consumption hubs. The major operational pipelines are the Petroline or East-West crude and the Abqaiq-Yanbu carrying natural gas liquids (NGL) products.
In December 2021, Saudi Aramco announced a USD 15.5 billion landmark gas pipeline deal with a global consortium led by BlackRock Real Assets and Hassana Investment Company.
Hence, pipeline capacity is expected to increase significantly during the forecast period due to an increase in the refining capacity of oil and gas and increased investments in the sector through government-owned companies.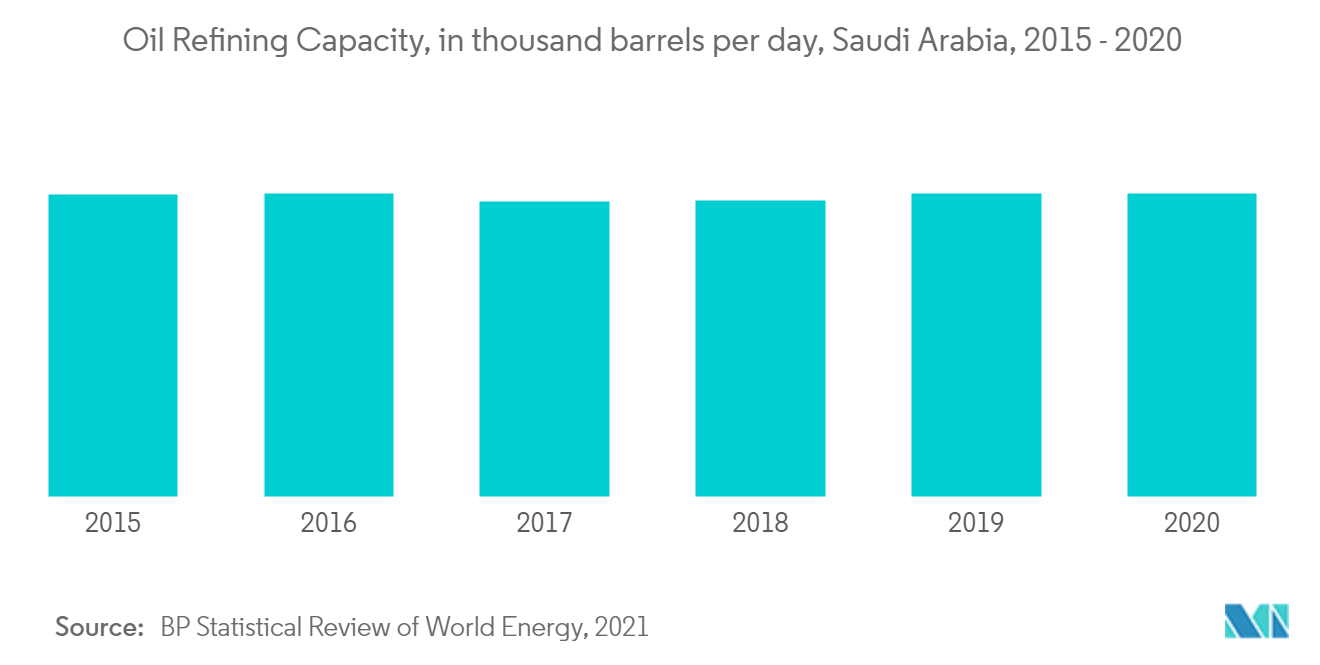 To understand key trends, Download Sample Report
Increasing Gas Production to Drive the Market
As of 2020, the country had 6 trillion cubic meters of proven natural gas reserves. Consumption of natural gas increased in the country from 99.2 billion cubic meters in 2015 to 112.1 billion cubic meters in 2020, mainly due to the government's focus on increasing gas production and usage to reduce the carbon footprint.
Production of natural gas in Saudi Arabia also increased significantly from 99.2 billion cubic meters in 2015 to 112.1 billion cubic meters in 2020. A further increase in production is expected to boost the sector's growth.
The country has a master gas system (MGS), an integrated gas gathering, processing, and transmission system. The transportation of natural gas, both associated and non-associated, uses this system to derive NGLs (natural gas liquids) production. An increase in demand for NGLs is expected to drive the demand for natural gas.
Saudi Arabia's midstream oil and gas sector is expected to grow significantly in the forecast period due to an expected increase in oil and gas production.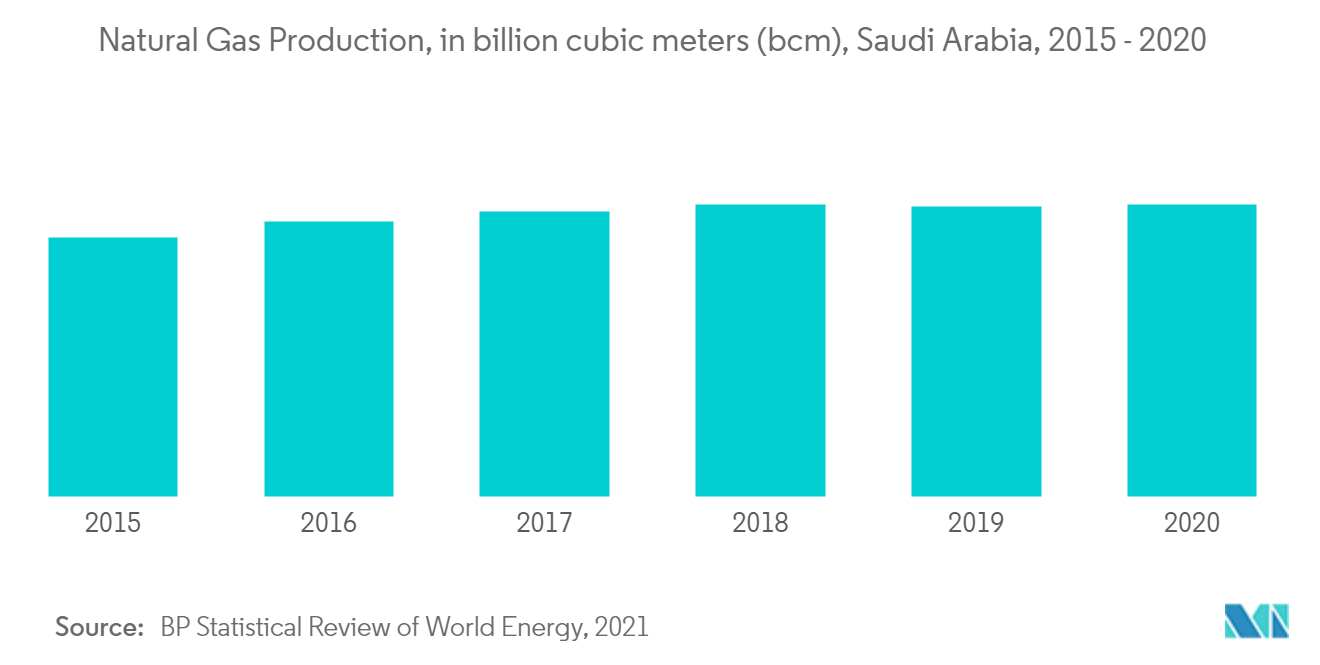 Saudi Arabia Oil and Gas Midstream Report Snapshots