Market Trends of Route Optimization Software Industry
Increasing Use of Logistics-Specific Solutions
Route planning for logistics and distribution organizations is a form of advanced software program that aids in transportation and delivery operation optimization. The optimum route is determined by route optimization algorithms using real-time data such as traffic updates, vehicle size, and driver schedules. It also continuously monitors performance, reporting driver information, fuel efficiency, carbon emissions, and other corporate KPIs. Route planning, for example, keeps track of various KPIs influencing the logistics business growth. These include delivery times, delays, fuel expenditures, and average delivery time and cost. With this information, businesses may concentrate on areas for improvement.
Online sales rise would create an opportunity for local and international players logistics players to deploy route optimization to provide a better experience to the customer. According to China's National Bureau of Statistics, the number of Chinese online buyers rose rapidly from under 34 million in 2006 to over 466 million users a decade later, enabling China's e-commerce business to multiply. According to CNNIC (China Internet Network Information Center), around 845.29 million people in China had purchased goods online as of December 2022.
According to the government of Canada, Canada's manufacturing sector accounted for approximately USD 174 billion, representing more than 10% of its total GDP. Every year, Canada's manufacturers export over USD 354 billion, making up about 68% of the country's total exports. There is also considerable demand from the warehousing and logistics sector dedicated to e-commerce activity in the country. These factors are expected to boost the need for the studied market.
In November 2022, Carrier Logistics Inc. (CLI), a freight management software provider, introduced a new routing logic and planning optimization solution. It enables complete terminal optimization, allowing fleets to have every shipment for every customer at every terminal planned for the right trailer in the correct sequence very quickly and automatically. The AI-powered software module, the most recent upgrade to the CLI FACTS freight management system, assists trucking fleet operators in determining which deliveries should be loaded onto each truck and in what order, resulting in exact, fully optimized route plans that account for specialty equipment, appointment time windows, predicted traffic, and commercial vehicle routing.
The revenue rise of logistics firms would enable them to deploy route optimization software. For instance, according to XPO Logistics, the US-based logistics company recorded a total revenue of over USD 11.57 billion in the fiscal year of 2022. It also allows route optimization players to develop solutions according to the customer's needs and capture the market share.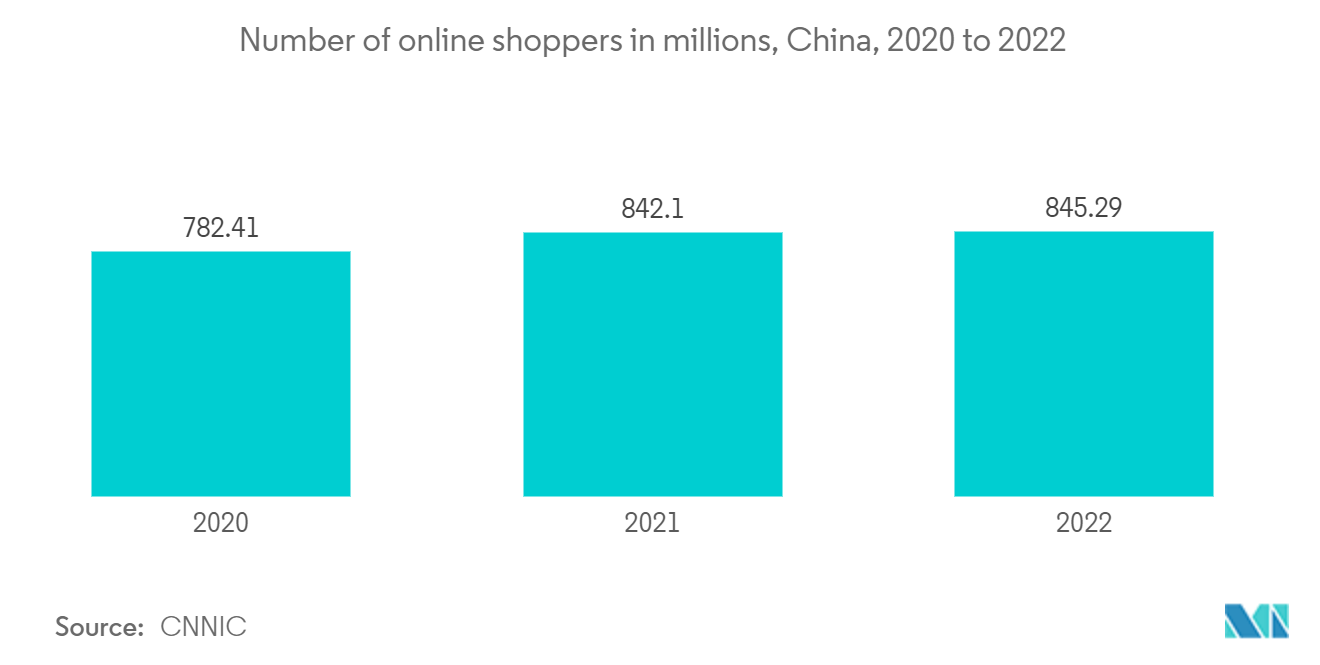 To understand key trends, Download Sample Report
North America is Expected to Hold Largest Market Share
Over the projected period, the North American region is expected to emerge as the dominant regional industry in the worldwide route optimization software market. North America's prominent industry positioning in the global route optimization software market can be attributed to several factors, including a high penetration of software vendors providing route optimization software solutions and an increasing number of collaborations between software providers and delivery service providers in the region.
Customers in the region can order meals from various restaurants or food chains with a single tap on their mobile phones using on-demand food delivery platforms and applications. Simplified commercial vehicle operations and visibility into the food supply chain aid in acquiring new clients for on-demand food delivery service providers. Food delivery service providers could use route optimization software to verify the driver's progress on long and short routes, handle several stops for meal delivery, and ensure timely food delivery.
The rise in route optimization software demand is driving firms to provide different solutions to capture the market share in the region. For example, MapQuest is a well-known free web mapping service. While similar in supported features to Google Maps and HERE Technologies, MapQuest lacks the capabilities to sustain a dynamic last-mile company. Although the MapQuest trip planner includes basic route optimization skills and a few more route planning tools, its utility is limited. MapQuest's route planner, in particular, only allows users to plan routes with up to 26 stops. As a result, MapQuest is the finest accessible route planner with many stops for personal use and non-commercial drivers, but it is not appropriate for businesses.
The increasing realization among enterprises in the North American region about the importance of holding money and aid by moving their data to the cloud instead of building and maintaining new data storage is driving the demand for cloud-based solutions and, hence, the adoption of on-demand security services in the region. Owing to multiple benefits, cloud platforms, and ecosystems are anticipated to serve as a launchpad for an explosion in the pace and scale of digital innovation over the next few years.
According to the American Trucking Association (ATA), the industry needs at least 50,000 drivers. The average age of US truck drivers is 55 (Bureau of Labor Statistics), so the shortage might worsen as these drivers retire. Attracting new drivers is highly expensive and challenging, so it is more critical than ever that route plans get the most out of the existing driver force. Such a vast truck moment would create an opportunity for the studied market to grow in the region.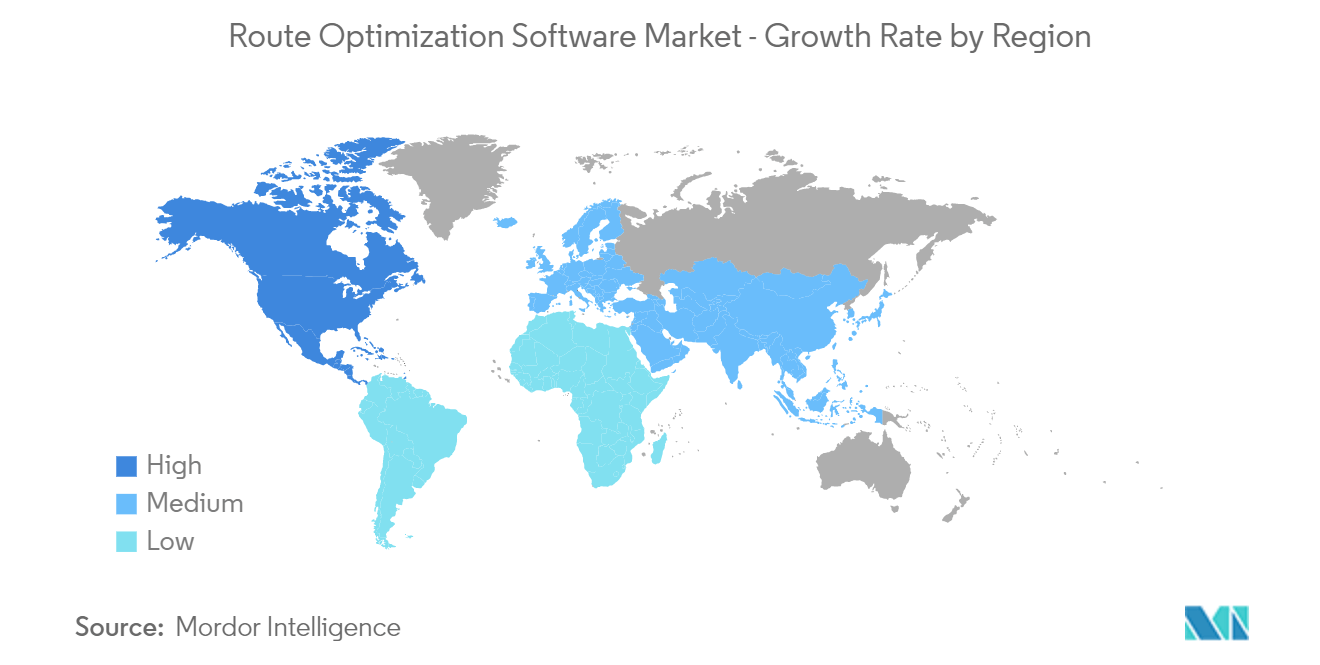 To understand geography trends, Download Sample Report
Route Optimization Software Market Report Snapshots