Market Trends of India Mutual Fund Industry
This section covers the major market trends shaping the India Mutual Fund Market according to our research experts:
Growth in Mutual Fund Assets
The strong performance of the equity markets and net inflows to equity schemes led to an increase in the asset size of the mutual fund (MF) industry. For the quarter ended December 31, 2021, the average assets under management (AAUM) of the industry were worth INR 36.17 trillion, registering a growth of nearly 30% over a year.
The value of the assets held by individual investors in mutual funds increased from INR 17.18 lakh crore in February 2021 to INR 21.02 lakh crore in February 2022, an increase of 22.32%. The value of institutional assets increased from INR 15.11 lakh crore in February 2021 to INR 17.54 lakh crore in February 2022, recording an increase of 16.08%.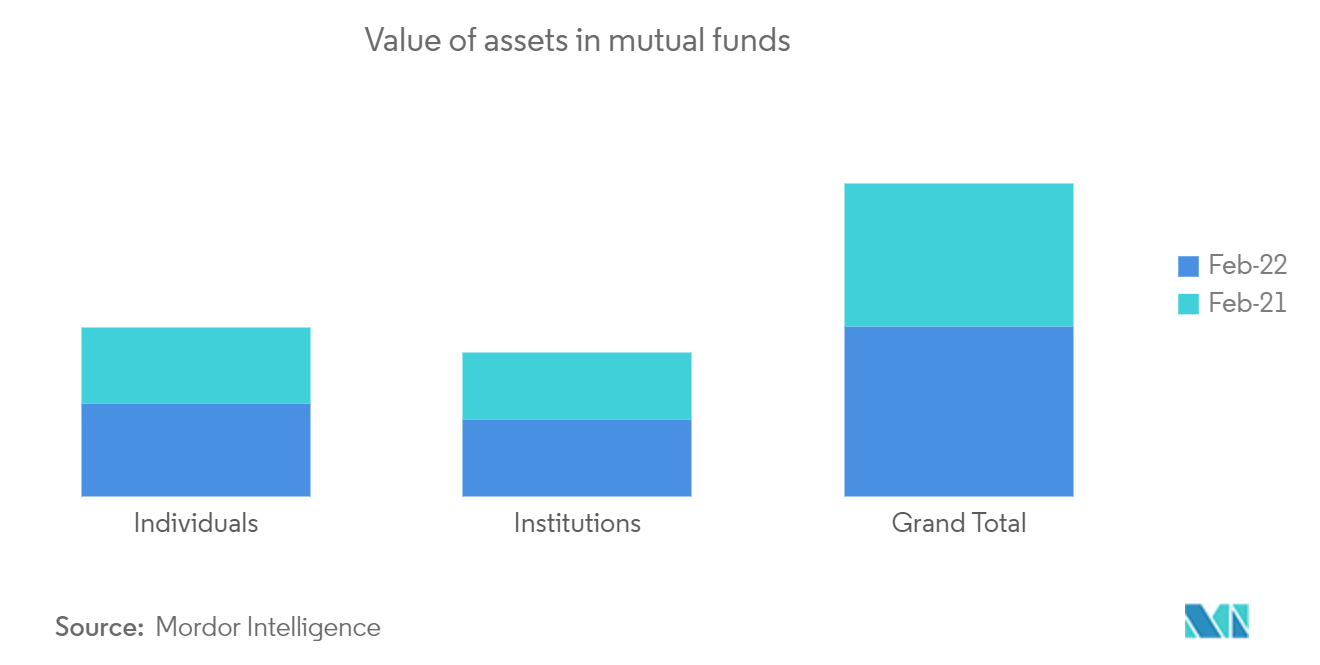 To understand key trends, Download Sample Report
Mutual Fund SIPs Register Significant Growth
Owing to the large number of new first-time investors entering the market and the simplicity of registering SIPs through online fintech portals, the number of SIPs and monthly collections has increased. However, the average ticket value per SIP has decreased. In December 2021, the average SIP ticket size fell to INR 2,303 per SIP, down from INR 3,313 in December 2017. Monthly SIP receipts, on the other hand, increased by 77% to INR 11,005 crore in December 2021, compared to INR 6222 crore in December 2017.
According to distributors, the number of SIPs increased by 41% in the last year, going from 3.47 crore running accounts to 4.91 crore accounts, as many new investors entered the market.