The market has been estimated to register a CAGR of 6.8%, during the forecast period from 2016 to 2021. Fetal and neonatal equipment are mostly used to monitor, evaluate, and treat diseases in the prenatal and postnatal stages of infants.
Advanced Technology in Fetal and Prenatal Monitoring
Monitoring procedures are important for the evaluation of the clinical state of patients and to assess changes in their conditions, thus providing necessary treatments on time. Both these two objectives can be achieved by introducing technology, thus, allowing accurate classification and extraction of useful diagnostic information. It has been shown that the computation of different indices on FHRV signals, either linear or nonlinear, gives helpful indications to describe pathophysiological mechanisms involved in the cardiovascular and neural system controlling the fetal heart. As a further contribution, also wearable systems for fetal ECG recording could provide new technological solutions improving the quality and usability of prenatal monitoring. These technological advancements provide a feasible environment for the growth of this market in the future. Additionally, increasing incidence of premature birth and growing government initiatives in developing countries regarding fetal care are further augmenting the market growth.

Stringent Regulatory Policies
In the expanding market for medical devices and therapies, there are stringent regulatory policies in place to ensure the safety of such drugs and devices. Pre-market approval is an FDA process of scientific and regulatory review to evaluate the safety and effectiveness of drugs and devices. There have been procedures by the FDA to heighten the post-market surveillance. Hence, citizens from countries where the review process is shorter benefit more than countries with longer review processes and stringent regulations. The presence of stringent regulations is dampening the innovation in the market and hindering the growth of this market. Other factors include high cost of equipment, which is further likely to impede the market growth.
Asia Pacific to Grow at Significant Rate
The Asia Pacific region is expected to grow at a considerably higher rate during the forecast period owing to aspects, such as high birth rate in some Asia Pacific countries, such as India & China along with rising awareness programs for the improvement of fetal care & neonatal care.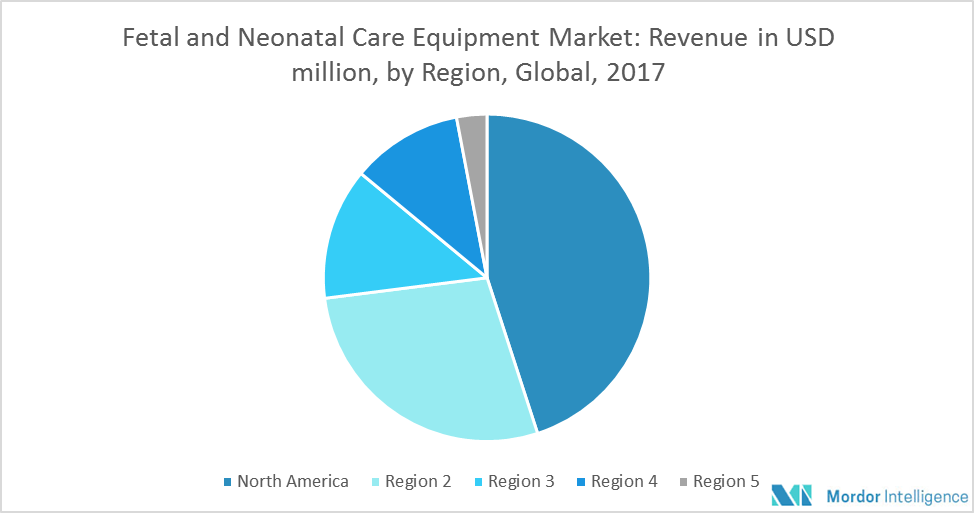 Key Developments in the Market
January 2017: MindChild Medical, Inc. received clearance for its Pre-Marketing Notification (510(k)) from the US Food and Drug Administration (FDA) for its MERIDIAN™ M110 non-invasive fetal heart monitor
Major Players: Analogic Corporation, CareFusion Corporation, Fisher & Paykel Healthcare Limited, GE Healthcare, Getinge AB, Natus Medical Incorporated, Philips Healthcare, Phoenix Medical Systems (P) Ltd., Smiths Medical, Spacelabs Healthcare, among others.
Reasons to Purchase this Report
Current and future global fetal and neonatal monitoring market outlook in the developed and emerging markets
Analysis of various perspectives of the market with the help of Porter's five forces analysis
The segment that is expected to dominate the market
Regions that are expected to witness fastest growth during the forecast period
Identify the latest developments, market shares, and strategies employed by the major market players
3-month analyst support, along with the Market Estimate sheet (in excel)
Customization of the Report
This report can be customized to meet your requirements. Please connect with our representative, who will ensure you to get a report that suits your needs
1. Introduction
1.1 Market Definition
2. Research Methodology
3. Executive Summary
4. Key Inferences
5. Market Overview
5.1 Current Market Scenario
5.2 Porter's Five Forces Analysis
5.2.1 Bargaining Power of Suppliers
5.2.2 Bargaining Power of Consumers
5.2.3 Threat of New Entrants
5.2.4 Threat of Substitute Product and Services
5.2.5 Competitive Rivalry within the Industry
6. Drivers, Restraints, Opportunities and Challenges Analysis (DROC)
6.1 Market Drivers
6.1.1 Increasing Incidence of Premature Birth
6.1.2 Advanced Technology in Fetal and Prenatal Monitoring
6.1.3 Growing government Initiatives in Developing Countries regarding Fetal Care
6.2 Market Restraints
6.2.1 High Cost of Equipment
6.2.2 Stringent Regulatory Procedures
6.3 Opportunities
6.4 Key Challenges
7. Market Segmentation
7.1 By Product
7.1.1 Electronic Fetal Monitors
7.1.2 Ultrasound
7.1.3 Fetal Doppler
7.1.4 Fetal Pulse Oximeters
7.1.5 Intrauterine Pressure Catheters
7.1.6 Uterine Contraction Monitor
7.1.7 Others
7.2 By Application
7.2.1 Antepartum
7.2.2 Intrapartum
7.2.3 Others
7.3 By Geography
7.3.1 North America
7.3.1.1 United States
7.3.1.2 Canada
7.3.1.3 Mexico
7.3.2 Europe
7.3.2.1 France
7.3.2.2 Germany
7.3.2.3 United Kingdom
7.3.2.4 Italy
7.3.2.5 Spain
7.3.2.6 Rest Of Europe
7.3.3 Asia-Pacific
7.3.3.1 China
7.3.3.2 Japan
7.3.3.3 India
7.3.3.4 Australia & New Zealand
7.3.3.5 South Korea
7.3.3.6 Rest of Asia-Pacific
7.3.4 Middle East & Africa
7.3.4.1 GCC
7.3.4.2 South Africa
7.3.4.3 Rest of the Middle East & Africa
7.3.5 South America
7.3.5.1 Brazil
7.3.5.2 Argentina
7.3.5.3 Rest of South America
8. Competitive Landscape
8.1 Mergers & Acquisition Analysis
8.2 Agreements, Collaborations, and Partnerships
8.3 New Products Launches
9. Key Players
9.1 Analogic Corporation
9.2 CareFusion Corporation
9.3 Fisher & Paykel Healthcare Limited
9.4 GE Healthcare
9.5 Getinge AB
9.6 Natus Medical Incorporated
9.7 Philips Healthcare
9.8 Phoenix Medical Systems (P) Ltd.
9.9 Smiths Medical
9.10 Spacelabs Healthcare
List Not Exhaustive
10. Future of the Market