Market Trends of Asia-Pacific Automotive Parts and Components Industry
This section covers the major market trends shaping the APAC Automotive Parts & Components Market according to our research experts:
Rising Adoption of Electric Vehicles to Enhance the Demand in the Market
Domestic OEMs currently dominate the Chinese EV market with a sales share of around 94%. China imposed a quota on manufacturers for 100% electric or hybrid vehicles, which must represent at least 10% of total new sales. Additionally, major economies like India, Japan, and South Korea also focus on imposing stringent restrictions to improve EV adoption. So, the growing demand for efficient powertrain systems in vehicles and favorable government policies are anticipated to offer new opportunities for players operating in the market. For instance,
India's Automotive Mission Plan FAME-II emphasizes providing government support to the country's growing automotive and components manufacturing industry. Over the past few years, the automotive parts and accessories manufacturing industry has gone through a comprehensive remodeling, leading to the advent of a highly competitive industry.
Besides that, manufacturers in the country are geared to limit their current GHG emission levels by optimizing their powertrain system design and focusing on the lightweight and reduced size of powertrain systems with better performance results. So, players in the market are focusing on offering innovative solutions and are expanding their manufacturing facilities to consumers to capture the growing market share. For instance,
In February 2022, Tesla planned to build a second electric vehicle (EV) facility in China to help it keep up with increasing demand locally and in export markets. In the short term, Tesla plans to increase capacity in China to at least 1 million cars per year, with a second plant planned near its present production in Shanghai's Lingangfree trade zone.
In January 2022, Honda's Chinese joint venture with Dongfengannounced that it would develop an electric-vehicle manufacturing factory in Wuhan as it seeks to expand its EV output. The Dongfeng-Honda Automobile facility will open in 2024 with a production capacity of 120,000 units per year.
In May 2022, Toyota Group revealed plans to invest INR 48 billion (USD 624 million) in India to manufacture electric vehicle components.
In March 2022, Suzuki Motor, the parent company of Maruti Suzuki, announced that it would spend INR 10,440 crore in India to develop a new electric car and battery facility.
Similarly, the uptake of new technologies and innovations in engines, such as hybrid engines, is expected to gain significantly during the forecast period, which is expected to drive demand in the market.
To understand key trends, Download Sample Report
India Expected to Play Significant Role in Development of Market
Asia-Pacific continues to dominate the market, and the manufacturers in this region offer high-cost reductions, owing to the availability of low-cost labor and raw materials. Furthermore, the area comprises China and India, which account for approximately 34% of the total vehicle production. The increasing popularity of active braking systems boosts the sales of luxury and premium vehicles. The increased growth, with commercial and government investments, as well as FDI involvement, is expected to drive the market growth during the forecast period.
In the manufacturing sectors of emerging economies, such as India, limited R&D expenditures and smaller capabilities led to regional players compromising product quality. The problem is compounded when the price is often the primary priority for most customers, and product quality and reliability only come following the price. However, an increasing emphasis on low-quality coating products, particularly in certain end-user segments (such as automotive OEMs), is becoming outdated.
With the presence of luxury carmakers, such as Audi, BMW, and Mercedes, customer preferences have changed to vehicles with luxurious and advanced features. The new trend of giving importance to eco-friendly cars will propel the automotive parts and components market.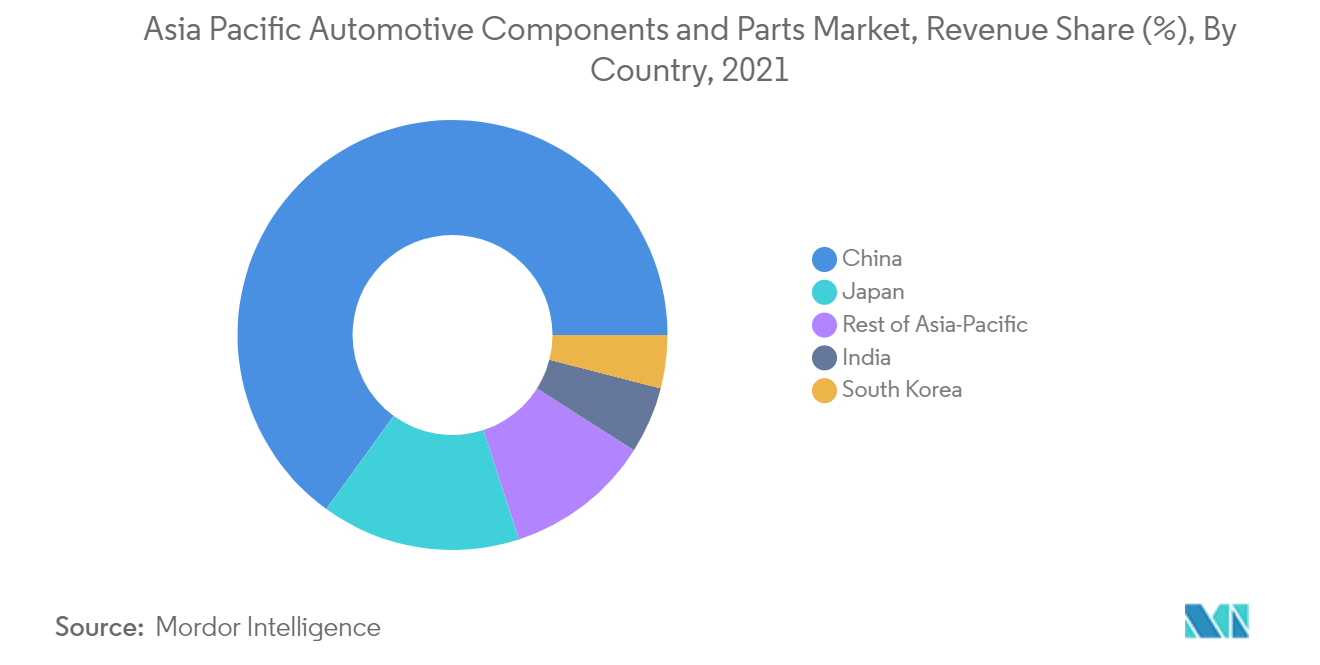 To understand geography trends, Download Sample Report
Asia-Pacific Automotive Parts and Components Report Snapshots