Asia-Pacific accounts for 72% of the world's total irrigated water. The market demand for membrane wastewater treatment is likely to be driven by the growing demand for freshwater and the agricultural operations in the APAC region, where, about 80% of wastewater is discharged without treatment. Countries like Vietnam and some South Asian countries are facing a severe drought due to the water scarcity and lack of wastewater treatment technologies.
Lack of Freshwater Resources
Demand for the fresh water is rising worldwide; according to the United Nations World Water Development Report 2015, the world will experience a 40% deficit in water supply by 2030. The global demand for "blue" water, excluding water demand in rain-fed agriculture, will increase by 55% from 2000 to 2050.
Water scarcity is increasing and will affect at least 1 billion people in the next 35 years in the APAC region as per MIT News. It is estimated that, by 2050 APAC will be facing severe water shortage.
The rising demand for fresh water will augment the membrane wastewater treatment market, predominantly in municipal and industrial water treatment facilities. Membrane bio-reactor, reverse osmosis, micro, ultra, and nano filtration are the widely accepted membrane technologies globally, for purifying water. Therefore, rising demand for fresh water will drive the market during the forecast period.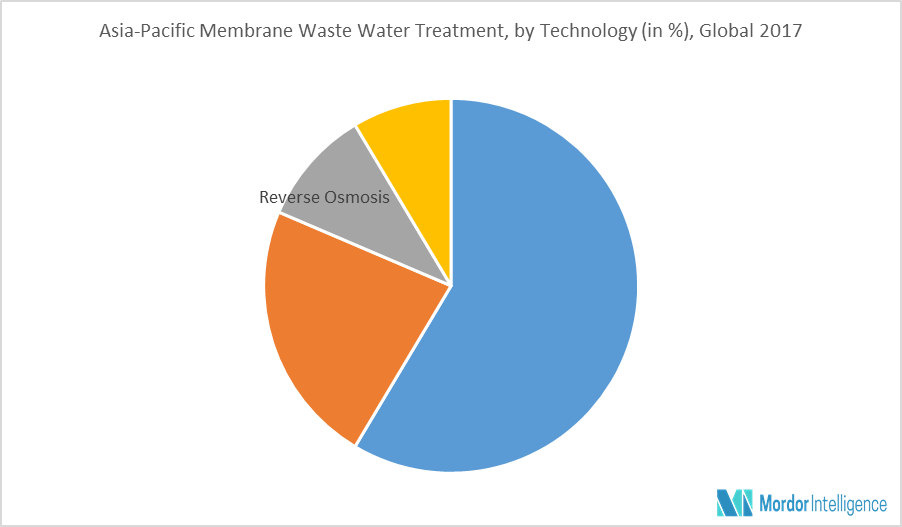 Reverse Osmosis – The Driving Technology
Reverse osmosis is one of the major membrane wastewater treatment processes in the 21st century. It is a membrane separation process, which prominently uses pressure to force a solution through a membrane that holds the solute and lets the pure solvent to pass. This layer is designed especially for water as a solvent. It is mainly used for desalination of seawater, and is efficient in separating solids, bacteria, and other solvents. Reverse osmosis in the APAC region is mainly used as an alternative to traditional techniques, like evaporation and distillation. With the RO technology replacing traditional technologies, it is expected to grow rapidly during the forecast period.
China the Largest Consumer of WWT
China has witnessed tremendous growth in wastewater treatment, which is expected to grow at very high rates. About two-thirds of China's underground water and a third of its surface water was unhealthy for human contact as per a survey conducted in 2015. China is planning to invest USD 609 billion a year over the next five years for sewage water treatment. There is substantial progress in the country in treating the sewage water and industrial water, which are the major factors boosting the membrane wastewater treatment market in the region.
Major Players: Aecom, Aquatech, Dow Water & Process Solutions, and Membrane Group, among others.
Reasons to Purchase this Report
How the lack of fresh water resources will drive the market
Analyzing various perspectives of the market with the help of Porter's five forces analysis
Which technology and application is expected to dominate the market
Which country is expected to witness fastest growth during the forecast period
Identify the latest developments, market shares and strategies employed by the major market players.
3 months analyst support along with the Market Estimate sheet in excel
Customization of the Report
This report can be customized to meet your requirements. Please connect with our analyst, who will ensure you get a report that suits your needs.
1. Introduction
1.1 Research Phases
1.2 Study Deliverables
1.3 Scope of the Report
2. Executive Summary
3. Market Insights
3.1 Industry Value Chain Analysis
3.2 Regulatory Policies Analysis
3.3 Industry Attractiveness - Porter's Five Forces Analysis
3.3.1 Bargaining Power of Suppliers
3.3.2 Bargaining Power of Consumers
3.3.3 Threat of New Entrants
3.3.4 Threat of Substitute Products and Services
3.3.5 Degree of Competition
3.4 Raw Material Analysis
4. Market Dynamics
4.1 Drivers
4.1.1 Rising Demand for Low Pressure Membrane
4.1.2 Lack of Freshwater Resources
4.1.3 Stringent Government Emission Laws
4.2 Restraints
4.2.1 Lack of Awareness
4.2.2 High Cost of Technology
4.3 Opportunities
4.3.1 Huge Investments on R&D
4.3.2 Newer Applications
5. Market Segmentation and Analysis
5.1 By Technology
5.1.1 Microfiltration(MF)
5.1.2 Ultrafiltration (UF)
5.1.3 Nanofiltration(NF)
5.1.4 Reverse Osmosis
5.2 By Application
5.2.1 Healthcare
5.2.2 Energy
5.2.3 Industrial
5.2.4 Food and Beverage
5.2.5 Others
6. Regional Analysis (Market size, growth and forecast)
6.1 Asia-Pacific
6.1.1 China
6.1.2 India
6.1.3 Japan
6.1.4 South Korea
6.1.5 Malaysia
6.1.6 Singapore
6.1.7 Indonesia
6.1.8 Thailand
6.1.9 Australia & New Zealand
6.1.10 Rest of APAC
7. Competitive Landscape
7.1 Mergers & Acquisitions, Joint Ventures, Collaborations and Agreements
7.2 Market Share Analysis**
7.3 Strategies Adopted by Leading Players
8. Company Profiles (Overview, Financials**, Products & Services, and Recent Developments)
8.1 Aecom
8.2 Aquatech
8.3 Atkins
8.4 Black & Veatch
8.5 ch2m
8.6 Degrémont Industry
8.7 DowDuPont
8.8 Evoqua Water Techno
8.9 GE Water & Process Technologies
8.10 IDE Technologies
8.11 Kurita Water Industries Ltd.
8.12 Louis Berger
8.13 Mott Macdonald
8.14 Organo
8.15 Ovivo
8.16 Paques
8.17 Remondis Aqua
8.18 Schlumberger
8.19 Suez Environment
8.20 Tetra Tech Inc.
8.21 Veolia Water Technologies
8.22 Membrane Group
8.23 Teri
8.24 REHAU
8.25 The MBR Site
8.26 BASF SE
8.27 Toray
8.28 Koch Membrane Systems
*List not exhaustive
9. Disclaimer
**Subject to Availability on Public Domain