Market Size of Africa Maize Industry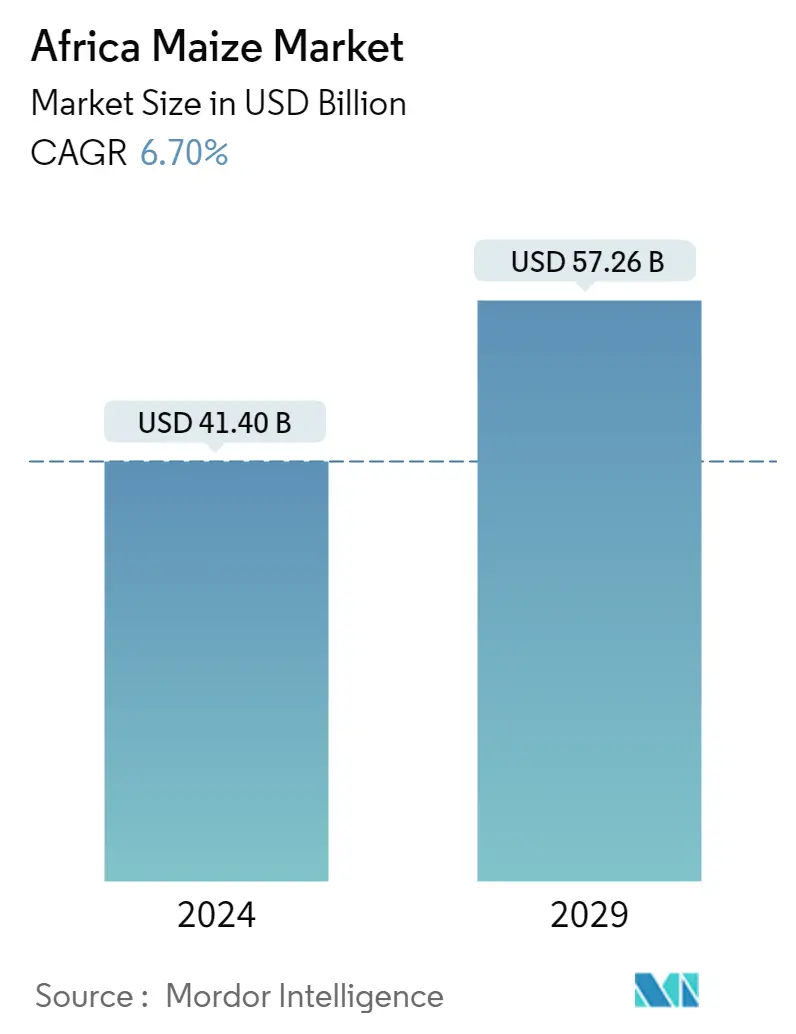 | | |
| --- | --- |
| Study Period | 2018 - 2028 |
| Base Year For Estimation | 2022 |
| Forecast Data Period | 2023 - 2028 |
| Market Size (2023) | USD 38.80 Billion |
| Market Size (2028) | USD 53.66 Billion |
| CAGR (2023 - 2028) | 6.70 % |
Need a report that reflects how COVID-19 has impacted this market and its growth?
Africa Maize Market Analysis
The Africa Maize Market size is expected to grow from USD 38.80 billion in 2023 to USD 53.66 billion by 2028, at a CAGR of 6.70% during the forecast period (2023-2028).
Maize is considered to be the staple food for most parts of Sub-Saharan Africa. The popularity and production of maize are increasing significantly, with government aid and investments flooding the African agriculture sector. Maize is also considered a food security crop in different parts of Africa as it can be easily produced in different regions year-round according to weather conditions. It provides income for most households that depend on agriculture. The major driving factors for the increasing production are the increasing population pushing food scarcity to new highs and the increasing demand for maize from other sectors like animal feed.
Africa consumes 30.0% of the maize produced in the world, with Sub-Saharan Africa accounting for 21.0% of the consumption. Around 14 countries in Africa consume 85.0-95.0% of maize as their staple food and are more inclined to white maize consumption, with a consumption share of around 90.0%. Thus, white maize has a premium price in the country. Most of the maize is produced in rain-fed areas. However, it is also grown in the drought and famine-stricken regions of Africa.
The total harvested area under maize in the region was around 43 million hectares in 2020. South Africa is the largest producer of maize in Africa, followed by Nigeria. According to USDA reports, maize production in Africa increased by almost 8.2% from 2017 to 2022, estimated to be 90.8 million metric tons. In 2021, South Africa contributed 1.34% of the global maize production, according to a survey done by USDA Foreign Agricultural Service.
The imports from Africa increased by 10.% in value from 2017 to 2021 and reached USD 5.17 million, accounting for 8.6% of the total import value of maize in the world, according to ITC trade data. South Africa is one of the major exporters of maize from the African region, accounting for almost 75% of the export quantity in 2021, estimated to be 3.32 million metric tons, followed by Tanzania, Mali, and Zambia, among others.
Africa Maize Market Report Snapshots