Market Trends of Saudi Arabia Payments Industry
This section covers the major market trends shaping the Saudi Arabia Payments Market according to our research experts:
E-commerce to Drive the Saudi Arabia Payments Market
With the increasing number of smartphones worldwide and high-speed cellular networks present in most countries worldwide, the e-commerce industry is growing. With an increase in the E-commerce industry, mobile transactions are also expected to grow rapidly, providing a significant boost to the mobile payments market.
During the COVID-19 pandemic, the E-commerce industry has seen a significant rise owing to lockdown worldwide. Customers were reluctant to purchase from offline stores due to fear of contracting COVID-19 through physical money. People use electronic payment methods, including mobile payment, to pay for goods and services.
According to the PAYPERS News, In Dec 2021, MoneyGram's API-driven infrastructure and network were used by urpay, a Saudi Arabia-based digital wallet, to enable international transactions from Saudi Arabia. This strategic agreement builds on MoneyGram's recent success in the Middle East, accelerating digital growth in one of the world's most important outbound remittance markets. MoneyGram will be able to increase the volume of payments processed through its platform as a result of this partnership, as well as expand its digital offering.
In June 2022, PayPal Holdings Inc. made a USD 45 billion offer to buy digital pinboard site Pinterest Inc., which could lead to additional e-commerce tie-ups between financial technology and social media companies. The conversations come as online buyers increasingly buy products they see on social media, frequently by following "influencers" on platforms like Instagram and TikTok. PayPal would be able to capture more of that e-commerce growth and diversify its revenue streams by purchasing Pinterest.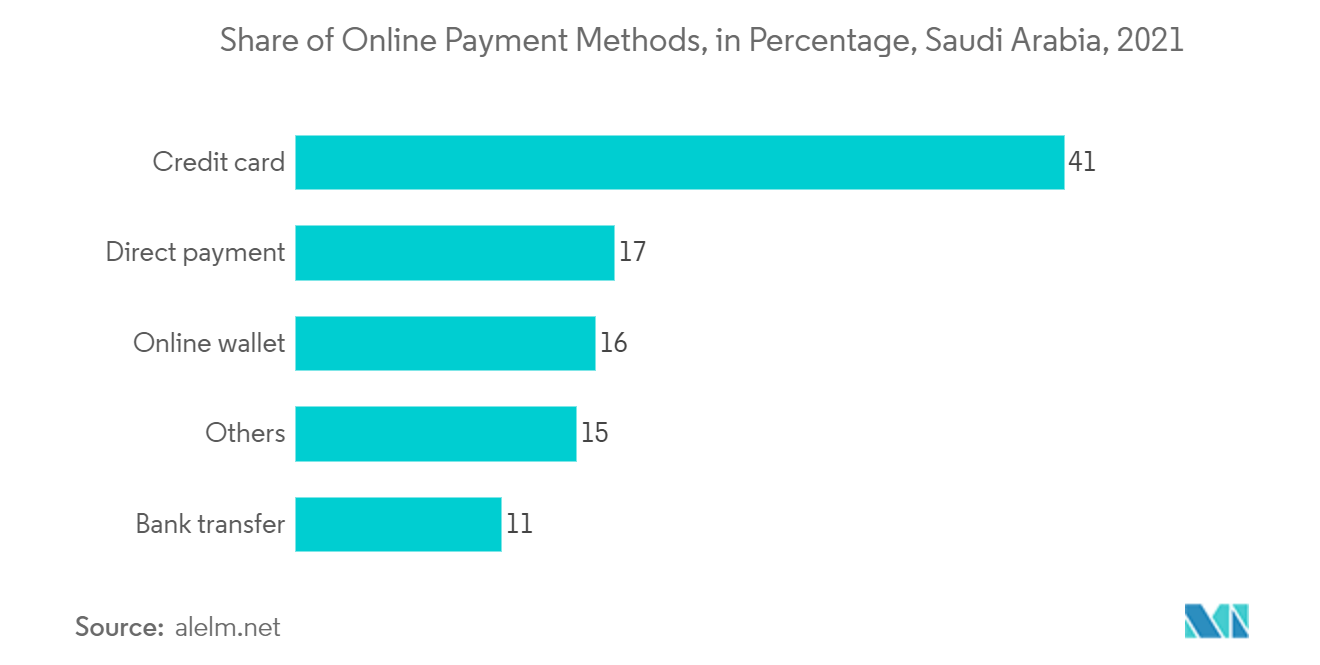 To understand key trends, Download Sample Report
Retail sector to have a significant growth
The retail industry is one of the top industries in Saudi Arabia. As a result, the retail sector represents many opportunities for new business, trading, and investing. The payment market in Saudi Arabia is developing with the changing customer behavior. Trends such as mobile payments, internet banking, instant payments, and the Government's growth initiatives are affecting the payment market in the country.
In addition, citizens spend a significant share of money on categories that include food, beverages, tobacco, clothing, footwear, cosmetics, body care products, furniture, appliances for the household, and leisure items such as watches and accessories. Furthermore, various payment checkout solutions offered by top retail market players in the region are further accelerating the growth of the retail sector.
According to the Saudigazette on January 2022, The Saudi Central Bank (SAMA) stated that electronic payments accounted for 57% of total retail transactions in 2021, above the 55% objective set by the Financial Sector Development Program (FSDP), one of Saudi Vision 2030's core programs.
This continuous rise in the retail sector provides various opportunities to payments providers in the region to enhance their payment platforms and apps to cater to the increasing demand. Furthermore, the rising adoption of digital wallets and contactless payments by cards further provides lucrative opportunities for payment providers in the region.
BinDawood Holding Company, one of Saudi Arabia's top grocery retail operators of hypermarkets and supermarkets, announced the launch of a new Danube store in Jeddah, Danube Corniche Commercial Center, Al Balad, in October 2021.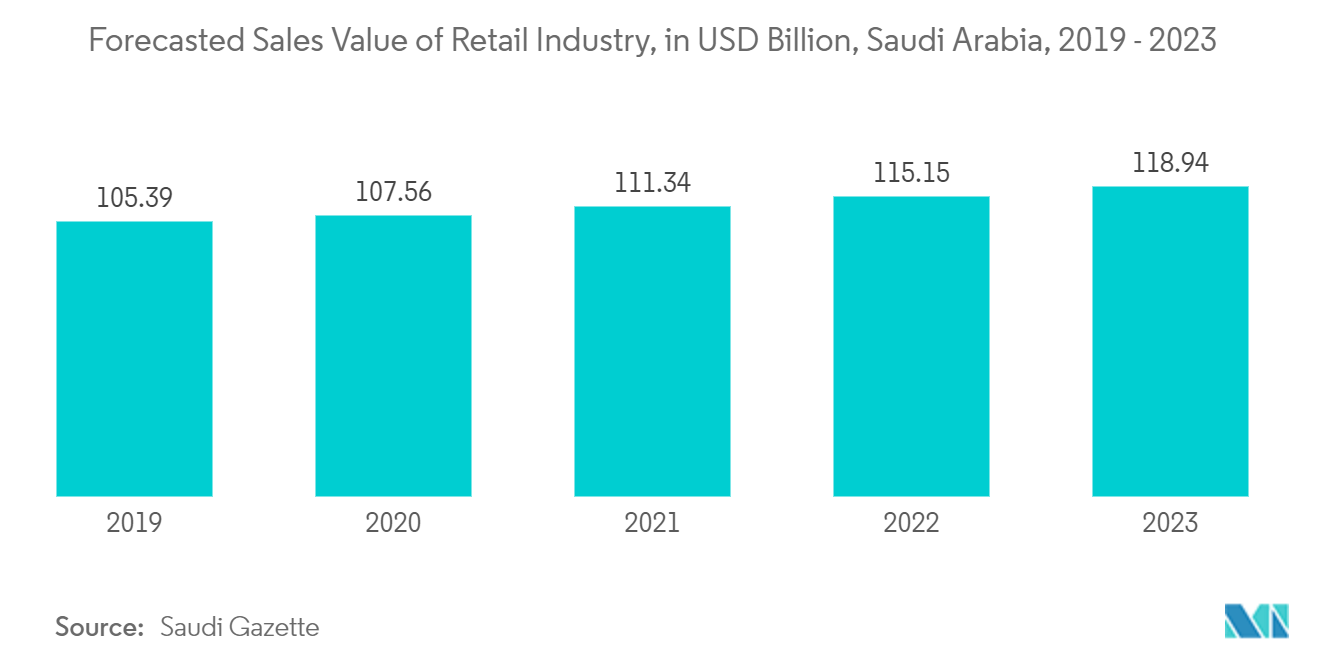 Saudi Arabia Payments Report Snapshots