Market Trends of Europe Hydropower Industry
Pumped Storage to Witness Significant Growth
Pumped storage is important for the reliability of the grid because it is one of the few large-scale, cost-effective ways to store and use electricity. Pumped storage projects store and make energy by moving water between two reservoirs at different heights. With this technology, renewable energy can be stored so that it can be used when electricity is needed.
In May 2022, Drax Group PLC invested £500 million in the Cruachan power station. The company planned to add 600 MW of underground pumped storage hydropower capacity to the Cruachan power station. The company is planning to double the Cruachan facility's capacity by 2030, and work on-site begins in 2024. The company plans to hollow out a cavern in Ben Cruachan and excavate around two million tons of rock to house the power station and related infrastructure.
In the United Kingdom, in 2020, the refurbishment of the 360 MW Ffestiniog pumped storage plant was moving ahead, with further pumped hydro planned in the UK and Ireland. Pumped storage is seen as a reliable source of renewable energy that can be used as a storage mechanism to reduce the unpredictability of renewable sources like wind and solar.
A fairly new way to build pumped-storage projects is to put the reservoirs in places that are physically separate from the rivers. After the reservoirs are filled the first time, they only need a small amount of make-up water to make up for water lost through seepage. By completely avoiding existing complex aquatic systems, these types of projects may be able to reduce the most serious marine effects of project development by a large amount.By becoming more eco-friendly, the system is likely to lose its negative effects and could be used in areas with low biodiversity, which would help the market grow.
According to IRENA, the installed capacity of pumped storage in Europe went up, but in 2021, it stayed the same at 28,341 megawatts. Due to more investments in the sector, the installed capacity is expected to grow over the next few years.
Because of this, pumped storage is expected to grow a lot over the next few years as more money is put into the field and new technologies are developed.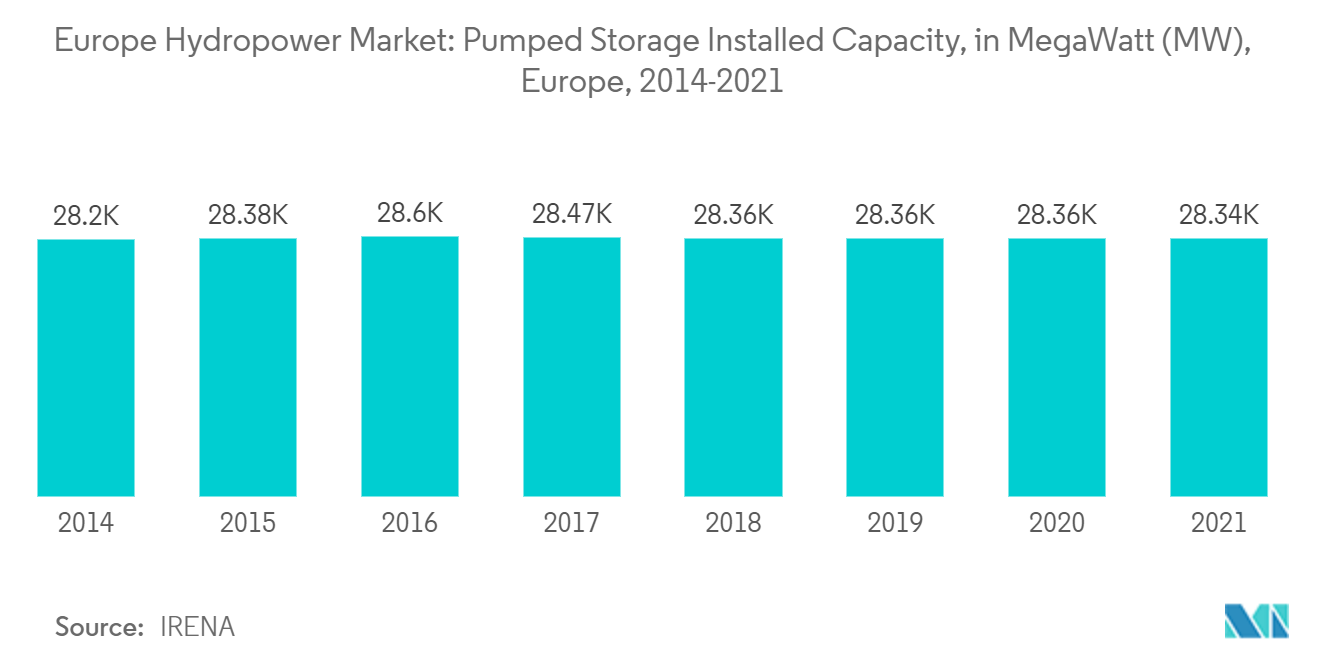 To understand key trends, Download Sample Report
Russia to Dominate the Market
Russia proposes to increase the share of renewable energy in power generation to 4.9 percent by 2030. A unique capacity payment mechanism for new renewable energy capacity in solar, wind, and small hydro projects has been approved, with an assured 12% return on investment. This is expected to incentivize the market players to create small hydro projects, which may aid the market's growth.
Due to the ongoing Russia-Ukraine conflict and the ban on Russian natural gas and crude oil. The country witnessed a significant impact on the economy, further leading to disinvestments by prominent European nations and others in renewable energy markets.
Russia's hydropower operators are making substantial investments in their existing stations. The upgrade plans announced by EN+ group International PJSC to upgrade the 662 MW Irkutsk and the 6,000 MW Krasnoyarsk hydropower stations as part of their new energy modernization program Increasing modernization is expected to boost the growth of the market.
In December 2022, the Russian government planned to add 3.8 GW of new hydropower plants and 2.9 GW of new pumped-storage hydropower plants.
IRENA says that in 2021, the country's installed hydropower capacity stayed at 52,501 megawatts.However, new hydropower projects are being installed in the country, which is expected to boost the hydropower market.
Hence, Russia is expected to dominate the European hydropower market due to significant investments, new business models, and governmental incentives.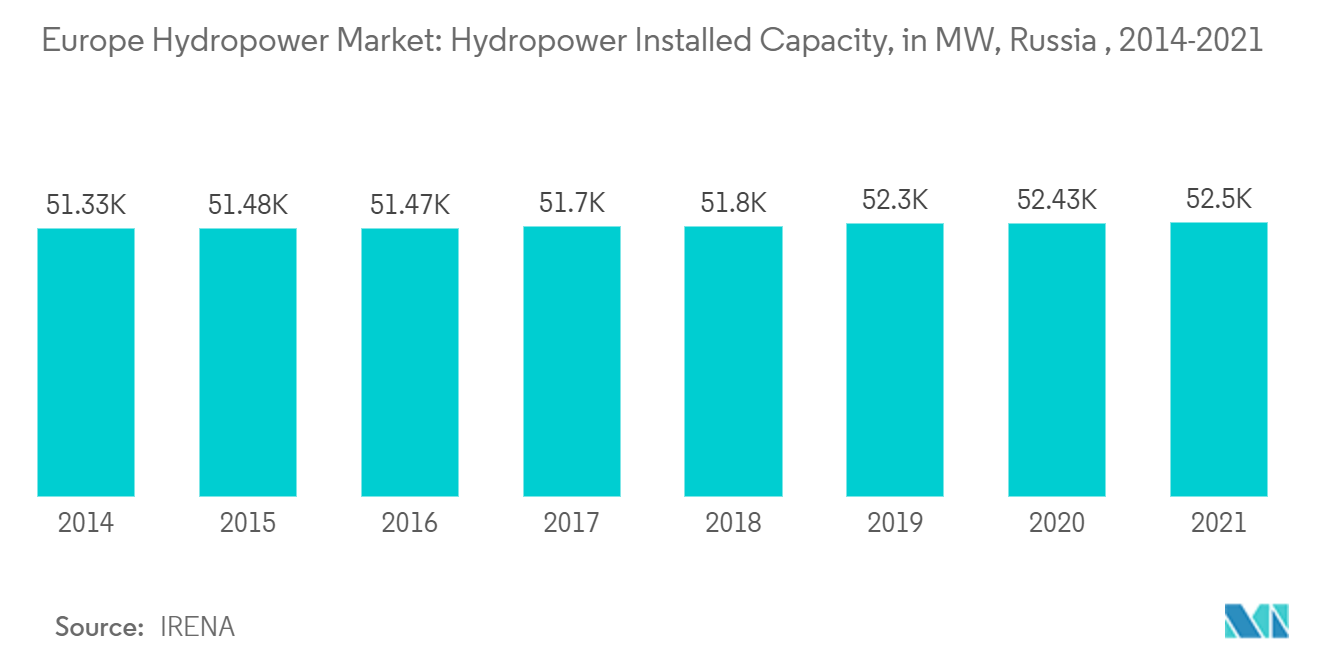 To understand geography trends, Download Sample Report
Europe Hydropower Report Snapshots