Market Trends of brazil fertilizers Industry
This section covers the major market trends shaping the Brazil Fertilizers Market according to our research experts:
Field Crops is the largest segment by Crop Type.
The fertility of farmlands has been depleting and has become more deficient as a result of continuous long-term farming without crop rotation, increasing the requirement for fertilizers. The increasing environmental concerns have increased the demand for sustainable fertilizers in field crops.
Field crop fertilizers accounted for 87.90% of the market in the country in 2021, and it is projected to grow, registering a CAGR of 8.26% during the forecast period. Soybeans, the most common field crop in the country, were grown on 40.6 million hectares of land in 2021, accounting for a growth of 83.0% from 2017. Soybeans are among the main crops that use NPK fertilizers, which is anticipated to boost the country's demand for fertilizers.
In 2021, conventional fertilizers accounted for 87.72% of the market for field crops. Most nitrogen fertilizers are used for cultivating cereals. Due to their extensive cultivation, grains and cereals deplete soil nutrients, necessitating the application of additional fertilizers to replenish them.
In 2021, the value of the fertilizer market for horticultural crops in Brazil was 12.15%, and it increased by 33.92% over the study period. The area under horticulture cultivation in 2017 was 2.5 million hectares, and in 2021, it was 2.4 million hectares. Farmers are utilizing more fertilizers to increase the yields on the existing lands due to the reduction in the area under horticulture cultivation. This is anticipated to drive the fertilizer market.
Thus, the segment will experience growth during the forecast period due to the increasing demand for field crops and farmers' need for ways to boost crop yields.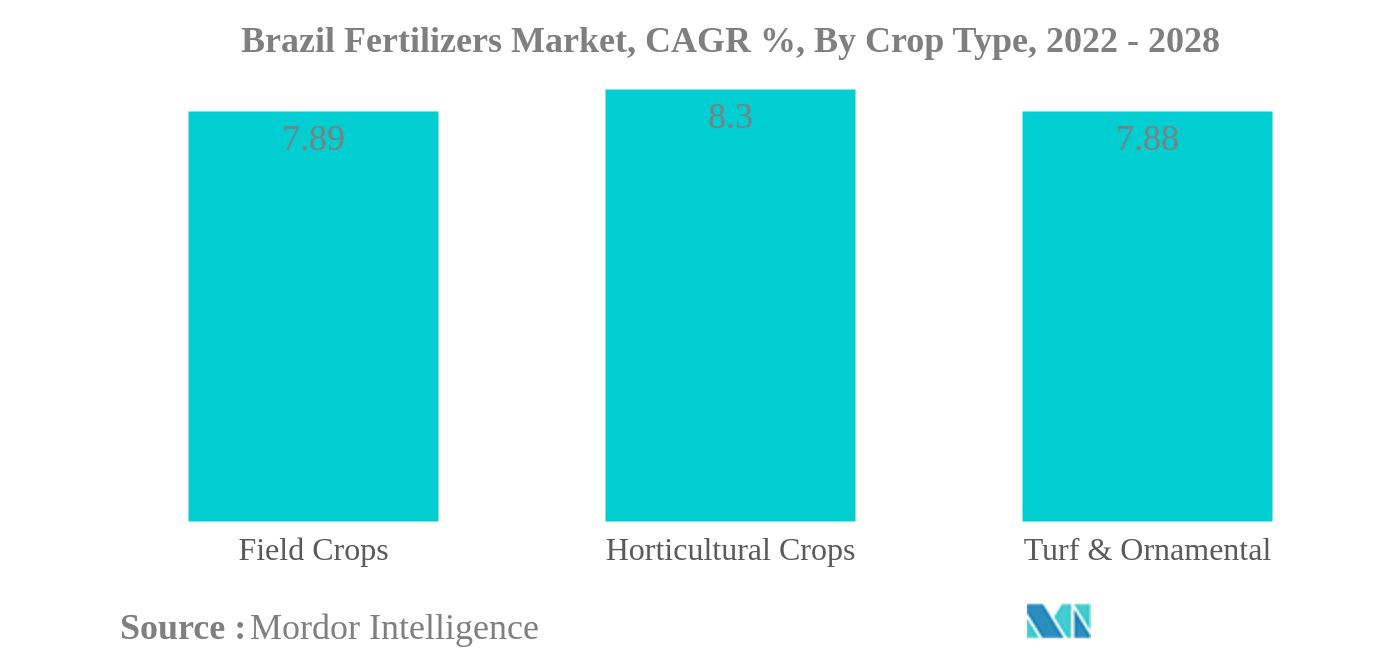 To understand key trends, Download Sample Report
Brazil Fertilizers Report Snapshots