Thermal power plants are one of the major sources of electricity in developing economies, and are under immense pressure, due to their emission and low efficiency compared to other sources. Super critical boilers are likely to be a solution to increasing the efficiency and decreasing the emission of the power plant. Growing industrialization in countries, such as China, India, Vietnam, and Brazil are expected to lead to higher electricity demand. To meet the ever-increasing need for electricity, governments are taking various measures, such as investment in new thermal power plants, while retrofitting the old plants with more efficient super critical technology, which is likely to drive the growth of the super critical boiler market.
Ever Increasing Demand for Electricity Driving the Super Critical Boiler Market
It is projected that the global energy demand is expected to grow by at least 33% by 2040. In growing regions, like the countries in Association of Southeast Asian Nations (ASEAN), the demand is expected to increase at a comparatively faster pace. The energy demand of ASEAN countries is expected to increase at an average of 4.7% per year, to reach 1,685 million metric ton of oil equivalent (Mtoe) by 2035. In 2017, coal-based energy accounted for 40% of the global electricity production, and it is estimated that coal-based power plants will account for 25% of the additional power supply, with 85% of those plants being installed in ASEAN region. As various countries implement new environmental regulations, power generation plants are expected to use super critical technology to generate more power at lower cost and lesser pollution.
Asia-Pacific - The Fastest Growing Region
The Asia-Pacific is expected to be the fastest growing region, in terms of installing super critical boiler technology, owing to the increasing urbanization, industrialization, and the growing demand for electricity of its emerging economies. In 2016, Asia-Pacific generated 10,904 GW of electricity, in which 69% was generated in China and India, alone. The Chinese and Indian power sectors is dependent on thermal power generation, with a total share of more than 60% of the total power generation. The growing population of both the countries is likely to drive the demand for electricity in Asia-Pacific by least three times by 2040.
Growing Demand for Electricity in India
India is the third largest producer and the fourth largest consumer of electricity, and the country had an installed capacity of 329.22 GW, as of August 2017. The country's power generation sector is heavily dependent on thermal power generation, with a share of 66.66%, as of August 2017. India's thermal power sector registered a CAGR of 10.57% in installed capacity during 2007-2017. Moreover, the country's thermal power infrastructure is old, and needs to be replaced, as most are as old as 25 years and have low efficiency. Out of the 47 major thermal power plants, 20 plants have an estimated efficiency of as low as 32.8%. The Government of India has begun taking several steps to modernize and improve the operational efficiency of coal-based power plants, and the government plans to install super critical technology in all the inefficient plants which are more than 25 years old.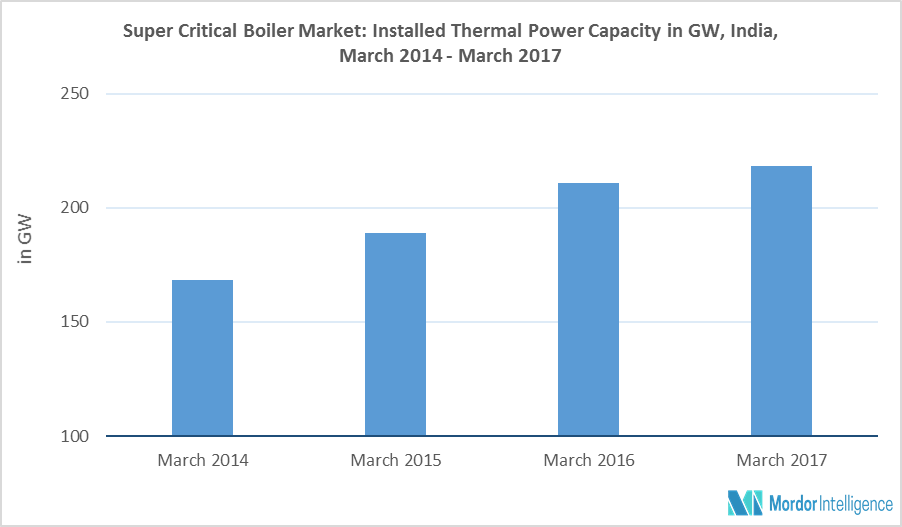 Key Developments in the Market
Jan 2018: BHEL signed an EPC contract for setting up 660 MW Supercritical Thermal Power Project in Maharashtra, India.
May 2017: The Government of India accorded environmental clearance for the proposed Yadadri Thermal Power Plant, to come up at the cost of INR 250 billion at Veerlapalem village in Dameracherla Mandal of Nalgonda district, India. The plant is based on super critical boiler technology.
MAJOR PLAYERS: Siemens AG, Mitsubishi Heavy Industries Ltd, Bharat Heavy Electricals Ltd (BHEL), Shanghai Electric Company, Hitachi Power Systems Ltd, Harbin Electric Company, Babcock & Wilcox (B&W), General Electric Company, Doosan Heavy Industries & Construction, Dongfang Electric Corporation Ltd
Reasons to Purchase this Report
Identify the drivers, restraints, and opportunities in the global super critical boiler market, with an in-depth analysis.
Analyze the various perspectives of the market with the help of Porter's five forces analysis.
Identify the largest, fastest growing, and significant regions during the forecast period, with an in-depth analysis.
Identify the latest developments, market shares, and strategies employed by the major market players.
3 months analyst support, along with the Market Estimate sheet (in Excel).
Customization of the Report
This report can be customized to meet your requirements. Please connect with our representative, who will ensure you to get a report that suits your needs.
1. Executive Summary
2. Research Methodology
3. Market Overview
3.1 Introduction
3.2 Market Size and Demand Forecast until 2023
3.3 Recent Trends and Developments
3.4 Government Policies & Regulations
4. Market Dynamics
4.1 Drivers
4.2 Restraints
4.3 Opportunities
5. Value Chain Analysis
6. Industry Attractiveness: Porter's Five Force Analysis
6.1 Bargaining Power of Suppliers
6.2 Bargaining Power of Consumers
6.3 Threat of New Entrants
6.4 Threat of Substitutes
6.5 Intensity of Competitive Rivalry
7. Global Supercritical Boiler Market Analysis, by Fuel Type (Market Overview, Market Size and Demand Forecast until 2023)
7.1 Gas-based
7.2 Coal-based
7.3 Oil-based
8. Global Supercritical Boiler Market Analysis, by Component (Market Overview, Market Size and Demand Forecast until 2023)
8.1 Air preheater
8.2 Economizer
8.3 PA, SA & ID fans
8.4 Electrostatic precipitator
8.5 Boiler feed pump
8.6 Feed water heaters
8.7 Turbine
8.8 Condenser
8.9 CEP
9. Global Supercritical Boiler Market Analysis, by Geography (Market Overview, Market Size and Demand Forecast until 2023)
9.1 North America
9.1.1 United States
9.1.2 Canada
9.1.3 Rest of North America
9.2 Asia-Pacific
9.2.1 China
9.2.2 Australia
9.2.3 India
9.2.4 Rest of Asia-Pacific
9.3 Europe
9.3.1 UK
9.3.2 Norway
9.3.3 Russia
9.3.4 Rest of Europe
9.4 South America
9.4.1 Brazil
9.4.2 Argentina
9.4.3 Peru
9.4.4 Rest of South America
9.5 Middle East & Africa
9.5.1 Saudi Arabia
9.5.2 UAE
9.5.3 Iran
9.5.4 Nigeria
9.5.5 Algeria
9.5.6 Rest of Middle East & Africa
10. Key Company Profiles* (Overview, Products & Services, Financials**, Recent Developments, and Analyst View)
10.1 Siemens AG
10.2 Mitsubishi Heavy Industries Ltd
10.3 Bharat Heavy Electricals Ltd (BHEL)
10.4 Shanghai Electric Company
10.5 Hitachi Power Systems Ltd
10.6 Harbin Electric Company
10.7 Babcock & Wilcox (B&W)
10.8 General Electric Company
10.9 Doosan Heavy Industries & Construction
10.10 DongfangElectric Corporation Ltd
*List not Exhaustive
11. Competitive Landscape
11.1 Mergers and Acquisitions
11.2 Joint Ventures, Collaborations, and Agreements
11.3 Market Share Analysis
11.4 Strategies Adopted by Leading Players
12. Appendix
12.1 Contact Us
12.2 Disclaimer
**Subject to availability to public domain