The South Korea packaging market was valued at USD 6.30 billion in 2017. The report discusses the types of plastic packaging technologies and its segments in detail. The study also focuses on various trends in the market, such as hoe the increasing demand for packaging products, which improve the shelf life of goods, is driving the market.
Plastics have emerged as a preferred choice for packaging, owing to several favorable factors, such as effective barrier properties, high resistance to external conditions, cost-effectiveness, durability and superior aesthetic value. Several factors, like increasing focus on manufacturing and huge growth in the end-user industries are enhancing the demand and supply of plastic products, worldwide. The rigid packaging segment held the highest share; the trend is expected to continue, owing to the increasing demand from the pharmaceutical sector. Moreover, the market is expected to witness a major shift toward flexible packaging, on account of increasing technological penetration and demand for healthier food products. In addition, the strong manufacturing sector is augmenting the need for flexible packaging solutions.
Longer Shelf Life and Changing Lifestyles to Drive the Market
Shelf life is an important aspect of the product, which can be increased by protecting the products from potential deteriorating agents, such as moisture, oxygen, and microbes. To protect products, companies need a cost-effective and safe packaging solution. Plastic packaging has superior barrier capabilities and can effectively protect the product from moisture and oxygen. In the recent years, growth rates of the plastic jar manufacturing industry have also witnessed a hike. The growth in the market is expected to get accelerated around 2018, accounting to regulations on bio-degradable plastic containers. Also, ongoing trends, such as at-home drinking and growing consumption of ready-to-eat food, owing to the changing lifestyles of consumers are also influencing the South Korea plastic packaging market significantly.
Rising Flexible Packaging Demand to Augment the Growth
Based on the nature of materials, the flexible plastic material segment can be further segmented into bag, pouch, and film. The manufacturers of plastic packaging products are continuously trying to adapt packaging designs to cater to different requirements of the consumers, as each retail chain has a different kind of approach toward packaging. The FMCG sector is expected to further bolster the demand for flexible solutions, by ensuring wide adoption in the food & beverage, retail and healthcare sectors. Moreover, the demand for lighter forms of packaging and greater ease of use are expected to drive the growth of flexible plastic solutions, which, in turn, may become the asset for the overall plastic packaging market.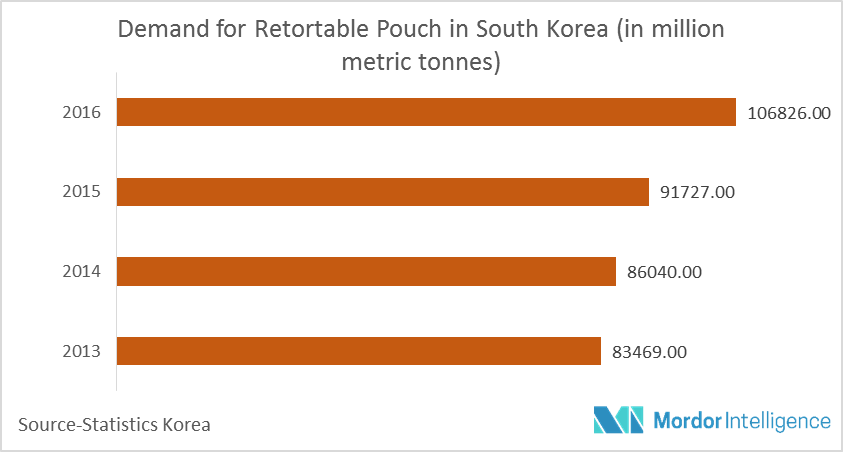 Pharmaceutical Segment to Augment the Growth
The healthcare sector poses a different set of demands for plastic packaging solutions, in terms of insulation from external surroundings, high levels of protection, cost-effectiveness and ease of handling. With a huge market opportunity, the healthcare sector is expected to drive the market over the forecast period. Moreover, pharmaceutical companies are increasingly relying on research and plastic packaging services, to fulfill their basic needs and specialized competencies. Companies are undergoing restructuring to focus more on packaging and R&D, while stringent regulations on the pharmaceutical industry are compelling the companies to outsource manufacturing of drugs to contract manufacturers and focus on core business processes.
Key Developments in the Market
January 2018 - Henkel and Selinko announced a partnership for smart packaging solutions. It comprises of a collaboration agreement to expand and improve smart and interactive packaging solutions, especially focusing on FMCG markets.
Major Players: Amcor Limited, Mondi Group, Bemis Company, RPC Group PLC, Winpak Ltd, Aptargroup Inc., Sonoco Products Company, DS Smith Plc, and Proampac, amongst others.
Reasons to Purchase this Report
Analysis of how the growing consumption of consumer goods is changing market scenario
Analysis of various perspectives of the market with the help of Porter's five forces analysis
The type of packaging and end-user industry that are expected to dominate the market
Identify the latest developments, market shares, and strategies employed by the major market players.
3 months analyst support, along with the Market Estimate sheet (in excel).
Customization of the Report
This report can be customized to meet your requirements. Please connect with our analyst, who will ensure you get a report that suits your needs.
1. Introduction
1.1 Key Deliverables of the Study
1.2 Study Assumptions
1.3 Market Definition
1.4 Key Findings of the Study
2. Research Approach and Methodology
3. Executive Summary
4. Market Dynamics
4.1 Market Overview
4.2 Factors Driving the Market
4.2.1 Growing Consumption of Consumer Goods
4.2.2 Longer Shelf Life of Products and Changing Lifestyles of Consumers
4.3 Factors Restraining the Market
4.3.1 Environmental Concerns and Regulations Regarding the Use of Plastic
4.4 Industry Attractiveness – Porter's Five Forces Analysis
4.4.1 Bargaining Power of Suppliers
4.4.2 Bargaining Power of Consumers
4.4.3 Threat of New Entrants
4.4.4 Threat of Substitute Products or Services
4.4.5 Competitive Rivalry among Existing Competitors
5. South Korea Plastic Packaging Market Segmentation
5.1 By Type
5.1.1 Rigid
5.1.2 Flexible
5.2 By Product
5.2.1 Bottles
5.2.2 Cans
5.2.3 Jars
5.2.4 Pouches
5.2.5 Others
5.3 By End-user Industry
5.3.1 Food & Beverage
5.3.2 Healthcare & Pharmaceutical
5.3.3 Manufacturing
5.3.4 Retail
5.3.5 Others
6. Competitive Intelligence – Company Profiles
6.1 Amcor Limited
6.2 Mondi Group
6.3 Bemis Company
6.4 RPC Group PLC
6.5 Winpak Ltd
6.6 AptarGroup Inc.
6.7 Sonoco Products Company
6.8 DS Smith PLC
6.9 ProAmpac
7. Investment Analysis
8. Future of the South Korean Plastic Packaging Market