The South American surfactant market was valued at USD 3.29 billion in 2017, and is projected to reach USD 4.88 billion by 2023. Surfactants are the compounds that aid in the lowering of interfacial or surface tensions between a liquid and a solid, or between two liquids. Generally, they are organic compounds that amphiphilic i.e. they contain both hydrophilic and hydrophobic groups. As a result, they contain both water-soluble and water-insoluble components.
Owing to their surface reducing properties, biocide nature, adsorption properties (that aid in the stabilization of the rapidly formed bubbles during emulsifying, coating, or foaming), surfactants are becoming an integral part of various commercial and industrial sectors. Additionally, because of their viscosity and elasticity, they are increasingly becoming popular in numerous applications.
In the South American surfactant market, household soaps are expected to dominate the market by application. However, the personal care application segment is expected to witness the highest growth. By type, the anionic surfactant segment is expected to witness the fastest growth during the forecast period.
Growth of the Oleo Chemical Market Boosting the Demand for Bio-based Surfactants
Oleo chemicals are chemicals produced from natural sources, such as fats and oils obtained from vegetables or animals. They are usually less toxic as compared to petrochemicals. Therefore, they are gaining popularity as substitutes for petroleum-based products. Due to the escalating demand for bio-based products, growing need for sustainable solutions, and changes in regulatory framework, the demand for oleo chemicals has increased significantly in various segments of the chemical industry. Various new applications, such as bio-surfactants, bio-lubricants, and biopolymers, are emerging as replacements for petroleum-based products, thereby creating growth opportunities for the oleo chemical market. As most of the bio-based surfactants are derived from oleo chemicals, the growth of the oleo chemical market is expected to drive the demand for bio-based surfactants during the forecast period.
Brazil is the Largest Consumer
Brazil is the largest consumer of surfactants in the region. Owing to increasing concerns over environmentally friendly products that are made from naturally occurring or renewable-based raw materials, the usage of surfactants has increased. Both consumers and major retailers are demanding for wellness and sustainability, in addition to performance. The National Health Surveillance Agency (ANVISA) of Brazil, along with other regional agencies, provides the necessary regulations and standards concerning the manufacture, supply, and import of surfactants in domestic and industrial applications. Companies have to adhere to the non-toxicity and waste products norms. Given the increasing importance of soy bean production in Latin America, many multinational companies are already adopting the oleo-based natural feedstock, as they tend to standardize their formulations worldwide, in order to export their products to multiple markets. Most of these companies have set up their manufacturing plants in Brazil and Argentina. Owing to the aforementioned factors, the South American surfactant market is expected to register steady growth over the forecast period.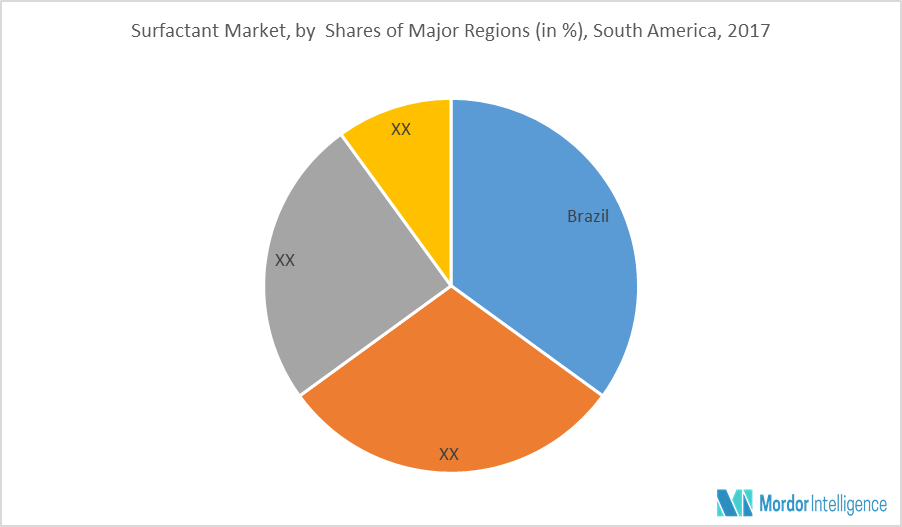 Key Developments
January 2018: With the aim of increasing its product portfolio of functional ingredients that provide clinically-proven benefits, Beraca partnered with Clariant, to launch Capillus Pro 22 at a cosmetic expo in Latin America. The new product uses a secondary surfactant for hair care products.
October 2017: Clariant, launched renewable surfactants in hand dishwashing liquid (HDWL) detergents, with the market breakthrough GlucoPure® Sense, a unique label-free surfactant based on 100% renewable sunflower oil sourced in Europe.
October 2017: Clariant unveiled an inspirational new platform at SEPAWA 2017, linking megatrends with products for the home care market, a high purity colorant for cosmetics, and new renewable ingredients paving the way for label-free hand dishwashing liquids and less use of preservatives in mild formulations.
Key Players: Huntsman International LLC, DowDuPont, Henkel AG & Co. KGaA, Clariant AG and BASF SE amongst others.
Reasons to Purchase this Report
Understanding how the merger of Dow and DuPont will affect the market.
Analyzing various perspectives of the market with the help of Porter's five forces analysis.
The application that is expected to dominate the market
The regions that are expected to witness the fastest growth during the forecast period.
Identify the latest developments, market shares, and strategies employed by the major market players.
3 months analyst support along with the Market Estimate sheet (In excel).
Customization of the Report
This report can be customized to meet your requirements. Please connect with our , who will ensure you get a report that suits your needs.
1. Introduction
1.1 Research Phases
1.2 Study Deliverables
1.3 Scope of the Report
2. Executive Summary
3. Market Insights
3.1 Industry Value Chain Analysis
3.2 Industry Attractiveness – Porter's Five Forces Analysis
3.2.1 Bargaining Power of Suppliers
3.2.2 Bargaining Power of Consumers
3.2.3 Threat of New Entrants
3.2.4 Threat of Substitute Products and Services
3.2.5 Degree of Competition
3.3 Technological Snapshot
4. Market Dynamics
4.1 Drivers
4.1.1 Growth of the Oleochemical Market Boosting the Demand for Bio-based Surfactants
4.2 Restraints
4.2.1 Fluctuating Price of Feedstock
4.3 Opportunity
4.3.1 Innovations in Bio-based Surfactants
5. Market Segmentation and Analysis (Market Size, Share, and Forecast)
5.1 By Type
5.1.1 Anionic Surfactants
5.1.1.1 Linear Alkylbenzene Sulfonate
5.1.1.2 Alpha Olefin Sulfonates
5.1.1.3 Ethoxylates
5.1.1.4 Sulfosuccinates
5.1.1.5 Sulfonates
5.1.1.6 Carboxylic acids and salts
5.1.1.7 Alcohol Ether Sulfates
5.1.1.8 Other Anionic Surfactants
5.1.2 Cationic Detergents
5.1.2.1 Fatty Amine Oxides
5.1.2.2 Amines
5.1.2.3 Quaternary Ammonium Compounds
5.1.2.4 Other Cationic Surfactants
5.1.3 Non-ionic Surfactants
5.1.3.1 Alcohol Ethoxylates
5.1.3.2 Fatty Alkanolamides
5.1.3.3 Glycerol Derivatives
5.1.3.4 Amine Oxides
5.1.3.5 Other Non-ionic Surfactants
5.1.4 Amphoteric Surfactants
5.1.5 Silicones
5.1.6 Fluorosurfactants
5.2 By Application
5.2.1 Soap & Detergents
5.2.2 Personal Care
5.2.3 Lubricants and Fuel Additives
5.2.4 Industry & Institutional Cleaning
5.2.5 Food Processing
5.2.6 Oilfield Chemicals
5.2.7 Agricultural Chemicals
5.2.8 Textile Industry
5.2.9 Elastomers and Plastics
5.2.10 Paints & Coatings
6. Regional Market Analysis (Market Size, Share, and Forecast)
6.1 Brazil
6.2 Argentina
6.3 Venezuela
6.4 Rest of South America
7. Competitive Landscape
7.1 Mergers & Acquisitions, Joint Ventures, Collaborations, and Agreements
7.2 Market Share Analysis**
7.3 Strategies Adopted by Leading Players
8. Company Profiles (Overview, Financials**, Products & Services, and Recent Developments)
8.1 BASF SE
8.2 DowDuPont
8.3 Unilever Group
8.4 Henkel Ag & Co. KGaA
8.5 Clariant AG
8.6 Bayer AG
8.7 Procter & Gamble
8.8 Stepan Company
8.9 Huntsman Corporation
8.10 McIntyre Group
8.11 3M
8.12 Evonik Industries AG
8.13 Sasol
*List not Exhaustive
9. Disclaimer
** Subject to Availability on the Public Domain