The market for the rubber-based pressure sensitive adhesives is expected to register a moderate CAGR during the forecast period, 2018 to 2023. The growth is primarily driven by the growing demand for lightweight & low-emission automobiles and increasing adoption of low-cost flexible packaging aids.
Increasing Adoption of Low-Cost Flexible Packaging Aids
According to the Flexible Packaging Association, the global flexible packaging market in 2017 was valued over USD 89 billion. Low-cost flexible packaging has established itself as the most sought-after form in the packaging industry. In 2017, the flexible packaging accounted for about over 55% of the institutional food industry and retail shipments, and about 15% of retail non-food shipments, worldwide. The demand for low-cost flexible packaging has been consistently increasing in Asia-Pacific, owing to a steady rise in food exports and growth in the food-processing sector. In addition, the change in lifestyle and workplace habits and shifting preference toward modern food habits are increasing the demand for packaged foods. With technological advancements, the companies are increasingly opting for flexible packaging over traditional rigid packaging. The benefits offered by rigid packaging can now be easily achieved by flexible packaging with greater flexibility, and at a comparatively low cost. Flexible packaging methods, such as re-closable packs and stand-up pouches, offer both marketing and merchandising benefits for FMCG manufacturers. The aforementioned factors are expected to drive the rubber-based pressure sensitive adhesives (PSA) market over the forecast period (2018-2023).
Building & Construction Segment to Contribute Significant Demand to the Market
Rubber-based pressure sensitive adhesives market is quite extensive and these products are widely used in building & construction applications. Building & construction segment holds the second largest market share by end-user industry. Rubber-based pressure sensitive adhesives offer excellent strong dynamic stress absorption, excellent adhesion, long-lasting joints, peel strength, resistance to temperature fluctuations, high-chemical, UV & water resistance, high flexibility, corrosion resistance, and strong & secure adhesion. These advantages make rubber-based pressure sensitive adhesives one of the most attractive solutions in building & construction applications. Construction activities in all 19 EUROCONSTRUCT countries have increased by 3.23% in 2017, owing to growing demand for construction in these countries. Furthermore, the market is further expected to rise by around 6% through 2020. According to the European Construction Industry Federation (FIEC), construction activity in the whole EU grew by 2.2% in 2016. In 2017, the overall output of the European construction industry grew by 6.7%, when compared to 2016, reaching a total of EUR 1,364 billion with construction industry accounting for 8.9% of the total GDP (EU 28). The construction industry in the United States has witnessed rapid growth in 2017, as a result of increased private sector spending on residential construction. The residential construction in 2016 and 2017 has increased year-on-year by 10.52% and 10.58% respectively. In the first 6 months of 2018, the total number of new residential housing units started recorded rapid growth of 7.84%, when compared to the same time period in 2017. Hence, with the rapidly growing global building & construction industry, the global market for rubber-based pressure sensitive adhesives is forecasted to experience rapid growth during the forecast period (2018-2023).
Asia-Pacific Leads the Market
The market, based on the geographic area, is segmented into – Asia-Pacific, North America, Europe, South America, and the Middle East & Africa. Asia-Pacific dominates the market with a share of more than 55% and is expected to grow during the forecast period. This demand is mainly from China, which dominates the Asia-Pacific market with a market share of over 40%, and the demand is a result of rapid urbanization and industrialization in the country, which lends this region high potential for growth, during the forecast period.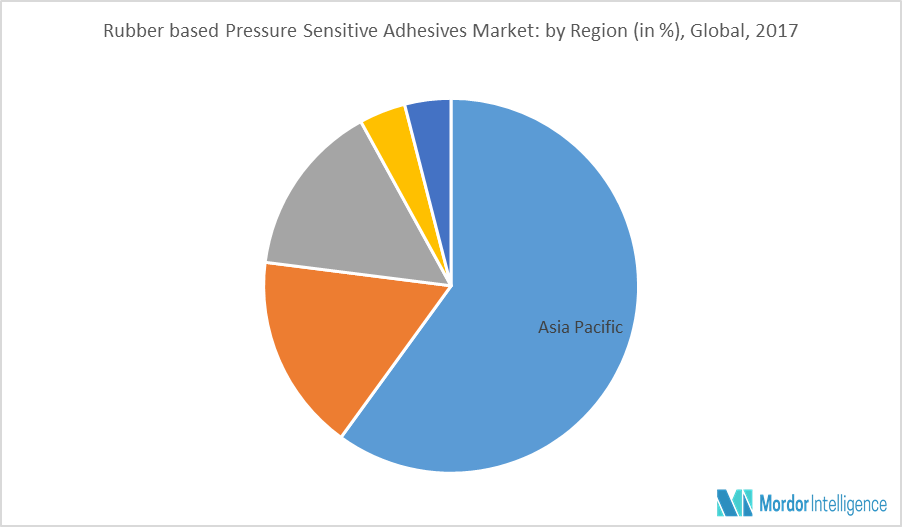 Major Players: 3M, Arkema Group (Bostik SA), Henkel AG & Co. KGaA, Tesa SE, etc.
Reason to Purchase this Report
Current and future global rubber-based pressure sensitive adhesive market outlook in the developed and emerging markets
Analyzing various perspectives of the market with the help of Porter's five forces analysis
The segment that is expected to dominate the market
Regions that are expected to witness the fastest growth during the forecast period
Identify the latest developments, market shares, and strategies employed by the major market players
3 months of analyst support, along with the Market Estimate sheet (in excel)
Customization of the Report
This report can be customized to meet your requirements. Please connect with our analyst, who will ensure you get a report that suits your needs.
1. Introduction
1.1 Scope of the Report
1.2 Study Assumptions
1.3 Study Deliverables
1.4 Research Phases
2. Executive Summary
3. Market Insights
3.1 Industry Value Chain Analysis
3.2 Industry Attractiveness- Porters Five Forces Analysis
3.2.1 Bargaining Power of Suppliers
3.2.2 Bargaining Power of Consumers
3.2.3 Threat of New Entrants
3.2.4 Threat of Substitute Products and Services
3.2.5 Degree of Competition
4. Market Dynamics
4.1 Drivers
4.1.1 Rising Demand for Lightweight and Low Emission Automobiles
4.1.2 Increasing Adoption of Low-Cost Flexible Packaging Aids
4.2 Restraints
4.2.1 Stringent Environmental Regulations Regarding VOC Emissions
4.2.2 Other Restraints
4.3 Opportunities
4.3.1 Shifting focus towards Bio-Based Pressure Sensitive Adhesives
4.3.2 Other Opportunities
5. Market Segmentation and Analysis (Market Size, Growth and Forecast)
5.1 By Application
5.1.1 Tapes
5.1.2 Labels
5.1.3 Graphics (films)
5.1.4 Other Applications
5.2 By End-user Industry
5.2.1 Transportation
5.2.2 Building & Construction
5.2.3 Healthcare
5.2.4 Electrical and Electronics
5.2.5 Paper, Board, and Packaging
5.2.6 Others
5.3 By Technology
5.3.1 Water-borne
5.3.2 Solvent-borne
5.3.3 Hot Melt
5.3.4 Others (Radiation Cure)
5.4 Mode of Application
5.4.1 Permanent
5.4.2 Removable
6. Regional Market Analysis (Market Size, Growth, and Forecast)
6.1 Asia-Pacific
6.1.1 China
6.1.2 India
6.1.3 Japan
6.1.4 South Korea
6.1.5 Rest of Asia-Pacific
6.2 North America
6.2.1 United States
6.2.2 Canada
6.2.3 Mexico
6.2.4 Rest of North America
6.3 Europe
6.3.1 Germany
6.3.2 United Kingdom
6.3.3 Italy
6.3.4 France
6.3.5 Rest of Europe
6.4 South America
6.4.1 Brazil
6.4.2 Argentina
6.4.3 Rest of South America
6.5 Middle East & Africa (MEA)
6.5.1 Saudi Arabia
6.5.2 South Africa
6.5.3 Rest of Middle East & Africa
7. Competitive Landscape
7.1 Mergers & Acquisitions, Joint Ventures, Collaborations, and Agreements
7.2 Market Share Analysis**
7.3 Strategies Adopted by Leading Players
8. Company Profiles (Overview, Financials**, Products & Services, and Recent Developments)
8.1 3M
8.2 American Biltrite Inc.
8.3 Arkema Group (Bostik SA)
8.4 Ashland
8.5 Avery Dennison Corporation
8.6 DowDuPont
8.7 Drytac Corporation
8.8 H.B. Fuller
8.9 Helmitin Adhesives
8.10 Henkel AG & Co. KGaA
8.11 LG Chem
8.12 Morgan Adhesives Co. (Mactac)
8.13 No-tape Industrial Co., Ltd.
8.14 Tesa SE
8.15 Toyo Ink SC Holdings Co., Ltd
*list not exhaustive
9. Disclaimer
** Subject to availability on public domain