Pet Humanization Continues to Increase in the Country
The increase of pet humanization, wherein pets are treated with increased care and hygiene, is proving to be a major driver for the market and is leading to major changes in product packing and resourcing of ethically viable products. The development of private labels stores focusing on unique and locally sourced products to increase their overall appeal, and the increasing density of nuclear families are the other major drivers of the market. The increase in penetration of the e-commerce sector is proving to be a major opportunity for the low-cost marketing of the innovative and novel product line developed by these emerging companies.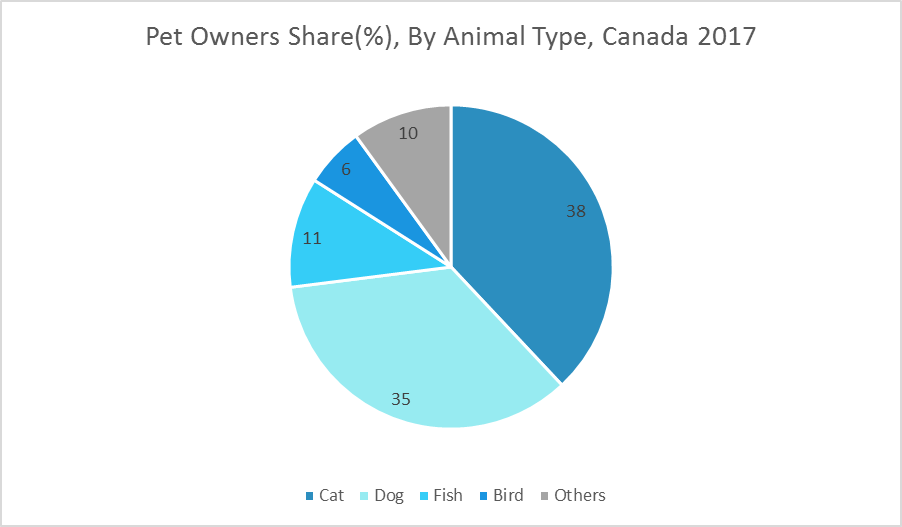 Source: Mordor Intelligence Analysis
Dry Food Captures the Major Market Share
Dry food is the largest segment accounting for a largest share of the total market share, followed by snacks and wet foods. The wide variety of available formulations and health claims provide a stiff competition and offer a lot to consumers. The dry pet food segment, which was responsible for about 32 % of the market revenue, has been dominant, due to the established benefits associated with it, such as dental benefits, ease of storage, and energy efficiency. The organic product division has risen well over the past decade and currently accounts for about 7.2% of the revenue, with growing concerns for healthier substitutes to avoid the use preservatives.
On the basis of product type, free-from products, such as grain free, soy free, and low grain products, are gaining a major foothold, in regard to the increasing health consciousness among consumers. Pricing and sales mechanism, wherein the internet sales are gaining a strong hold, are the other major segments. About 70% pet food is sold through pet shops, superstore, and grocery stores.
The market is further segmented based on animal type, wherein dog and cat foods occupy the largest market, due to their increased domestication and appeal. There is a large interest in pet ownership across Canada, where cats continued to outnumber dogs (with 8.8 million household pet cats in 2016).
The Canada pet food market is characterized by a high level of consolidation and competition, thus posing a restraint of difficult entry for new players. Emerging manufacturers are countering this by developing high-end natural/organic products, targeting a specific market. The other constraints include the increased allergic reactions to pets, fierce competition from online vendors, governmental regulation, and a challenging economy.
Key Developments in the Market:
September 2017: Mars, Incorporated completed the acquisition of VCA Inc.
July 2017: Mars Pet care launched CRAVE™ - A new brand of high-protein dog and cat food.
Major Players: Mars Incorporated, Nestle SA, Hill's Pet Nutrition, and Big Heart, among others
Reasons to Purchase this Report:
Latest technology trends adopted by the manufacturers in the Canada pet food market.
Analyzing various perspectives of the market with the help of Porter's Five Forces Analysis.
Study the product type that is expected to dominate the market.
Study the region and country that are expected to dominate the market.
Identify the latest developments, market shares, and strategies employed by the major market players.
3 months analyst support, along with the Market Estimate Sheet (in excel).
Customization of the Report
This report can be customized to meet your requirements. Please connect with our analyst, who will ensure you get a report that suits your needs.
1. Introduction
1.1 Research Methodology
1.2 General Study Assumptions
2. Research Methodology
2.1 Introduction
2.2 Analysis Methodology
2.3 Study Assumptions
3. Executive Summary
4. Market Overview and Technology Trends
4.1 Current Market Scenario
4.2 Technology Trends
4.3 Porter's Five Forces Analysis
4.3.1 Bargaining Power of Suppliers
4.3.2 Bargaining Power of Consumers
4.3.3 Threat of New Entrants
4.3.4 Threat of Substitute Products and Services
4.3.5 Competitive Rivalry within the Industry
5. Market Dynamics
5.1 Drivers
5.1.1 Increasing Trend of Pet Humanization
5.1.2 Increasing Trend of Nuclear Family
5.1.3 Channel-specific Product Development
5.2 Restraints
5.2.1 Issues with Regulatory System
5.2.2 Pet Allergies
5.3 Opportunities
5.3.1 Growing Demand for Innovative Pet Food
5.3.2 Increasing Trend of Online Sales
6. Canada Pet Food Market Segmentation, by Product
6.1 Dry Pet Food
6.1.1 Grain-free
6.1.2 Others
6.2 Wet Pet Food
6.2.1 Grain-free
6.2.2 Others
6.3 Veterinary Diets
6.4 Treats/Snacks
6.5 Liquid Food
6.6 Organic Product
7. Canada Pet Food Market Segmentation, by Pricing
7.1 Economy
7.2 Premium Segment
7.3 Super-premium Segment
8. Canada Pet Food Market Segmentation, by Animal Type
8.1 Dog
8.2 Cat
8.3 Bird
8.4 Others
9. Canada Pet Food Market Segmentation, by Ingredient Type
9.1 Animal Derived
9.2 Plant Derived
9.3 Cereal & Cereal Derivative
9.4 Others
10. Canada Pet Food Market Segmentation, by Sales Channel
10.1 Specialized Pet Shop
10.2 Internet Sale
10.3 Hypermarket
10.4 Others
11. Competitive Landscape
11.1 Introduction
11.2 Market Share Analysis
12. Company Profiles
12.1 Mars Incorporated
12.2 Nestle Purina Pet Care
12.3 Colgate Pamolive (Hill's Pet Nutrition)
12.4 Unicharm Corporation
12.5 Nutriara Alimentos (Lupus Food)
12.6 Neovia (Invivo Nsa)
12.7 Agrolimen SA
12.8 Plb International,Inc.
12.9 Tiernahrung Deuerer GmbH
12.10 J M Smuker Big Heart
12.11 Diamond Pet Foods
12.12 Blue Buffalo
12.13 Merrick Pet Care
12.14 Sunshine Mills
12.15 Ainsworth Pet Nutrition
12.16 Yamahisa Pet Care
12.17 Simmons Foods
13. Disclaimer