The demand for North America water treatment chemicals market was valued at USD 6,310.10 million in 2017 and is expected to expand at a CAGR of 4.02% during 2018–2023. The market is driven by various factors, such as the rising surface and groundwater pollution, stringent regulations to control produced and wastewater disposal, growing demand from power and industrial applications, and increasing demand from manufacturing and municipal sectors.
Growing Demand from Power and Industrial Applications
The highest use of water is for cooling in the thermal power generation. In terms of energy production, Canada is world's fifth largest producer of natural gas and crude oil, and as these industries are expected to deal with a certain amount of effluent wastewater, it would require treatment, which, in turn, is driving the demand of the market. Water treatment chemicals are used in cooling and boiler processes in different industries such as chemical, paper, power plants, and food & beverage. This widespread use will promote market growth over the forecast period. However, the market faces certain drawbacks such as hazardous nature of hydrazine, unawareness regarding chemical water treatment technologies, boiler water treatment, and cooling water treatment, which act as roadblocks to the growth of the market.
Municipal – The Fastest Growing Segment
Municipal is the fastest growing segment mainly due to the government focusing on developing municipal wastewater treatment plants mostly in the urban areas, which will augment the use of water treatment chemicals over the forecast period. The United States Environmental Protection Agency (USEPA) emphasizes on the improvement of water and sewage services, especially in the municipal wastewater treatment area, and estimated capital investment of about USD 600 billion toward its improvement over the coming two decades. The USEPA has also been focusing on supplying clean drinking water and runs a fund called 'Clean Water State Revolving Fund', by which it finances the environmental compliances. Such initiatives, in turn, increase the usage of water treatment chemicals. The use of water treatment chemicals is increasing, owing to a greater demand for purifying drinking water in the country.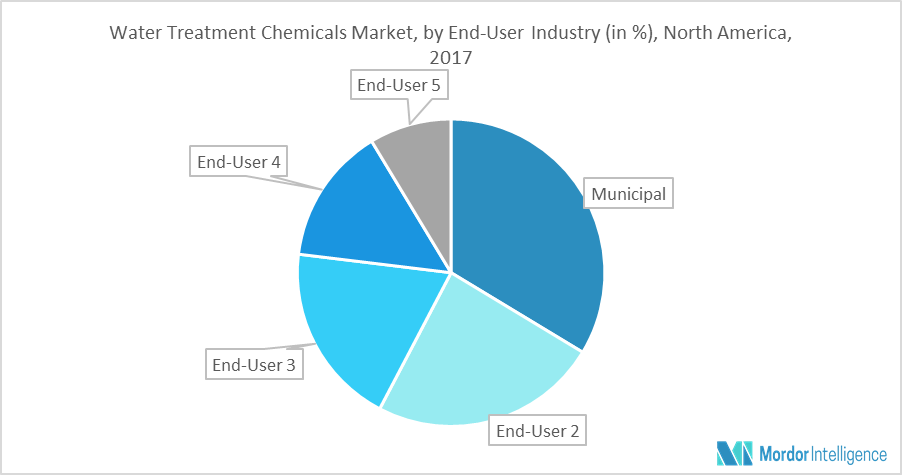 United States to Lead the Market
The United States is expected to lead the market for water treatment chemicals market due to the presence of multiple industries in heavy, medium, and small scale categories. Thus, the usage of water treatment chemicals is high in almost all industries. Moreover, due to the presence of a large number of natural gas-fired power plants, coal-fired power plants, nuclear power reactors, and oil-fired power plants in the United States, which constitute 90% of the power produced in the country, these industries also use water treatment chemicals. Few other industries where water treatment chemicals are highly used are food & beverage and chemical manufacturing, where water is treated at many stages of the process. Thus, water treatment chemicals have a high potential for growth over the forecast period.
Notable Developments in Market
January 2018: Ecolab acquired Cascade Water Services, a privately held company based in New York.
Major Players: Kemira, Ecolab (Nalco), GE Corporation, Kurita, Solvay, and BASF SE, among others.
Reasons to Purchase the Report
To understand the impact of end-user applications on the market.
Analyzing various perspectives of the market with the help of Porter's Five Forces Analysis.
Countries expected to witness the fastest growth during the forecast period.
Identify the latest developments, market shares, and strategies employed by the major market players.
3-month analyst support along with the Market Estimate sheet (in Excel).
Customization of the Report
The report can be customized to meet your requirements. Please connect with our representative, who will ensure you to get a report that suits your needs.
1. Introduction
1.1 Research Phases
1.2 Study Deliverables
1.3 Scope of the Report
2. Executive Summary
3. Market Insights
3.1 Industry Value Chain Analysis
3.2 Industry Attractiveness - Porter's Five Forces Analysis
3.2.1 Bargaining Power of Suppliers
3.2.2 Bargaining Power of Consumers
3.2.3 Threat of New Entrants
3.2.4 Threat of Substitute Products and Services
3.2.5 Degree of Competition
3.3 Water Treatment Technologies
3.4 Policies and Regulations
4. Market Dynamics
4.1 Drivers
4.1.1 Demand for Fresh Water on the Rise
4.1.2 Power and Industrial Applications Propel Market for Water Treatment Chemicals
4.1.3 Conformance to Stringent Environmental Regulations
4.2 Restraints
4.2.1 Dearth of Awareness Regarding Chemical Water Treatment Technologies
4.3 Opportunities
4.3.1 Rising Demand from Municipal Sector
5. Market Segmentation and Analysis (Market Size, Growth, and Forecast)
5.1 By Product
5.1.1 Biocides & Disinfectants
5.1.2 Coagulants & Flocculants
5.1.3 Corrosion & Scale Inhibitors
5.1.4 Defoamers & Defoaming Agents
5.1.5 pH Adjusters & Softeners
5.1.6 Other Chemicals
5.2 By Application
5.2.1 Commercial & Institutional
5.2.2 Electric Power Generation
5.2.3 Energy
5.2.4 Manufacturing
5.2.5 Mining & Mineral Processing
5.2.6 Municipal
5.2.7 Other Applications
6. Regional Market Analysis (Market Size, Growth, and Forecast)
6.1 United States
6.2 Canada
6.3 Mexico
6.4 Rest of North America
7. Competitive Landscape
7.1 Mergers & Acquisitions, Joint Ventures, Collaborations, and Agreements
7.2 Market Share Analysis***
7.3 Strategies Adopted by Leading Players
8. Company Profiles (Overview, Financials**, Products & Services and Recent Developments)
8.1 Accepta
8.2 AkzoNobel N.V.
8.3 Albemarle Corp.
8.4 Arch Chemicals Inc.
8.5 Ashland Water Technologies
8.6 BASF Se
8.7 Buckman Laboratories
8.8 BWA Water Additives
8.9 Chemtreat Inc.
8.10 Chemtura Corp.
8.11 Dow Water & Process Solutions
8.12 DowDuPont
8.13 Ecolab Inc.
8.14 GE Water & Process Technologies
8.15 General Chemical Performance Products LLC
8.16 Israel Chemicals
8.17 Kemira Oyj
8.18 Kurita Water Industries Ltd
8.19 Nalco Co.
8.20 Norit NV
8.21 Occidental Chemical Corp.
8.22 Olin Corp.
8.23 Organo Corp.
8.24 PQ Corp.
8.25 Qemi International Inc.
8.26 Siemens Water Technologies Corp.
8.27 SNF Floerger Zac
8.28 Solvay SA
8.29 Wex Technologies Pvt Ltd
*List not exhaustive
9. Disclaimer
**Subject to availability on public domain