North America mining chemical market is expected to register a CAGR of 2.74%, during 2018 to 2023 (the forecast period). The United States dominated the North America mining chemicals market, while Mexico is expected to register the fastest growth through the forecast period.
Increasing Mining Activities in Canada and Mexico
Canada is a global leader in mining operations in the world, with active production of more than 60 metals and minerals. Additionally, the mining industry in Mexico, also, has always been in focus for foreign mining companies and investors, due to its vast resources of precious metals and minerals, coupled with flexible legal requirements and skilled and cheap labor. The above mentioned factors are expected to drive the mining activities in these countries, which in turn, shall drive the market for mining chemicals in North America, through the forecast period.
Flotation Chemicals – the Fastest-growing Segment by Function
Collectors dominated the flotation chemicals segment in 2017, while dispersants registered the fastest growth through 2023. The North America mining flotation reagents segment is expected to reflect growth over the forecast period. However, certain factors, such as logistics and transportation costs of flotation chemicals and stringent regulatory policies are expected to adversely affect the profitability margin of the players involved in the market.
Accelerating Demand for Wastewater Treatment in Mining
Though mineral processing application dominated the North America mining chemicals market, the wastewater treatment segment is expected to register the fastest growth through the forecast period. Growing awareness about increasing environmental concerns, in the past decades, has forced the international mining industry to lay down more stringent regulations concerning water, and has made them opt for modern mining operations, thus, increasing the consumption of mining chemicals in mining wastewater treatment application.
United States to Dominate the Market Growth through 2023
The United States has the largest coal reserve in the world, and is the second-largest producer of gold and copper. Continuous growth in sand, coal, and gravel mine operations has made the United States the leading market in mining chemicals. However, Mexico is expected to register the fastest growth through 2023, due to continuous investment activities in the mining sector.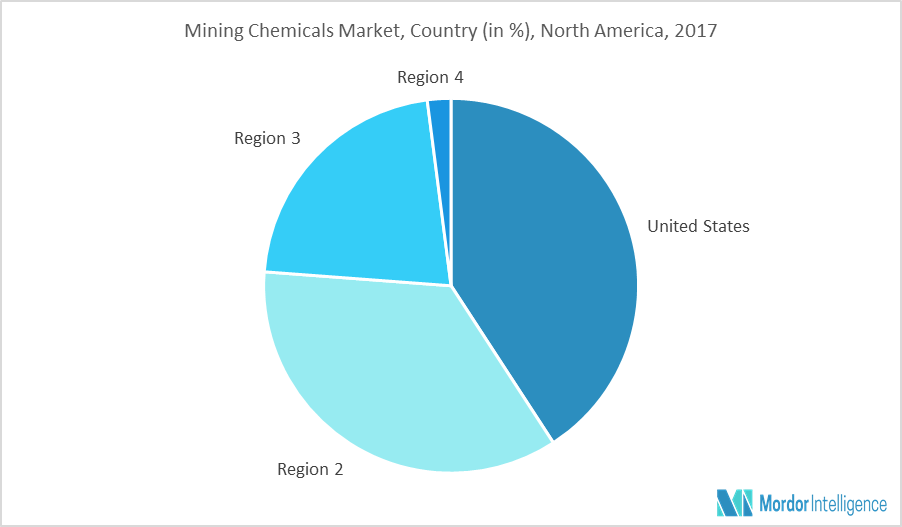 Key Developments
October 2017: Clariant, at the Expo Mineria 2017, announced its decision to expand its comprehensive suite of mining-specific product innovations and technical expertise, to customers in Mexico.
October 2016: Clariant mining solutions acquired specialty reagents business of SNF GloMin Inc.
Major Players: BASE SE, DowDuPont, Cytec Solvay Group, Clariant, Akzo Nobel N.V., The Chemours Company , among others.
Reasons to Purchase this Report
Analyzing various perspectives of the market with the help of Porter's five forces analysis
The function and application that are expected to dominate the market
Regions that are expected to witness the fastest growth during the forecast period
Identify the latest developments, market shares, and strategies employed by the major market players
3 months analyst support, along with the Market Estimate sheet (in excel)
Customization of the Report
This report can be customized to meet your requirements. Please connect with our analyst, who will ensure you get a report that suits your needs
1. Introduction
1.1 Research Phases
1.2 Study Deliverables
1.3 Scope of the Report
2. Executive Summary
3. Market Insight
3.1 Industry Value Chain Analysis
3.2 Industry Attractiveness – Porter's Five Force Analysis
3.2.1 Bargaining Power of Suppliers
3.2.2 Bargaining Power of Consumers
3.2.3 Threat of New Entrants
3.2.4 Threat of Substitute Products and Services
3.2.5 Degree of Competition
3.3 Raw Material Analysis
4. Market Dynamics
4.1 Drivers
4.1.1 Increasing Mining Activities in Canada and Mexico
4.1.2 Increasing Demand for Specialty Chemicals in Mining Process
4.2 Constraints
4.2.1 Stringent Environmental Regulations
4.2.2 High Logistics Costs
4.2.3 Harmful Effects of Flotation Process in Mining Industry
4.3 Opportunities
4.3.1 Increasing Research Expenditure in North America and Europe
5. Market Segmentation and Analysis (Market Size, Share, and Forecast)
5.1 By Function
5.1.1 Flotation Chemical
5.1.1.1 Collector
5.1.1.2 Depressant
5.1.1.3 Flocculant
5.1.1.4 Frother
5.1.1.5 Dispersant
5.1.2 Extraction Chemical
5.1.2.1 Diluent
5.1.2.2 Extractant
5.1.3 Grinding Aid
5.2 By Application
5.2.1 Mineral Processing
5.2.2 Water and Waste Treatment
6. North America Market Analysis (Market Size, Share, and Forecast)
6.1 United States
6.2 Canada
6.3 Mexico
6.4 Rest of North America
7. Competitive Landscape
7.1 Mergers and Acquisitions, Joint Ventures, Collaborations, and Agreements
7.2 Market Share Analysis**
7.3 Strategies Adopted by Leading Players
8. Company Profiles (Overview, Financials**, Products & Services, Recent Developments)
8.1 3M
8.2 AkzoNobel
8.3 CP Kelko
8.4 BASF SE
8.5 ArrMaz Custom Chemicals Inc.
8.6 FMC Corp. (Cheminova)
8.7 Clariant
8.8 Cytec Solvay Group
8.9 The Chemours Company
8.10 Charles Tennant & Company Ltd
8.11 Huntsman International LLC
8.12 Ecolab Inc.
8.13 Orica Limited
8.14 GE Corporation
8.15 Sasol Ltd.
8.16 SNF Flomin Inc.
*List Not Exhaustive
9. Disclaimer
**Subject to availability on public domain