Noble gases are chemically inert gaseous elements that makes up the Group 18 of the periodic table. These gases are colorless, odorless, tasteless, and non-flammable. These properties make them suitable for industrial purposes. Noble gas includes helium, krypton, xenon, neon, argon, and radon. Helium and krypton are the two gases heavily used for various purposes. However, these gases should be disposed in remote areas, as they cause various harmful health concerns, especially for humans.
Noble gases market received a tremendous boost on account of rising applications in niche markets, such as laser technologies, window insulations, electronics, semiconductors industry, and energy-efficient lighting industry. These gases have found industrial acceptance in various sectors such as, oil & gas, chemical, mining, power, energy efficient buildings, surgery, semi-conductors, aerospace, steel and aluminum industries, among others. Since noble gases are inert in nature and do not react with other elements, demand has increased in applications, where oxidation or other reactions are required. The North America noble gas business is at developing stage, however, it is expected to grow steadily over the forecast years.
In the report, the market has been segmented by based on type, application, end-user industry, and region. Due to the economic cost and abundant availability of the gas in natural air, Helium has achieved the highest growth potential. Argon is generally used in thermal insulation windows. The US Department of Energy (DOE) offers numerous incentives and rebates for the replacement of old windows with new energy-efficient ones. This has led to higher demand for argon gas in this application.
Growing Demand in the Healthcare Industry
Due to its distinct physical and chemical properties, such as low density, high thermal conductivity, and low solubility, helium has found wide range of applications for its usage. Helium has the highest demand in the medical sector, as it is involved in the cooling of superconducting magnets in Magnetic Resonance Imaging (MRI) scanners. Microscopy has opened exciting new possibilities for the use of helium gas in technologically advanced fields of medicine. The increasing demand for neon from the pharmaceutical sector is expected to significantly aid the growth of the noble gas market during the forecast period. This is mainly due to the requirement of neon in production of high-voltage indicators switching gears, lightning arresters, laser, and driving equipment. The United States and Canada spend a major share of their GDP on healthcare. Thus, the growth of noble gas market in North America is expected to be steady during the coming years.
Helium and Argon Plasma Technology in Surgery
The plasma coagulator is used for thermal coagulation of tissues. Since helium displaces oxygen from tissue site and prevents combustion, minimal smoke plume is generated during the operation. The jet flow of gas clears the bleeding and other liquids away from the surgical field, enhancing visualization of the bleeding site as well as eliminating electric current dissipation in the blood. Plasma coagulation has found numerous applications in interventional bronchoscopy, abdominal, and laparoscopic surgeries, and ENT (ear, nose and throat) surgery. The technique has been implemented on over 10,000 American patients in the treatment of endometriosis, and has an excellent safety record.
United States to Dominate the Market Growth
The market has also been geographically segmented into the United States, Canada, Mexico, and Rest of North America. A significant portion of market share is held by the United States, followed by Canada and Mexico. The growth in the market is significant, due to the increasing demand for both consumer and investment goods, especially in the United States. Also reserves in the country are declining, due to higher production and consumption. It is estimated that the noble gas markets in North America will witness a healthy growth, on account of high demand from aerospace and laser applications from the United States and Canada. The presence of large manufacturing industries associated with construction, healthcare, automobiles, and semiconductors is expected to be a big factor that will support the growth of the noble gases market in this region.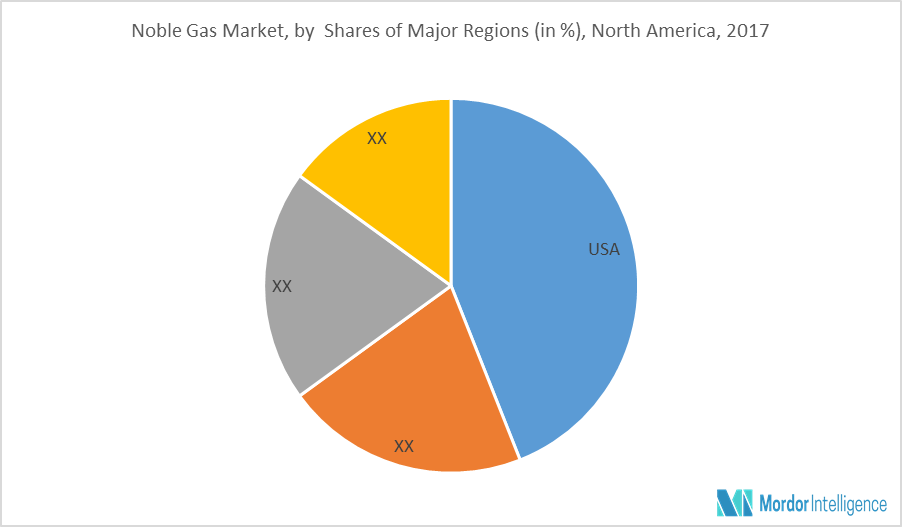 Key Developments
January 2018: Toyota announced that the company is introducing its first hydrogen fuel cell vehicle into Canada's most active electric vehicle market, later this year, a move that could eventually help eliminate emissions from automobile use in Canada.
January 2018: Air Products expects to commission an ASU (Air Separation unit) in New Johnsonville, Tennessee in the third quarter of 2018, under a contract to supply the American chemical corporation, Chemours Company FC LLC, with tonnage quantities of oxygen, nitrogen, and argon.
January 2018: Air Products will unveil a new world-scale steam methane reformer (SMR) and cold box in Baytown, Texas in 2018, to produce hydrogen and carbon monoxide (CO) to be supplied to customers from Air Products' Gulf Coast Hydrogen and CO Pipeline Networks.
Major Players: Linde, Air Products, American Gas, Proton Gases, and Praxair, amongst others.
Reasons to Purchase this Report
Current and future North America noble gas market outlook in the developed and emerging markets
Analyzing various perspectives of the market with the help of Porter's five forces analysis
The segment that is expected to dominate the market
Regions that are expected to witness fastest growth during the forecast period
Identify the latest developments, market shares, and strategies employed by the major market players
3 months analyst support, along with the Market Estimate sheet (in excel)
Customization of the Report
This report can be customized to meet your requirements. Please connect with our analyst, who will ensure you get a report that suits your needs.