The North America advanced ceramics market was estimated at USD 16.539 billion in 2016. The market is expected to register a CAGR of 10.05% during 2018 to 2023 (the forecast period). North America was the second-largest market, accounting for around 27% of the global market share in 2017.
Increasing Demand from Medical Industry
Advanced ceramics are used in a wide range of medical devices, such as lithotripters and ultrasonic cleaners – or in dental ceramics in the field of dentistry. Another major application of advanced ceramics is in bio ceramics, where it is used in artificial organ implants, especially hip joints. Replacement of chemotherapy with radioactive glass microspheres for liver cancer patients, ceramic-based orthodontic braces, biocompatible coatings, and advanced drug delivery systems for cardiovascular stents and other implantable medical devices, and composite layers for gene therapy are some other developing applications of advanced ceramics.
The rising prevalence of chronic diseases, coupled with the rapidly aging population worldwide, is set to increase the demand for medical implants. The global aging demographic is expected to increase to 600 million by 2020. The advances in medical technology, increasing population, (specifically population above 65 years of age) increases the demand for advanced ceramics in the medical industry.
Adoption of Advanced Ceramics in Electricals & Electronics
Advanced ceramics reinforce the electronics industry; the average aircraft is packed with electronics. Gradually, these electrical components, such as sensors, antennas, capacitors, and resistors, are getting smaller and more capable. Therefore, this is a major area of development for advanced ceramics. As the electronics industry makes continuous remarkable progress and develops, the demand for advanced ceramics grows rapidly. Advanced ceramics have a wide-range of electrical properties, including insulating, semi-conducting, superconducting, piezoelectric, and magnetic. The production of cellular phones, portable computing devices, gaming systems, and other personal electronic devices will continue to spark the demand for semiconductors, capacitors, and other advanced ceramics-containing electronic components. The growing electrical & electronics industry is estimated to boost the demand for advanced ceramics over the forecast period.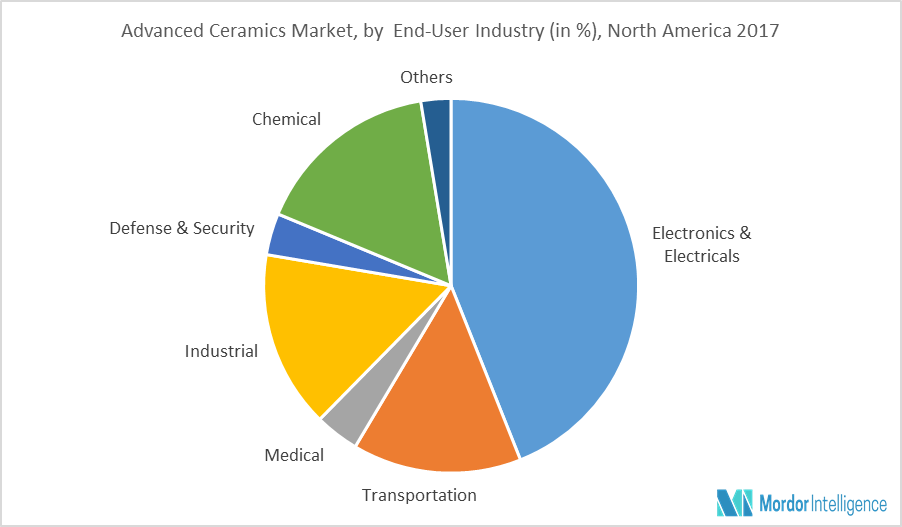 United States to Dominate Market Growth
The United States finds extensive use for advanced ceramics, and the total market for advanced ceramics in the country is set to grow, due to properties, like high corrosion resistance, ability to withstand fluctuations in temperature, and being lightweight. Other desired qualities are substantial energy-efficiency, environmental protection capabilities, higher lifetime operation costs, and the best-desired performance. With the growing demand from various end-user industries, such as electrical & electronics, automotive, medical, and chemical, among others, the market for advanced ceramics is projected to register at a high growth rate during the forecast period.
Major Players: CeramTec AG, Corning Inc., CoorsTek, Inc., Saint–Gobain Ceramic Materials, and Momentive Performance Materials, among others.
Key Developments
Major Players: Ceradyne Inc. (3M), Momentive Performance Materials Inc., Corning Inc., Saint-Gobain Advanced Ceramics LLC
Reasons to Purchase this Report
Examine the impact of the growing industrial applications on the market
Analyze the various perspectives of the market with the help of Porter's five forces analysis
The raw material type and end-user industry that are expected to dominate the market
The region expected to witness the fastest growth rate during the forecast period
Identify the latest developments, market shares, and strategies employed by the major market players
3 months analyst support, along with the Market Estimate sheet in excel
Customization of the Report
This report can be customized to meet your requirements. Please connect with our analyst, who will ensure you get a report that suits your needs.
Along with the customization, we also have an individual report on Nano Ceramic Powders market, which is a part of the Advanced Ceramics market.
1. Introduction
1.1 Research Phases
1.2 Study Deliverables
1.3 Scope of the Report
2. Executive Summary
3. Market Insights
3.1 Industry Value Chain Analysis
3.2 Industry Attractiveness - Porter's Five Forces Analysis
3.2.1 Bargaining Power of Suppliers
3.2.2 Bargaining Power of Consumers
3.2.3 Threat of New Entrants
3.2.4 Threat of Substitute Products and Services
3.2.5 Degree of Competition
3.3 Raw Material Analysis
3.4 Price Trend
4. Market Dynamics
4.1 Drivers
4.1.1 Increased Use as an Alternative to Metals and Plastics
4.1.2 Growing Demand from End-user Industries
4.2 Restraints
4.2.1 Recyclability and Reparability issues
4.2.2 High Capital Costs
4.2.3 High Cost Association Compared to Metal and Alloy Counter
4.2.4 Environmental Impact
4.3 Opportunities
4.3.1 Growth of Nano Technology
4.3.2 Recovery of the Infrastructure Sector
4.3.3 Increasing Usage in Photovoltaic Modules, Wind Turbines, and Pollution Control Applications
5. Market Segmentation and Analysis
5.1 By Material Type
5.1.1 Alumina
5.1.2 Titanate
5.1.3 Zirconia
5.1.4 Silicon Carbide
5.1.5 Aluminum Nitride
5.1.6 Silicon Nitride
5.1.7 Magnesium Silicate
5.1.8 Pyrolytic Boron Nitride
5.2 By Class
5.2.1 Monolithic ceramics
5.2.2 Ceramic matrix composites
5.2.3 Ceramic coatings
5.2.4 Others
5.3 By End-user Industry
5.3.1 Electronics and Electricals
5.3.2 Transportation
5.3.3 Medical
5.3.4 Industrial market
5.3.5 Defense & Security
5.3.6 Chemical
5.3.7 Environmental
5.3.8 Others
6. Regional Market Analysis (Market size, growth and forecast)
6.1 United States
6.2 Canada
6.3 Mexico
6.4 Rest of North America
7. Future of Advanced Ceramics Market
8. Competitive Landscape
8.1 Mergers & Acquisitions, Joint Ventures, Collaborations and Agreements
8.2 Market Share Analysis**
8.3 Strategies Adopted by Leading Players
9. Company Profiles (Overview, Financials**, Products & Services, Recent Developments)
9.1 Applied Ceramics Inc.
9.2 Blasch Ceramics
9.3 Ceradyne Inc.
9.4 CeramTec AG
9.5 COI Ceramics Inc.
9.6 Vesuvius
9.7 CoorsTek, Inc.
9.8 Corning Inc.
9.9 International Ceramic Engineering
9.10 Kyocera Corp.
9.11 Materion Corp.
9.12 McDanel Advanced Ceramic Techno
9.13 Momentive Performance Materials
9.14 Morgan Advanced Materials
9.15 Murata Manufacturing Co. Ltd.
9.16 Rauschert Steinbach GmbH
9.17 Saint–Gobain Ceramic Materials
9.18 Small Precision Tools
*List Not Exhaustive
10. Disclaimer
**subject to availability to public domain