The North American oilfield chemicals market was valued at USD 15,474.00 million in 2017 and is expected to witness a CAGR of 4.89% during the forecast period of 2018 - 2023. The market is driven by several factors, such as increasing demand for oilfield chemicals due to increasing crude oil production, and shifting focus toward the development of eco-friendly chemicals.
Increasing Crude Oil Production
The crude oil production in North America has been registering an upward trend since 2011. The increase in production and exploration can be attributed to increasing global demand. Due to increasing global population, the consumption of oil and oil-based products has recorded considerable growth. The use of oilfield chemicals in crude oil production and exploration is directly linked to the growth of the crude oil production market.
Corrosion and Scale Inhibitors to Dominate the Market
Corrosion inhibitors are used to reduce corrosion in the metallic pipes of oil wells. Inhibition is the preferred treatment for carbon steel pipes and vessels. The advantage of inhibition is that, in most cases, it can be used even when the process continues. Corrosion occurs due to the reaction of oxygen with metallic parts, to form oxides. Corrosion inhibitors act by forming a thin layer of barrier over the exposed parts. Several types of corrosion inhibitors are used in oilfields.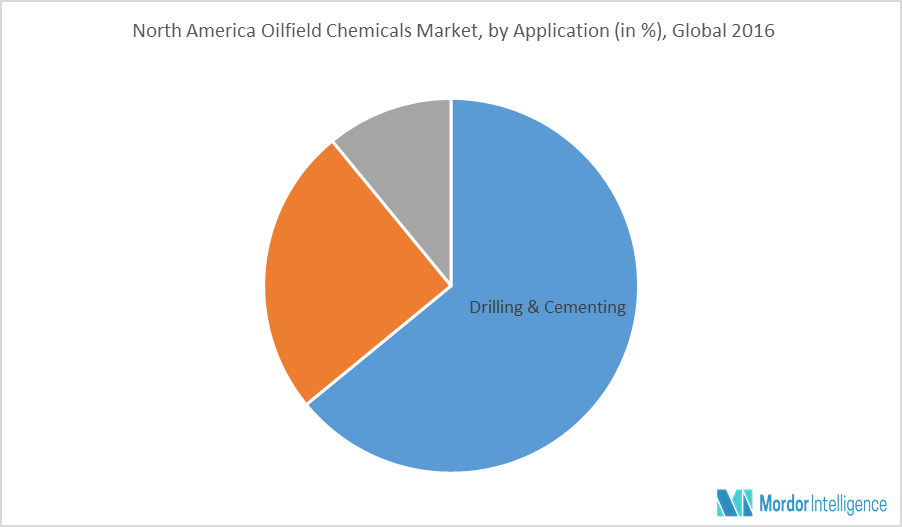 The United States to Lead the Market
The Unites States has been the oldest and the fastest growing country in this market and is exhibiting its dominance in the North American oilfield chemicals market. The United States accounted for around 78% of the North American oilfield chemicals market in 2017. A rapid growth in unconventional oil & gas activity in North America, primarily in the United States, has resulted in the increasing consumption of chemicals used for various operations. This trend is likely to continue over the forecast period. The rapid exploitation of shale oil & gas reserves in North America contributed to the growth of this market. Lower oil prices have likely had a major impact on the drilling, stimulation, and completion activities of such chemicals. However, increasing oil & gas production activates and use of oilfield chemicals, primarily as specialty surfactants in fracking and drilling, which is a characteristic of oilfield chemicals, are expected to boost the growth of the oilfield chemicals market.
Notable Development
July 2017: The Department of Justice (DOJ) approved the merger of Baker Hughes Inc. and GE Oil & Gas.
Major Players: AkzoNobel N.V., BASF SE, and Schlumberger Limited (Schlumberger Technology Corporation), among others
Reasons to Purchase this Report
Analyzing various perspectives of the market, with the help of Porter's five forces analysis.
The application that is expected to dominate the market.
The regions that are expected to witness the fastest growth during the forecast period.
Identify the latest developments, market shares, and strategies employed by the major market players.
3 months analyst support along with the Market Estimate sheet (in Excel).
Customization of the Report
This report can be customized to meet your requirements. Please connect with our representative, who will ensure you to get a report that suits your needs.
1. Introduction
1.1 Study Deliverables
1.2 Scope of the Report
1.3 Research Phases
2. Executive Summary
3. Market Insights
3.1 Supply Chain Overview
3.2 Technological Snapshot
3.3 Industry Attractiveness - Porter's Five Forces Analysis
3.3.1 Bargaining Power of Suppliers
3.3.2 Bargaining Power of Consumers
3.3.3 Threat of New Entrants
3.3.4 Threat of Substitute Products and Services
3.3.5 Degree of Competition
4. Market Dynamics
4.1 Drivers
4.1.1 Increasing Crude Oil Production
4.1.2 Development of Environment-friendly Chemicals in line with Stringent Regulations
4.2 Restraints
4.2.1 Low Crude Oil Prices
4.2.2 Environmental Sustainability in Shale Gas Extraction
4.3 Opportunities
4.3.1 New Horizons with Deepwater Drilling Operations
4.3.2 Recovering Oil & Gas Industry
5. Market Segmentation and Analysis
5.1 By Chemical Type
5.1.1 Biocide
5.1.2 Corrosion & Scale Inhibitor
5.1.3 Demulsifier
5.1.4 Polymer
5.1.5 Surfactant
5.1.6 Other Chemicals
5.2 By Application
5.2.1 Drilling & Cementing
5.2.2 Workover & Completion
5.2.3 Well Stimulation
5.2.4 Production
5.2.5 Enhanced Oil Recovery
6. Regional Market Analysis (Market Size, Share, and Forecast)
6.1 United States
6.2 Canada
6.3 Mexico
6.4 Rest of North America
7. Future of the Market
8. Competitive Landscape
8.1 Mergers & Acquisitions, Joint Ventures, Collaborations, and Agreements
8.2 Market Share Analysis**
8.3 Strategies Adopted by Leading Players
9. Company Profiles (Overview, Financials**, Products & Services, Recent Developments, Analyst View)
9.1 AkzoNobel NV
9.2 Albemarle Corporation
9.3 Ashland
9.4 Baker Hughes Incorporated
9.5 BASF Corporation
9.6 Canadian Energy Services & Technology Corp (CESTC)
9.7 Clariant
9.8 Croda International PLC
9.9 Drilling Specialties Company (Chevron Phillips Chemical Company)
9.10 DuPont
9.11 Elementis PLC
9.12 Exxonmobil Chemical Company Inc.
9.13 Flotek Industries Inc.
9.14 Halliburton
9.15 Huntsman International LLC
9.16 Innospec
9.17 Kemira
9.18 Messina Chemicals Inc.
9.19 Nalco Champion Technologies Inc. (Ecolab)
9.20 Newpark Resources Inc. (Newpark Drilling Fluids)
9.21 Schlumberger Limited (Schlumberger Technology Corporation)
9.22 Solvay
9.23 Stepan Company
9.24 The Dow Chemical Company
9.25 The Lubrizol Corporation
*List not exhaustive
10. Disclaimer
**Subject to availability on public domain