The global liquid crystal polymer (LCP) market is expected to witness a CAGR of 5.2% during the forecast period, 2018 to 2023, majorly driven by the increasing demand for miniaturization of electrical & electronic components for smartphones, tablets, and other electronics products.
Miniaturization of Electronic Components Driving the Market
LCP has a unique combination of high stiffness, high-temperature resistance, and high flow properties. Due to these high flow properties, they can be injection-molded into thin-wall components. The LCPs are particularly well suited to the growing trend of miniaturization in the electronics industry. The applications include connectors with high pin density, surface mounting devices, and other microelectronic devices. The growing use of the miniature components in smartphones, tablets, and various other electronic products is likely to drive the LCP market during the forecast period.
Electrical & Electronics the Dominating End-user Industry
The electrical & electronics components industry is the largest end user for liquid crystal polymers, followed by automotive industry. Nearly three-fourths of the market share is held by the electrical & electronics sector. The downsizing and thinning of electronics components for their utilization in smartphones and the new emerging applications such as LEDs are likely to drive the market in the coming years. The increasing focus on the development of lightweight vehicles is likely to drive the demand for LCPs in the automotive industry at a high rate.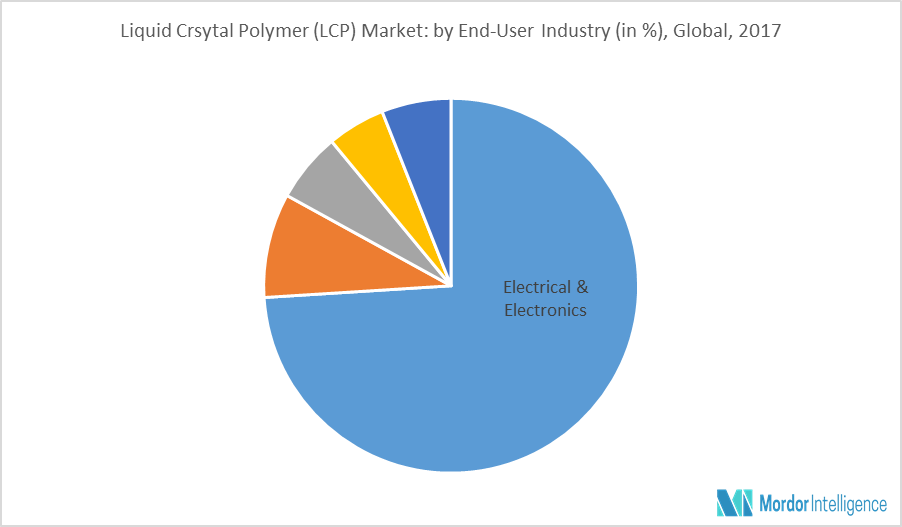 Lightweight Vehicles Driving the Asia-Pacific Market at a High Rate
In terms of consumption, Asia-Pacific held the major market share in 2017, followed by North America. China alone accounted for nearly half of the market share in 2017, due to huge demand from the electronics and electrical manufacturing industry. This region is also expected to witness the highest growth rate with increase in automotive manufacturing facilities in China and India. The increasing focus by the government on the usage of lightweight and high-performance materials to comply with emission standards and improve fuel efficiency is likely to further drive the market in the Asia-Pacific region during the forecast period.
Notable Developments
In December 2017, Apple announced the adoption of speedy LCP flexible circuit board tech across major product lines in 2018
Major Players: Celanese Corporation, Polyplastics Co., Ltd, Solvay SA., Kuraray Co., Ltd, and Toray International, Inc., among others.
Reason to Purchase the Report
To understand the impact of various type on the market
Analyzing various perspectives of the market with the help of Porter's five forces analysis
To understand the dominating type and end-user industry in the market
Countries expected to witness the fastest growth during the forecast period
Identify the latest developments, market shares, and strategies employed by the major market players
3 month analyst support, along with the Market Estimate sheet (in Excel)
Customization of the Report
This report can be customized to meet your requirements. Please connect with our analyst, who will ensure you get a report that suits your needs.