The Japan water treatment chemicals market is expected to register a steady growth rate between 2018 - 2023. The importance of maintaining the required standard for water quality has made it necessary for better purification methods. However, water purification equipment alone is not enough to achieve this standard. Hence, the usage of water treatment chemicals becomes indispensable to meet the desired standards of purified water.
Increasing Shift Toward Natural Gas-based Power Plants
Japan has the third-highest demand for electricity in the Asia-Pacific region, as it is one of the fastest growing nations in terms of the chemical and manufacturing industries. As the number of industries increased, the demand for power also increased. This resulted in a search for alternative power generation sources. After the Great East Japan earthquake in 2011, almost all nuclear power stations have been stalled. The composition of the fuel used for power generation shifted heavily toward fossil fuels, particularly LNG, which became the primary substitute for nuclear power. Thus, the increasing production of electricity from natural gas-based power plants is driving the demand for water treatment chemicals in the country.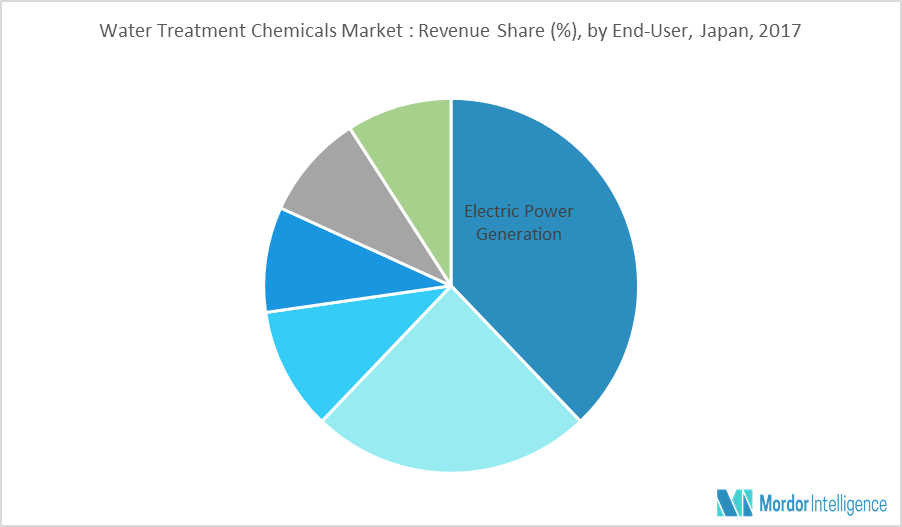 Corrosion Inhibitor is One of the Dominating Product
Corrosion inhibitors are general-purpose chemicals, employed to deal with corrosion caused due to the reaction of oxides with metallic parts in a boiler. Corrosion affects the metallic parts of the boiler and thereby increases the cost of energy and maintenance. Corrosion inhibitors act by forming a thin layer of barrier over the exposed parts of the boiler against the water. Corrosion inhibitors reduce the corrosion potential associated with cathode and anode of the corrosion cell. The most serious form of corrosion occurs in cooling water treatment systems, which contain both steel and copper alloys, to ensure metal protection and prevent metal loss, which may lead to critical system failures in recirculating water piping, process cooling equipment, and heat exchangers. With the growing manufacturing and processing industries, the demand for corrosion inhibitors is projected to increase during the forecast period.
Major Players: Accepta, BASF SE, ChemTreat Inc., Organo Corp., PQ Corp., and Wex Technologies, among others.
Reasons to Purchase the Report
Analyzing various perspectives of the market with the help of Porter's Five Forces Analysis.
The application and end-user industry expected to dominate the market.
Identify the latest developments, market shares, and strategies employed by the major market players.
3-month analyst support along with the Market Estimate sheet (in Excel).
Customization of the Report
This report can be customized to meet your requirements. Please connect with our analyst, who will ensure you get a report that suits your needs.
1. Introduction
1.1 Research Phases
1.2 Study Deliverables
1.3 Scope of the Report
2. Executive Summary
3. Market Insights
3.1 Industry Value-Chain Analysis
3.2 Industry Attractiveness – Porter's Five Forces Analysis
3.2.1 Bargaining Power of Suppliers
3.2.2 Bargaining Power of Consumers
3.2.3 Threat of New Entrants
3.2.4 Threat of Substitute Products and Services
3.2.5 Competitive Rivalry
3.3 PESTLE Analysis
4. Market Dynamics
4.1 Drivers
4.1.1 Rising Demand for Fresh Water
4.1.2 Increasing Shift toward Natural Gas-based Power Plants
4.2 Restraints
4.2.1 Hazardous Nature of Hydrazine
4.2.2 Other Restraints
4.3 Opportunities
4.3.1 Shifting Focus toward the Usage of Green Chemicals
4.3.2 Other Opportunities
5. Market Segmentation and Analysis (Market Size, Share, and Forecast)
5.1 By Product
5.1.1 Biocide & Disinfectant
5.1.2 Coagulant & Flocculent
5.1.3 Corrosion Inhibitor
5.1.4 Scale Inhibitor
5.1.5 Defoamer & Defoaming Agent
5.1.6 pH Adjuster & Softener
5.1.7 Other Chemicals
5.2 By End-user Industry
5.2.1 Electric Power Generation
5.2.2 Food & Beverage
5.2.3 Oil & Gas
5.2.4 Manufacturing
5.2.5 Mining & Mineral Processing
5.2.6 Municipal
5.2.7 Others
5.3 By Application
5.3.1 Boiler Water Treatment
5.3.2 Cooling Water Treatment
5.3.3 Membrane Water Treatment
5.3.4 Process Water Treatment
5.3.5 Potable Water Treatment
6. Competitive Landscape
6.1 Mergers & Acquisitions, Joint Ventures, Collaborations, and Agreements
6.2 Market Share Analysis**
6.3 Strategies Adopted by Leading Players
7. Company Profiles (Overview, Financials**, Products & Services, Recent Developments)
7.1 Aquas Corporation
7.2 Asahi Chemical & Industrial Co. Ltd
7.3 Ashland Incorporated
7.4 BASF AG
7.5 Ecolab
7.6 Kobelco Eco-Solutions Co. Ltd
7.7 Kurita Water Industries Ltd
7.8 Moresco Corporation
7.9 Nagoka International Corporation
7.10 Nippon Shokubai Co. Ltd
7.11 Organo Corporation
7.12 Tomoe Engineering Co. Ltd
7.13 Toyo Engineering Corporation
*List not exhaustive
8. Disclaimer
**Subject to availability on public domain