The India and China anionic surfactants market is estimated to grow at a significant CAGR during the forecast period (2018 - 2023). The soaps and detergent application segment is expected to hold the largest market share.
Low Cost and Easy Availability of Synthetic Surfactants to Propel Market Growth
Synthetic surfactants are traditionally produced from petroleum-based substrates and are widely used in different application segments, such as detergents & cleaners, auxiliaries for textiles, personal care, industrial & institutional cleaning, and paints & coatings.
Anionic surfactants form a separate class of surfactants chemicals, and they find use in a wide variety of key applications. Anionic surfactants carry a negative charge but are made up of a negatively charged alkyl portion along with a positively charged cation. They are classified as commodity products due to the minimal product differentiation, low price margins, and large volume production. This aforementioned activity has existed over a decade, and the market pressures, such as raw materials and production costs, are pushing the need for more specialized and technically superior varieties.
Soaps and Detergents to Hold the Largest Market Share
The household detergent market includes laundry detergents, dishwasher detergents, prespotters, carpet cleaners, and fabric softeners. This segment consumes almost half of the total surfactant demand of the Chinese and Indian market. For laundry detergents, the primary function of a surfactant is to remove soil from fabrics and to suspend the soil in the wash water. Fabric softeners are either added to the final rinse or as dryer sheets which are used to dry the wet clothes in dryers. Surfactants in dishwasher detergents are used for wetting surfaces to help soil removal. The major surfactants used for the purpose include LAS and ethoxysulfates.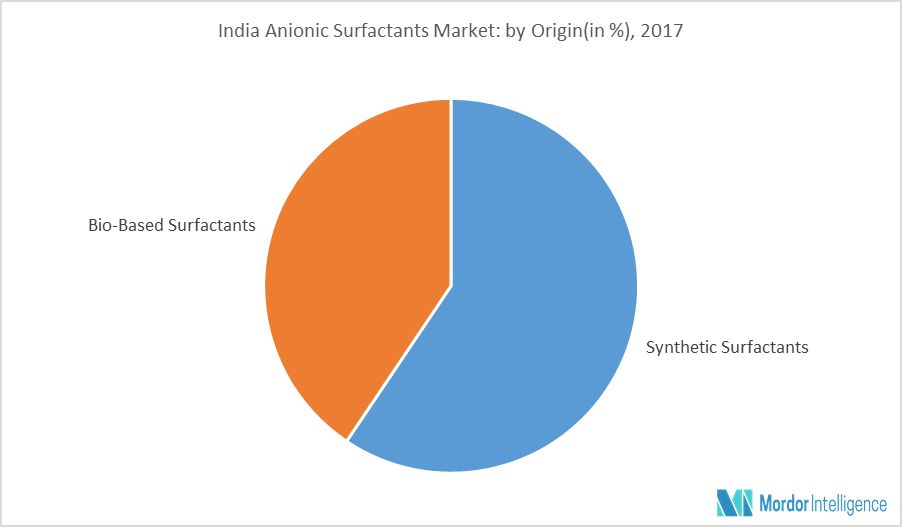 Major Players: Reliance, IOCL, Nirma, and Galaxy Surfactants, among others.
Reasons to Purchase this Report
To understand the impact of volatility in raw material prices on the market
Analyzing various perspectives of the market with the help of Porter's five forces analysis
To understand the dominating application in the market
Identify the latest developments, market shares, and strategies employed by the major market players
3-month analyst support, along with the Market Estimate sheet (in Excel)
Customization of the Report
This report can be customized to meet your requirements. Please connect with our representative, who will ensure you get a report that suits your needs.
1. Introduction
1.1 Research Phases
1.2 Study Deliverables
1.3 Scope of the Report
2. Executive Summary
3. Market Insights
3.1 Industry Value Chain Analysis
3.2 Industry Attractiveness – Porter's Five Forces Analysis
3.2.1 Bargaining Power of Suppliers
3.2.2 Bargaining Power of Consumers
3.2.3 Threat of New Entrants
3.2.4 Threat of Substitute Products and Services
3.2.5 Degree of Competition
4. Market Dynamics
4.1 Drivers
4.1.1 Increasing Purchasing Power of Growing Middle-Class
4.1.2 Low Cost and Easy Availability of Synthetic Surfactants
4.2 Restraints
4.2.1 Volatility in Raw Material Prices
4.2.2 Environmental Concerns
4.3 Opportunities
4.3.1 Innovations in Bio-based Surfactants
4.3.2 Other Opportunities
5. Market Segmentation and Analysis (Market Size, Growth and forecast)
5.1 By Product Type
5.1.1 Linear Alkylbenzene Sulfonate (LABS)
5.1.2 Alkyl/Alcohol Ethoxysulfates (AES)
5.1.3 Alpha Olefin Sulfonates (AOS)
5.1.4 Secondary Alkane Sulfonate (SAS)
5.1.5 Methyl Ester Sulfonates (MES)
5.1.6 Sulfosuccinates
5.1.7 Others
5.2 By Origin
5.2.1 Synthetic Surfactants
5.2.2 Bio-Based Surfactants
5.2.2.1 Chemically Synthesized Bio-Based Surfactants
5.2.2.2 Biosurfactants
5.3 By Application
5.3.1 Soaps & Detergents
5.3.2 Personal Care
5.3.3 Lubricants & Fuel Additives
5.3.4 Industry & Institutional Cleaning
5.3.5 Food Processing
5.3.6 Oilfield Chemicals
5.3.7 Agricultural Chemicals
5.3.8 Textile Industry
5.3.9 Elastomers & Plastics
5.3.10 Paints & Coatings
5.3.11 Others
6. Regional Market Analysis (Market Size, Growth and Forecast)
6.1 India
6.1.1 Current Scenario (Demand, Import and Export)
6.1.2 Producers and Capacities
6.2 China
6.2.1 Current Scenario (Demand, Import and Export)
6.2.2 Producers and Capacities
7. Competitive Landscape
7.1 Mergers & Acquisitions, Joint Ventures, Collaborations and Agreements
7.2 Market Share Analysis**
7.3 Strategies Adopted by Leading Players
8. Company Profiles (Overview, Financials**, Products & Services, Recent Developments)
8.1 India
8.1.1 Galaxy Surfactants
8.1.2 BASF SE
8.1.3 Huntsman Corporation
8.1.4 Stepan Company
8.1.5 Clariant Limited
8.1.6 Croda International Plc
8.1.7 Rhodia
8.1.8 Sasol
8.1.9 Reliance
8.1.10 Godrej
8.1.11 Solvay
8.1.12 India Glycols
8.1.13 Unitop Chemicals Pvt Ltd
8.1.14 EOC Surfactants
8.1.15 IOCL
8.1.16 Hindustan Unilever Ltd
8.1.17 RSPL
8.1.18 Tamilnadu Petroproducts Ltd
8.1.19 Proctor & Gamble
8.2 China
8.2.1 BASF SE
8.2.2 Stepan Company
8.2.3 Evonik Industries
8.2.4 Clariant Limited
8.2.5 Croda International Plc
8.2.6 Rhodia
8.2.7 Sasol
8.2.8 Zhejiang Zanyu Technology Co. Ltd
8.2.9 Sinolight Chemicals Co. Ltd
8.2.10 Hunan Resun-Auway Industrial Co. Ltd
*List not exhaustive
9. Disclaimer
**Subject to availability of public domain