The global terephthalic acid market is expected to witness a CAGR of over 5%, owing to the increased utilization of polyethylene terephthalate (PET) during the production of bottles and other products from the packaging industry.
PET Resin driving the Market
Many alcoholic beverage vendors are considering PET bottles for the packaging of alcoholic beverages, such as beer and wine. One of the advantages of PET is that, it can maintain the appearance and stability of an alcoholic beverage, along with being lighter than glass. The usage of PET bottles also lead to low-production cost and enhanced supply chain management. The incorporation of PET containers in packaging sodas, shampoo, pharmaceuticals etc., is likely to drive the terephthalic acid market, as terephthalic acid is widely used in the production of PET resins.
Growing Demand for Packaging Application
In 2017, the polyester fiber application accounted for over 60% of the terephthalic acid market share. Owing to the increasing usage in apparel, carpets, curtains, nets, and ropes, the market for terephthalic acid is expected to witness a substantial growth. Terephthalic acid acts as a feedstock, along with other chemicals, for the production of synthetic polymers. However, the polyethylene terephthalate (PET) resin production for packaging and film applications is growing rapidly, due to its success in the soft drinks and water bottles market.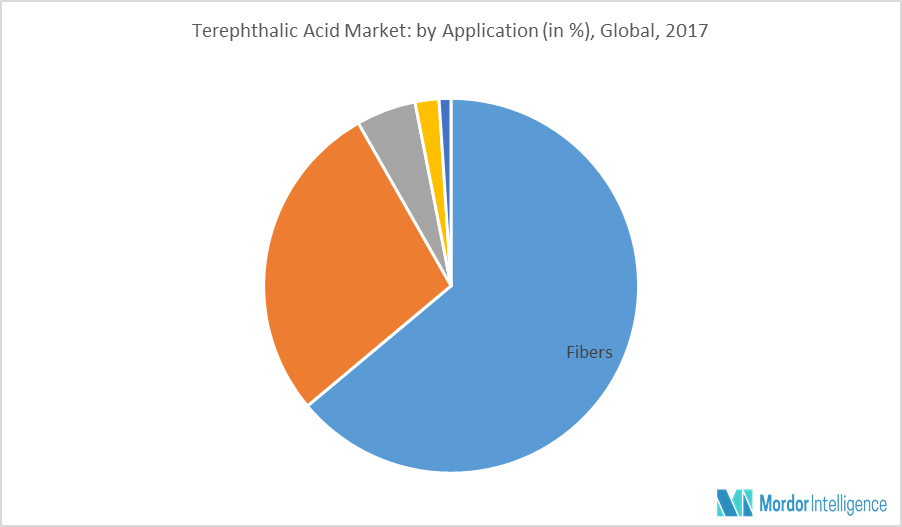 Textile Industry Making Asia-Pacific the Biggest Market
With a share of over 40%, Asia-Pacific accounted for the highest market share for terephthalic acid. The establishment of various food & beverage, packaging, and textile manufacturing industries in China and India is likely to fuel up the market during the forecast period. Increasing sales volume of apparel goods and clothing, through e-commerce portals in Asia-Pacific countries, is also expected to create an immense industry potential. In Europe, the market growth is expected to be sluggish, due to the increasing use of bio-based PET in the bottle and packaging industry.
Notable Developments
In Dec 2017, SIBUR upgraded and expanded its terephthalic acid production capacity to about 350,000 metric ton in Russia, which is likely to get started by 2019.
Major Players: BP, China Petrochemical, Eastman, Mitsubishi Chemical, and Reliance Industries, among others.
Reason to Purchase this Report
To understand the impact of various derivative type on the market
Various perspectives of the market with the help of Porter's five forces analysis
To understand the dominating derivative type and application in the market
Countries expected to witness the fastest growth during the forecast period
Identify the latest developments, market shares, and strategies, that are employed by the major market players
3 months analyst support, along with the Market Estimate sheet (in Excel)
Customization of the Report
This report can be customized to meet your requirements. Please connect with our analyst, who will ensure you get a report that suits your needs.
1. Introduction
1.1 Scope of the Report
1.2 Research Phases
1.3 Study Deliverables
2. Executive Summary
3. Market Insights
3.1 Industry Value Chain Analysis
3.2 Industry Attractiveness – Porter's Five Force Analysis
3.2.1 Bargaining Power of Suppliers
3.2.2 Bargaining Power of Consumers
3.2.3 Threat of New Entrants
3.2.4 Threat of Substitute Products and Services
3.2.5 Degree of Competition
3.3 Feedstock Analysis
3.3.1 Global Capacity by Key Feedstock
3.3.2 Trends
3.4 Technological Snapshot
3.4.1 Production Process
3.4.2 Patent Analysis
3.5 Trade Analysis
3.6 Price Index
3.7 Supply Scenario
3.7.1 Capacity and Production Analysis
3.7.1.1 Top 10 Plants and locations (Installed Capacities)
3.8 Upcoming Projects
3.9 Regulatory Policy Analysis
4. Market Dynamics
4.1 Drivers
4.1.1 Increasing Demand from the Textile Industry in Asia-Pacific
4.1.2 Rising Demand for Polyethylene Terephthalate (PET) from the Packaging Industry
4.2 Restraints
4.2.1 Stringent Regulations Related to the Use of Bio-based PET
4.2.2 Toxicity Effects of Terephthalic Acid
4.3 Opportunities
4.3.1 Advancement in Production Technology
5. Market Segmentation and Analysis - (Market size, Growth, and Forecast)
5.1 By Derivative
5.1.1 Polyethylene Terephthalate (PET)
5.1.2 Polybutylene Terephthalate (PBT)
5.1.3 Polytrimethylene Terephthalate (PTT)
5.1.4 Dimethyl Terephthalate
5.1.5 Others
5.2 By Application
5.2.1 Packaging
5.2.2 Fibers
5.2.3 Paints & Coatings
5.2.4 Adhesives
5.2.5 Others
6. Regional Market Analysis (Market size, growth and forecast)
6.1 North America
6.1.1 United States
6.1.2 Canada
6.1.3 Mexico
6.1.4 Rest of North America
6.2 Europe
6.2.1 Germany
6.2.2 United Kingdom
6.2.3 Italy
6.2.4 France
6.2.5 Russia
6.2.6 Rest of Europe
6.3 Asia-Pacific
6.3.1 China
6.3.2 India
6.3.3 Japan
6.3.4 South Korea
6.3.5 Rest of Asia-Pacific
6.4 South America
6.4.1 Brazil
6.4.2 Argentina
6.4.3 Rest of South America
6.5 Middle East & Africa
6.5.1 Saudi Arabia
6.5.2 South Africa
6.5.3 Rest of MEA
7. Future of the Market
8. Competitive Landscape
8.1 Mergers and Acquisitions, Joint Ventures, Collaborations, and Agreements
8.2 Market Share Analysis**
8.3 Strategies Adopted by Leading Players
9. Company Profiles (Overview, Financials**, Products & Services, and Recent Developments)
9.1 BP PLC
9.2 China Petroleum & Chemical Corporation
9.3 Eastman Chemical Company
9.4 Formosa Petrochemical Co.
9.5 Indian Oil Corporation Ltd
9.6 Indorama Ventures Public Company Limited
9.7 Lotte Chemical Corporation
9.8 Materials Chemicals and Performance Intermediaries Private Limited
9.9 Mitsubishi Chemical Corporation
9.10 Mitsui Chemicals Europe GmbH
9.11 PetroChina Company Limited
9.12 Reliance Industries Limited
9.13 SABIC
9.14 Samyang Holdings Corporation
9.15 SIBUR
…List Not Exhaustive
10. Disclaimer
**Subject to availability of public domain