The global polystyrene market was estimated at USD 28,103.36 million in 2017. The market is expected to register a CAGR of 4.91% during the forecast period (2018-2023). General purpose polystyrene (GPPS) dominated the global polystyrene market with an approximate 25% global market share and it is estimated to register the fastest CAGR through the forecast period.
Growing Consumer Electronics Market
Consumer electronics is an innovation-based highly competitive market. Polystyrene is an important product used in various applications in consumer electronics, such as housing for TVs and various IT equipment's Additionally, it has a high performance/cost ratio. Polystyrene is a favorable choice for media enclosures, cassette tape housing, and clear jewel boxes to protect CDs and DVDs. The continuously changing technology and the decreasing price-range of products are the key driving factors for consumer electronics in the global market. Emerging economies, such as China, India, Indonesia, Thailand, Australia, Brazil, South Africa, South Korea, etc., are the new markets and show a huge potential for growth.
GPPS, also known as crystal or straight polystyrene, is the transparent and rigid form of polystyrene mainly used for food packaging. Its applications include a variety food containers and trays. GPPS also finds application in the healthcare industry. It is used for the manufacture of disposable medical products such as test kits housing, test tubes, etc. Asia-Pacific is the largest producer and consumer of the GPPS market, followed by Europe and North America.
Asia-Pacific Dominates the Market
Asia-Pacific has the highest share in the market, accounting for approximately 47% of the global market share in 2017. The market is primarily driven by the increasing consumer base and a high demand for packaging. Moreover, the construction sector in the region is expected to grow, as the industry is expected to benefit from the increase in demand triggered by a rebound in the residential construction and infrastructure projects.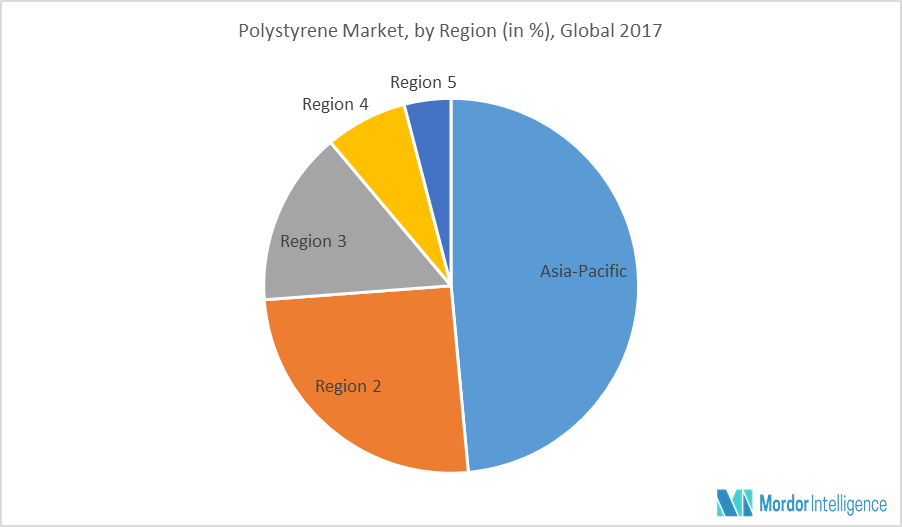 China is the Largest Consumer
China's geographic location provides easy global access to the industrial goods market, thereby, making it a major access point for manufacturers and suppliers. The demand for polystyrene in China has remained strong over the past few years, owing to increased electrical, electronics, and packaging applications. The abundant availability of raw materials and the low cost of production are estimated to boost the demand for polystyrene in the country.
Key Developments in the Market
December 2017: Trinseo announced price increase for Polystyrene, Polycarbonate, and Copolymers in Europe
Major Players: Ineos Styrloution Group GmbH, Total, Trinseo, SABIC, and BASF SE, amongst others.
Reasons to Purchase this Report
Market definition, along with the identification of factors instrumental in changing the market scenario and prospective opportunities
Analyzing various market perspectives with the help of Porter's five forces analysis
Regions or countries that are expected to witness the fastest growth during the forecast period
Product segment that is expected to dominate the market over the forecast period
The latest developments, market shares, and strategies that are employed by the major market players
3-month analyst support, along with the Market Estimation sheet (in Excel).
Customization of the Report
This report can be customized to meet your requirements. Please connect with our representative, who will ensure you get a report that suits your needs.
1. Introduction
1.1 Research Phases
1.2 Study Deliverables
1.3 Scope of the Report
2. Executive Summary
3. Market Insights
3.1 Industry Value-Chain Analysis
3.2 Industry Attractiveness – Porter's Five Forces Analysis
3.2.1 Bargaining Power of Suppliers
3.2.2 Bargaining Power of Consumers
3.2.3 Threat of New Entrants
3.2.4 Threat of Substitute Products and Services
3.2.5 Degree of Competition
3.3 Regulatory Policy Analysis
3.4 Import and Export Trends
4. Drivers, Restraints, Opportunities, and Challenges Analysis (DROC)
4.1 Drivers
4.1.1 Recycling in Polystyrene Industry
4.1.2 Consumer Electronics Market
4.2 Restraints
4.2.1 Increasing Ban on Polystyrene across North America and Europe
4.2.2 Availability of High Performance Substitutes
4.3 Opportunity
4.3.1 Recovering Construction Industry in Europe
4.3.2 Ongoing Research to Develop Bio-based Polystyrene
5. Market Segmentation and Analysis (Market Size, Growth, and Forecast)
5.1 By Resin Type
5.1.1 General Purpose Polystyrene (GPPS)
5.1.2 High Impact Polystyrene (HIPS)
5.1.3 Expandable Polystyrene (EPS)
5.2 By Form Type
5.2.1 Foams
5.2.2 Films & Sheets
5.2.3 Injection Moulding
5.2.4 Others
5.3 By End-user Industry
5.3.1 Packaging
5.3.2 Building & Construction
5.3.3 Electrical & Electronics
5.3.4 Consumer Goods
6. Regional Market Analysis (Market Size, Growth, and Forecast)
6.1 Asia-Pacific
6.1.1 China
6.1.2 India
6.1.3 Japan
6.1.4 South Korea
6.1.5 Australia and New Zealand
6.1.6 ASEAN Countries
6.1.7 Rest of Asia-Pacific
6.2 North America
6.2.1 United States
6.2.2 Canada
6.2.3 Mexico
6.2.4 Rest of North America
6.3 Europe
6.3.1 Germany
6.3.2 United Kingdom
6.3.3 Italy
6.3.4 France
6.3.5 Russia
6.3.6 NORDIC Countries
6.3.7 Rest of Europe
6.4 South America
6.4.1 Brazil
6.4.2 Argentina
6.4.3 Rest of South America
6.5 Middle East & Africa
6.5.1 Saudi Arabia
6.5.2 South Africa
6.5.3 Qatar
6.5.4 Rest of Middle East & Africa
7. Future of the Market
8. Competitive Landscape
8.1 Mergers & Acquisitions, Joint Ventures, Collaborations, and Agreements
8.2 Market Share Analysis**
8.3 Strategies Adopted by Leading Players
9. Company Profiles (Overview, Financials**, Products & Services, and Recent Developments)
9.1 Americas Styrenics LLC
9.2 BASF SE
9.3 Chi Mei Corporation
9.4 Formosa Chemicals & Fibre Corp
9.5 Ineos Styrolution Group Gmbh
9.6 Kumho Petrochemical Co., Ltd
9.7 Lg Chem, Ltd
9.8 SABIC
9.9 Synthos S.A.
9.10 DowDuPont
9.11 Total
9.12 Trinseo
9.13 Versalis S.P.A
9.14 Videolar-Innova S.A
*List not exhaustive
10. Disclaimer
**Subject to availability on public domain