Oilfield Chemicals Market
The oilfield chemicals market is estimated was valued at USD 26.06 billion in 2017 and is expected to reach USD 32.68 billion by 2023 with an estimated CAGR of 4.64%, during the forecast period, 2018 - 2023.This market is driven by a number of factors such as increasing shale gas exploration and production, and also due to rising demand for oilfield chemicals from Asia-Pacific. The opening of new horizons due to increasing deep water drilling operations are likely to act as key major opportunities for the oilfield chemicals market.
Soaring Shale Gas Production
Availability of large amount of offshore shale reserves is likely to be a major key driving factor for global oilfield chemicals market. There are various unexplored reserves of shale gas globally with China, Argentina, United States, Algeria, and Canada holding the largest recoverable reserves. United States is the leading producer of natural gas and oil from Shale globally. Australia, China, India, and Indonesia are also taking tentative steps to explore their potential shale gas and oil reserves, and to further develop exploration in these reserves. Hence, this would result in higher demand for drilling, stimulation, and cementing chemicals.
Well Stimulation – The Fastest Growing Segment by usage
The well stimulation segment is expected to expand at a fastest CAGR during the forecast period. The United States is the largest beneficiary of this technology due to the increasing activity in unconventional plays. The Middle East and the Asia-Pacific regions have also shown immense potential in adopting the well stimulation techniques. Europe is also expected to shift its focus to the exploration of shale in the North Sea due to increasing requirement to become more energy self-sufficient. Hence, the well stimulation chemicals are expected to have a very fruitful market in the near future.
North America to Lead the Oilfield Chemicals Market
North America is the leader across the globe for oilfield chemicals with an estimated CAGR of 5.00% due to the increased emphasis on shale gas production and exploration in the region. The United States accounts for the major share in North America mainly owing to the boom in shale gas industry, advancements in technologies and increasing oil exports. Countries, such as India and China are making large investments in the energy sector, owing to the growing demand for crude oil and petroleum. Europe holds a stable market oilfields chemicals market.
The global oilfield chemicals market is a consolidated market among the top players, with top five of them accounting for more than 50% of the market.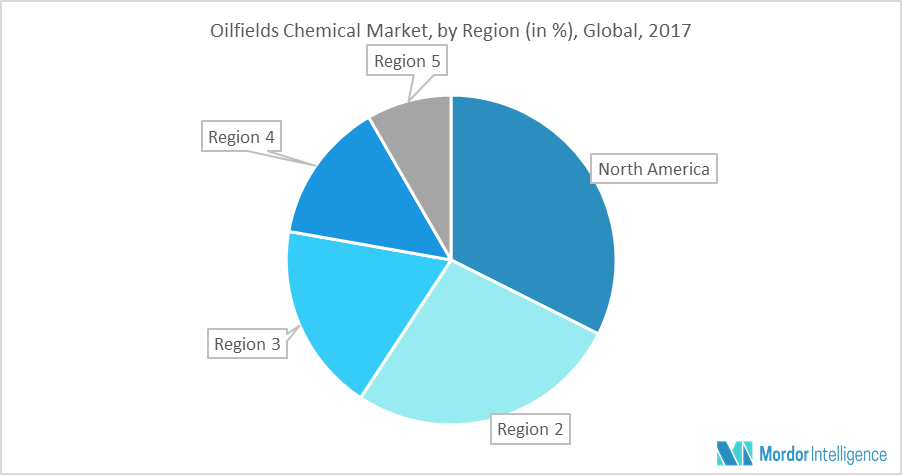 Notable Developments in Oilfield Chemicals Market
February 2018: ExxonMobil announced their seventh oil discovery offshore Guyana
July 2017: Baker Hughes and GE Oil & Gas complete combination creating the world's first and only full stream Oil and Gas Company
Oilfield Chemicals Market Major Players:
Halliburton.
Schlumberger Limited.
Baker Hughes Incorporated.
Nalco.
Solvay.
Reasons to Purchase Oilfield Chemicals Market Report
To understand the impact of end-user applications on the market
Analyzing various perspectives of the market with the help of Porter's five forces analysis
Countries expected to witness the fastest growth during the forecast period
Identify the latest developments, market shares, and strategies employed by the major market players
3-month analyst support, along with the Market Estimate sheet (in excel)
Customize Oilfield Chemicals Market Report
The report can be customized to meet your requirements. Please connect with our analyst, who will ensure you to get a report that suits your needs.
1. Introduction
1.1 Research Phases
1.2 Scope of the Market
1.3 Study deliverables
2. Executive Summary
3. Oilfield Chemicals Market Insights
3.1 Industry Value Chain Analysis
3.2 Industry Attractiveness - Porter's Five Forces Analysis
3.2.1 Bargaining Power of Suppliers
3.2.2 Bargaining Power of Consumers
3.2.3 Threat of New Entrants
3.2.4 Threat of Substitute Products and Services
3.2.5 Degree of Competition
4. Market Dynamics
4.1 Oilfield Chemicals Market Drivers
4.1.1 Rising Demand for Petroleum-based Fuel from the Transportation Industry
4.1.2 Increased Shale Gas Exploration and Production
4.2 Oilfield Chemicals Market Restraints
4.2.1 Rising Biofuel Industry
4.2.2 Clean Energy Initiatives
4.3 Oilfield Chemicals Market Opportunities
4.3.1 New Horizons Opened Up due to Deep-water Drilling Operations
4.3.2 Production Opportunities provided by Developing Countries
5. Market Segmentation and Analysis (Market Size, Growth, and Forecast)
5.1 Oilfield Chemicals Market By Chemical Type
5.1.1 Biocide
5.1.2 Corrosion & Scale Inhibitor
5.1.3 Demulsifier
5.1.4 Polymer
5.1.5 Surfactant
5.1.6 Other Chemicals
5.2 Oilfield Chemicals Market By Application
5.2.1 Drilling & Cementing
5.2.2 Enhanced Oil Recovery
5.2.3 Production
5.2.4 Well Stimulation
5.2.5 Workover & Completion
6. Oilfield Chemicals Market Regional Analysis (Market Size, Growth, and Forecast)
6.1 Asia-Pacific
6.1.1 China
6.1.2 India
6.1.3 Indonesia
6.1.4 Malaysia
6.1.5 Thailand
6.1.6 Australia & New-Zealand
6.1.7 Vietnam
6.1.8 Rest of Asia-Pacific
6.2 North America
6.2.1 United States
6.2.2 Canada
6.2.3 Mexico
6.2.4 Rest of North America
6.3 South America
6.3.1 Brazil
6.3.2 Venezuela
6.3.3 Rest of South America
6.4 Europe
6.4.1 Russia
6.4.2 Norway
6.4.3 United Kingdom
6.4.4 Rest of Europe
6.5 Middle East & Africa
6.5.1 Saudi Arabia
6.5.2 Iraq
6.5.3 Iran
6.5.4 UAE
6.5.5 Kuwait
6.5.6 Rest of Middle East & Africa
7. Oilfield Chemicals Market Competitive Landscape
7.1 Mergers and Acquisitions, Joint Ventures, Collaborations and Agreements
7.2 Market Share Analysis**
7.3 Strategies Adopted by Leading Players
8. Oilfield Chemicals Market Company Profiles (Overview, Financials**, Products & Services and Recent Developments)
8.1 Akzo Nobel N.V.
8.2 Albemarle Corporation
8.3 Ashland Inc
8.4 Baker Hughes Incorporated
8.5 BASF SE
8.6 Canadian Energy Services & Technology Corp (CESTC)
8.7 Clariant AG
8.8 Croda International Plc.
8.9 Drilling Specialties Company (Chevron Philips Chemical Company)
8.10 DowDupont
8.11 Elementis Plc.
8.12 ExxonMobil Chemical Company Inc. (ExxonMobil Corporation)
8.13 Flotek Industries Inc.
8.14 Halliburton
8.15 Huntsman International LLC
8.16 Innospec Specialty Chemicals
8.17 Kemira Oyj
8.18 Nalco Champion Technologies Inc. (Ecolab)
8.19 Schlumberger Limited
8.20 Scomi Energy Services Bhd (Scomi Group Bhd)
8.21 Solvay
8.22 The Lubrizol Corporation
8.23 Zirax Limited
*List Not Exhaustive
9. Disclaimer
**Subject to availability on public domain