The global nanofibers market is expected grow at a significant rate during the forecast period, majorly driven by the growing commercialization due to the increasing end-user industrial applications. Nanofiber can change the properties of a range of materials or even enable the creation of entirely new materials.
Growing Commercialization due to Increasing End-user Industrial Applications Driving the Market
Carbon nano fibres (CNF) account for the largest share in the market, by product, and have been used in various forms, such as powder, nanospheres, nanotubes, nanofilms etc. for multitudes of end-user industries, predominantly in automotive, aerospace for light weight composite material, as filter media in relevant industries, and advanced material for healthcare applications. Commercialization of carbon nano fibres (CNF) has started immensely, and will likely serve as a strategic business expansion initiative due to the increasing demand from the growing end-user industries. The use of CNF in various end-users is driving the nanofiber market.
Healthcare & Biomedical to Dominate the Market
Healthcare & biomedical industry is one of the major contributor for the growing demand of nanofibers globally. Applications, such as drug delivery, wound healing, tissue engineering and barrier textile employs services of nanofibers on a wide scale in healthcare & biomedical industry. In drug delivery application, nanofiber membrane from biopolymers is widely used as a bioactive material or drug carrier. Nanofiber layers produced from biopolymers (chitosan, gelatin, collagen, polycaprolactone, etc., or combinations of these materials) can also be used as a wound dressing for significant support of the wound healing process. These materials also act as possible substrates for growing cells. Furthermore, nanofibers also act as an effective barrier for microorganism penetration (viruses, bacteria, and molds).
Growing Demand from Various End-users Driving the Asia-Pacific Market
The market of nanofiber in Asia-Pacific has been increasing at faster pace compared to other regions. The growth in technology and increase in investments in research & development with government support has driven the market for nanofiber with its high usage in various applications. The nanofiber market in China is increasing at faster pace, followed by India and South Korea. In Asia-Pacific, the healthcare industry is growing as the rollout of public health care programs combined with growing consumer wealth are anticipated to boost health care spending. Thus, growing demand from various end-users is likely to be boosting the nanofiber market during the forecast period.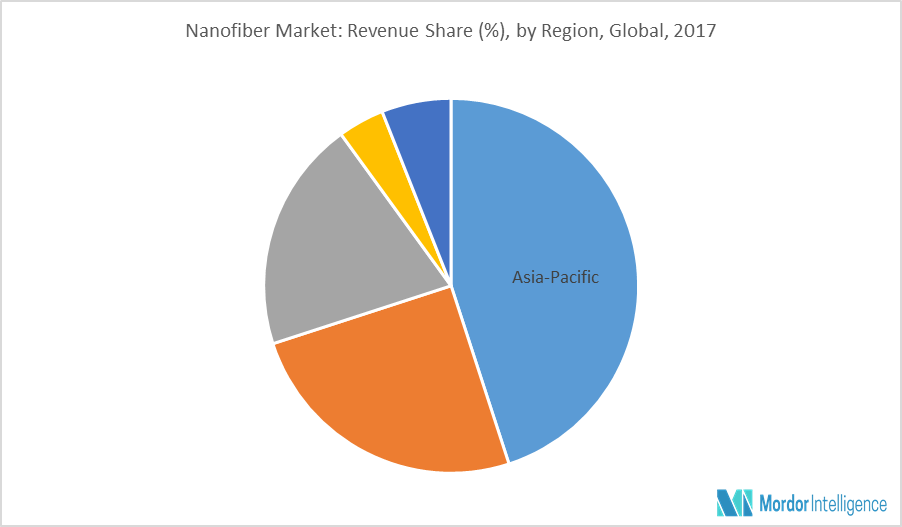 Notable Developments
November 2017: Teijin Limited to Integrate its Carbon Fiber Subsidiary in April 2018
Major Players: Toray Industries, Hollingsworth & Vose and Tejin Fibers, among others.
Reason to Purchase this Report
To understand the impact of various product type on the market
Analyzing various perspectives of the market with the help of Porter's five forces analysis
To understand the dominating product type and end-user industry in the market
Countries expected to witness the fastest growth during the forecast period
Identify the latest developments, market shares, and strategies employed by the major market players
3-month analyst support, along with the Market Estimate sheet in excel
Customization of the Report
This report can be customized to meet your requirements. Please connect with our analyst, who will ensure you get a report that suits your needs