The canola seed treatment market was estimated at USD 142.5 million in 2017 and is expected to register a robust CAGR of 9.5% during the forecast period. Flea beetles and seedling diseases are the major threats to canola crop establishment. Certified canola seed typically comes pretreated with a combination of active ingredients that can provide this protection.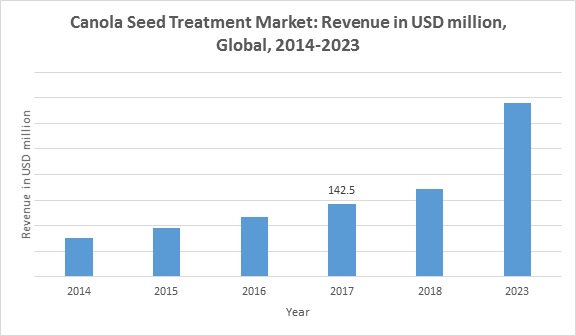 Ban on Neonicotinoid Insecticides Changing the Shape of the Market
The major producers of canola from advanced economies, like EU, the United States, and Canada relay on seed treatments of oilseed rape in order to protect the crops from pests, like flea beetles. It is calculated that yield losses occurs, due to flea beetles infestation alone is about 8% to 10%. However, the neonicotinoid insecticide seed treatments, which are mostly applied to canola seeds, are considered to be negatively impacting the bees, including honey bees and bumble bees, which, thereby impact bee colonies that is further feared to have negative impact on natural pollination.
There are strict regulations regarding the use of neonicotinoid insecticide seed treatments, especially in EU, which are in turn restricting higher penetration of neonicotinoid insecticide seed treatments for oilseed rape crop.
Seed Treatment Upgrades: The New Seed Treatment Strategy
Companies that provide seed treatment for canola are introducing upgrades to the insecticide products that already exist in the market. This strategy leads to the fulfilment of two purposes: the company has to spend a lesser amount on the R&D of new products and the new upgraded versions also fulfil varied requirements. The major players, including Bayer CropScience, DuPont, and Syngenta, are actively involved in product developments and have canola seed treatment products in their seed treatment products portfolio. Visivio, a new insecticide introduced by Syngenta in 2016, is an add-on that can be added with the base insecticide product and this results in a much better canola crop.
Major Players: Adama Agricultural Solutions Ltd, Advanced Biological Marketing Inc., BASF SE, Bayer Cropscience AG, Bioworks Inc., Brettyoung Limited, Chemtura Agrosolutions, Germains Seed Technology, Incotec Group BV, Verdesian Life Sciences, Monsanto Company, Novozymes A/S, Nufarm Ltd, Plant Health Care, Precision Laboratories LLC, Syngenta International AG, and Valent USA Corporation, Inc., among others.
Reasons to Purchase this Report
To have an understanding of the fastest growing regions in the canola seed treatment market and their growth trends during the forecast period
The report outlines drivers, restraints, and trends that are currently effecting the market
Analyzing various perspectives of the market with the help of Porter's five forces analysis
The report covers in-detail insights about the competitors overview, company share analysis
Identify the latest developments, market shares, and strategies employed by the major market players
3-month analyst support, along with the market estimate sheet (in Excel)
Customization of the Report
This report can be customized to meet your requirements. Please connect with our representative, who will ensure you get a report that suits your needs.