The demand for secure, sustainable and clean energy supply is expected to propel the demand for biofuels across the globe. On account of higher mandates for biofuel blending in automotive fuels and increasing government support for eco-friendly alternatives, the global consumption of biofuel is expected to further grow at a significant level during the forecast period.
Biofuels (ethanol and biodiesel) represent the majority share of renewables in global energy demand for road transport. Demand for bioenergy in the transportation sector is driven by blending mandates in significant economies and by sustained fuel use around the world.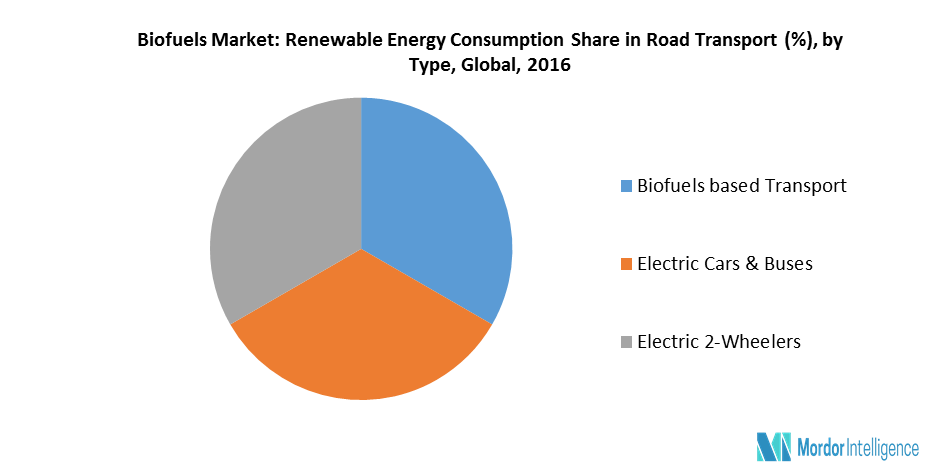 The global ethanol and biodiesel prices continued to decrease in nominal terms in 2015, owing to weak crude oil and biofuel feedstock prices. However, with recovery in both crude oil and biofuel feedstock prices, international prices of ethanol and biodiesel are expected to recover during the forecast period.
The United States, China, and Brazil are expected to exhibit maximum growth during the forecast period due to their mandates of biofuel blending. China is the most promising market for biofuels due to increasing energy security concerns and commitment to reduce the carbon emission levels.
Mandates Set by Various Countries to Drive the Market
The demand for biofuel has significantly increased over the past decade by policies, such as the Renewable Energy Directive (RED) and the Fuel Quality Directive of the European Union region, which has introduced a 7% renewable energy coming from food and feed crops in the transport sector by 2020. Moreover, the ambitious mandates set by various countries to blend biofuels with conventional fuels, to lessen the dependency on fossil fuels, has further boosted the demand for biofuels across the world.
According to the blending mandates set by the US, China, and Brazil, 15-27% blend of biofuels with conventional fuel by 2020-2022. This reform is expected to drive global demand in the respective regions. Moreover, to achieve the ambitious target, countries, such as the US, Germany, France, and Italy have implemented fuel excise tax reduction to help biofuel to compete with fossil fuels. These reforms promote the use of biofuel blend with conventional fuels. In addition, low carbon energy targets and related policies are being set up to encourage the usage of biofuels.
Asia-Pacific Exhibits Great Potential for Growth in the Future
Although the growth of biofuel, particularly ethanol production in the Asia-Pacific region, has been on the slower side till now, there is increasing trend of stricter biofuel blending policies in various countries. This, in turn, is expected to spur a wave of investment in biodiesel production across countries in the Asia-Pacific region.
Key Developments in the Market
November 2017: Abengoa has been awarded the contract for the engineering, design, construction, and commissioning of municipal solid waste (MSW)-to-biofuels plant for Fulcrum BioEnergy. The plant, located in the State of Nevada, is expected to produce 10 million gallons of biofuels per year, to be used in the aviation sector.
June 2017: My Eco Energy (MEE) plans to sell biodiesel, marketed under the brand name of Indizel, in canisters (5, 10 & 20 liters) through retail supply model in cities across India. The biofuel, manufactured the company, is made from recycled and waste vegetable oils & fats, and is capable of outperforming petroleum diesel in performance, emissions, mileage, price, and value.
Major Players: Abengoa Bioenergy S.A., Cargill, Incorporated, BTG International Ltd, DuPont, Wilmar International Ltd, Renewable Energy Group, Inc., POET, LLC, Archer Daniels Midland Company, VERBIO Vereinigte BioEnergie AG, My Eco Energy, China Clean Energy Inc., CropEnergies AG, amongst others.
Reasons to Purchase this Report
Current and future biofuels market outlook in the developed and emerging markets
Analyzing various perspectives of the market with the help of Porter's five forces analysis
The segment that is expected to dominate the market
Countries that are expected to witness fastest growth during the forecast period
Identifying the latest developments and strategies employed by the major market players
3-months analyst support, along with the Market Estimate sheet in excel
Customization of the Report
This report can be customized to meet your requirements. Please connect with our representative, who will ensure you to get a report that suits your needs
1. Executive Summary
2. Research Methodology
3. Market Overview
3.1 Introduction
3.2 Biofuel Production and Consumption Forecast till 2023
3.3 Market Size and Demand Forecast until 2023
3.4 Recent Trends and Developments
3.5 Government Policies and Regulations
4. Market Dynamics
4.1 Drivers
4.2 Restraints
4.3 Opportunities
5. Value Chain Analysis
6. Industry Attractiveness – Porter Five Forces Analysis
6.1 Bargaining Power of Suppliers
6.2 Bargaining Power of Consumers
6.3 Threat of New Entrants
6.4 Threat of Substitutes
6.5 Intensity of Competitive Rivalry
7. Market Segmentation and Analysis (Overview, Market Size, and Demand Forecast until 2023)
7.1 By Type
7.1.1 Biodiesel
7.1.2 Ethanol
7.2 By Feedstock
7.2.1 Coarse Grain
7.2.2 Sugar Crop
7.2.3 Vegetable Oil
7.2.4 Jetropha
7.2.5 Molasses
7.2.6 Others
8. Regional Market Analysis (Overview, Market Size, and Demand Forecast until 2023)
8.1 Asia-Pacific
8.1.1 China
8.1.2 Indonesia
8.1.3 India
8.1.4 Thailand
8.1.5 Rest of Asia-Pacific
8.2 North America
8.2.1 United States
8.2.2 Canada
8.2.3 Rest of North America
8.3 Europe
8.3.1 Germany
8.3.2 France
8.3.3 Spain
8.3.4 Rest of Europe
8.4 South America
8.4.1 Brazil
8.4.2 Argentina
8.4.3 Rest of South America
8.5 Middle East & Africa
8.5.1 South Africa
8.5.2 Saudi Arabia
8.5.3 Rest of Middle East & Africa
9. Key Company Profiles* (Overview, Products & Services, Financials**, Recent Developments, and Analyst View)
9.1 Abengoa Bioenergy S.A.
9.2 Cargill, Incorporated
9.3 BTG International Ltd
9.4 DuPont
9.5 Wilmar International Ltd
9.6 Renewable Energy Group, Inc.
9.7 POET, LLC
9.8 Archer Daniels Midland Company
9.9 VERBIO Vereinigte BioEnergie AG
9.10 My Eco Energy
9.11 China Clean Energy Inc.
9.12 CropEnergies AG
10. Competitive Landscape
10.1 Mergers and Acquisitions
10.2 Joint Ventures, Collaborations, and Agreements
10.3 Strategies Adopted by Major Players
11. Appendix
11.1 Contact Us
11.2 Disclaimer
*List is not exhaustive
**Subject to Availability on Public Domain