Infrastructure investments by Brazilian government could increase the competitiveness of railroads
Brazil has vast networks of all modes of transportation, but due to its transportation matrix still being unbalanced, with roadways accounting for more than 60% of domestic traffic, this leaves several areas in need of modernization. The government of Brazil has been committed to improving this situation with several opportunities for investment for the next decade in Brazil, ranging from supply chain and services to bid for construction and operation of new enterprises.
The most preferred method of cargo transportation is trucking through roads. One of the reasons for this preference is due to the presence of a limited rail network. Although there are several rivers and waterways, they are rarely used, except for the rivers in the Amazon region where rivers are usually the only way to reach many isolated locations. The railroad network is quite limited and lacks competitiveness. The use of trains for cargo transportation is, for the most part, restricted to raw minerals. In 2016, the Brazilian government launched the Investment Partnership Program (PPI) otherwise known as "Projeto Crescer", an infrastructure concessions program to raise US$14.4 billion in investments for the construction and operation of roads, port terminals, railways, and power transmission lines. This program has been a central part of the government' strategy to increase the level of business confidence. As of 2017, the major engine of economic growth was exporting, particularly of commodities, but Brazil's current primary transport and industrial infrastructure and has been seen as a drawback to the possibility of expanding the volume of exports. Therefore, Brazil needs to address a multitude of needs across its infrastructure sector.
In March of 2017, Brazil successfully raised USD 1.2 billion with the auction of four airports. The rights to operate these airports were given to three European groups through the next 30 years allowing them to be independent of Brazil's state-owned airport administrator INFRAERO. For railways, the Government of Brazil authorized early renewal for five railways already under concession contracts in exchange for investments. This program also includes the concession of five major roadways and port terminals.
Seaports form an essential part of Brazil's business infrastructure and are Brazil's main connection to the international market. They handle close to 90% of the country's imports and exports. Since 2007, the total throughput of cargo passing through Brazilian ports increased by 70%, to 1 billion tons in 2016.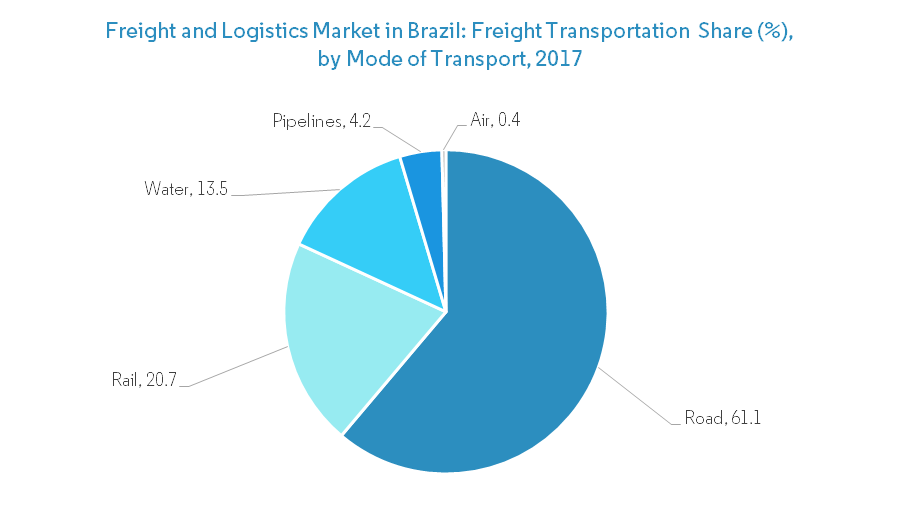 High logistics costs holding back the market; E-commerce could help expand logistics services
Brazil has one of the highest logistics expenses in the world. Approximately 30 % of the distribution cost structure alone represents the total of logistics cost. The fields included in this cost are the management, warehousing, inventory, legal requirements as well as transportation costs. Opportunities for foreign investment in the logistics sector include digital infrastructure development (big data); advanced technologies that can be implemented to improve control of freight movement and logistics, such as drones and optimization of vehicle routing and efficiency, such as platooning of trucks.
The growth of the e-commerce landscape in the country is expected to help the expansion of logistics sectors and their presence. Despite a volatile economic landscape, e-commerce in Brazil managed to maintain a steady growth, reaching a total of US$14.5 billion worth in 2016 in terms of turnover. This value is an increase of 7.4% compared to the 2015 e-commerce value. It is estimated that E-commerce will thrive even more in 2017, with an increase of 12% in revenues, reaching US$16.3 billion.
Brazil has also become an important producer and supplier of food on a global scale due to its high agricultural potential in the past decade. Brazil is among the world's largest producers of sugar, coffee, orange juice, ethanol, beef, chicken, corn, soy, soybean meal, soybean oil, cotton, and pork. And due to this high level of production, it is also the fourth largest consumer of fertilizers in the world, behind China, India and the US. Brazil relies heavily on roadways for transportation of agricultural products and fertilizers over long distances under underdeveloped road conditions which have raised transportation costs and reduced competitiveness in recent years. The impact of logistics costs on commodity marketing prices are very high and in many cases, this may be higher than the price of the commodity itself. In the manufactured goods sector automobiles, airplanes and capital goods are an important part of the country's exports. Therefore, Brazil depends on logistics and transportation networks to ensure its competitiveness and continued growth.
Key Industry Players
Some of the key players in the market are Santos Brazil Participações S/A, MRS Logística S.A., JSL S.A, Rumo S.A, VMLOG Logistica International, Ceva Logistics amongst others.
Recent Developments
July 2018: Canada to invest in Brazilian logistics partnership through global investors APG and GIC amongst others.
Reasons to Purchase this Report
Current and future Freight and Logistics market in Brazil outlook.
Analyzing various perspectives of the market with the help of Porter's five forces analysis
The segment that is expected to dominate the market
Regions that are expected to witness the fastest growth during the forecast period
Identify the latest developments, market shares and strategies employed by the major market players.
3 months analyst support along with the Market Estimate sheet in excel.
Report Customization and Benefits
This report can be customized to meet the desired requirements. Please connect with our analyst, who will ensure that you get a report that suits your needs.