The French Water Treatment Chemicals Market is expected to grow at a CAGR of 4.62% during the forecast period (2018 - 2023). The major factors driving the growth of the French water treatment chemicals market are growing demand from power and industrial applications and the stringent regulations to control produced and wastewater disposal.
Water treatment is a process where impurities like undesirable chemicals, biological contaminants, suspended solids, and gases are removed from contaminated water. The goal of this process is to produce water fit for a specific purpose. Apart from human consumption, water treatment serves a wide range of purposes including meeting requirements of agricultural, medical, household, pharmacological, chemical, and industrial applications.
Stringent Regulations Driving the Demand for Water Treatment
In Europe, the guidelines for cooling water treatment and wastewater issues are generally given by REACH, under compliance with the European Commission, across all countries in the region. The guidelines have been tightened recently, forcing companies and plant officials to ensure the adoption of correct cooling water treatment systems. Therefore, many countries in the region are shifting focus towards green energy and on reducing pollutants that contaminate water, in turn driving the market for water treatment chemicals. Water treatment infrastructure has been progressively developing in the metropolitan cities in the country to meet the increasing regulations. Additionally, energy recovery from wastewater disposal is also driving the consumption of water treatment chemicals in the country.
Chemical Manufacturing Sector to Witness Stable Growth
The chemical industry in France is one of the key value adding manufacturing sectors for economic growth. Over 75% of the chemicals manufactured in France are exported, with fine chemicals and pharmaceuticals among the major types. The robust petrochemical industry in the country is contributing to the growth of the boiler water treatment chemicals in the country. The moderate growth with increasing investments in the chemical manufacturing sector in France is expected to drive the demand for water treatment chemicals at a moderate rate during the forecast period.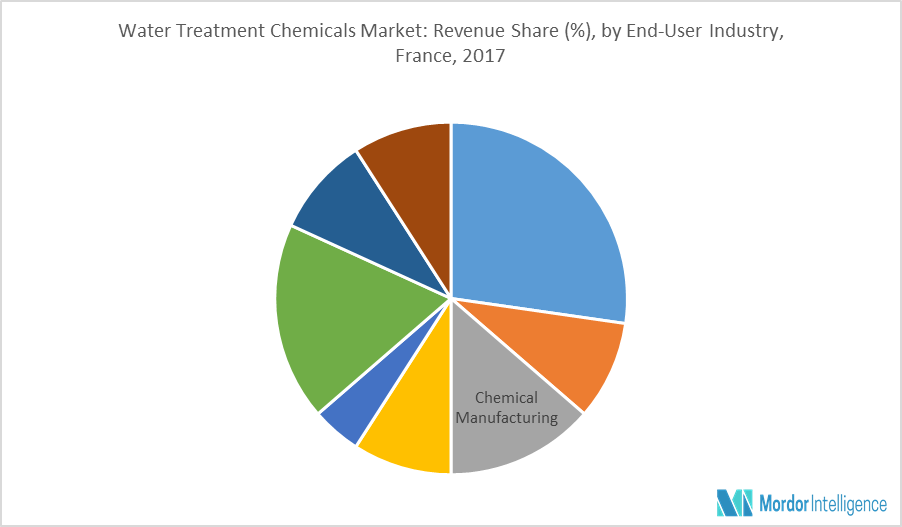 Key Developments
Major Players: Ecolab Inc., Suez Environment, BASF SE, Kemira Oyj, France-Water, and Solenis, among others
Reasons to Purchase the Report
Current and future of the France water treatment chemicals
Analyzing various perspectives of the market with the help of Porter's five forces analysis
The segment that is expected to dominate the market
Identify the latest developments, market shares, and strategies employed by the major market players
3 month analyst support, along with the Market Estimate sheet (in Excel)
Customization of the Report
This report can be customized to meet your requirements. Please connect with our representative, who will ensure you to get a report that suits your needs.
1. Introduction
1.1 Research Phases
1.2 Scope of the Report
1.3 Study Deliverables
2. Executive Summary
3. Market Insights
3.1 Industry Value Chain Analysis
3.2 Industry Attractiveness- Porter's Five Forces Analysis
3.2.1 Bargaining Power of Suppliers
3.2.2 Bargaining Power of Consumers
3.2.3 Threat of New Entrants
3.2.4 Threat of Substitute Products and Services
3.2.5 Degree of Competition
4. Market Dynamics
4.1 Drivers
4.1.1 Growing Demand from Power and Industrial Applications
4.1.2 Stringent Regulations to Control Produced and Wastewater Disposal
4.1.3 Other Drivers
4.2 Restraints
4.2.1 Hazardous Nature of Hydrazine
4.2.2 Other Restraints
4.3 Opportunities
4.3.1 Shifting Focus towards the Usage of Green Chemicals
4.3.2 Other Opportunities
5. Market Segmentation & Analysis (Market Size, Growth, and Forecast)
5.1 By Product
5.1.1 Flocculants
5.1.2 Coagulants
5.1.3 Biocides & Disinfectants
5.1.4 Defoamers
5.1.5 pH Adjusters
5.1.6 Scale Inhibitors & Dispersants
5.1.7 Corrosion Inhibitors
5.1.8 Others
5.2 By End-user Industry
5.2.1 Power
5.2.2 Oil & Gas
5.2.3 Chemical Manufacturing (Incl. Petrochemicals)
5.2.4 Mining & Mineral Processing
5.2.5 Municipal
5.2.6 Food & Beverage
5.2.7 Pulp & Paper
5.2.8 Others
6. Competitive Landscape
6.1 Mergers, Acquisitions, Joint Ventures, Collaborations & Agreements
6.2 Market Share Analysis**
6.3 Strategies Adopted by Leading Players
7. Company Profiles (Overview, Financials**, Products & Services, Recent Developments)
7.1 AkzoNobel NV
7.2 Albemarle Corporation
7.3 Aquaprox
7.4 BASF SE
7.5 DowDuPont
7.6 Ecolab Inc.
7.7 France-Water
7.8 Kemira Oyj
7.9 Solenis
7.10 Solvay SA
7.11 SNF Floerger
7.12 Suez Environment
*List not exhaustive
8. *Disclaimer
**Subject to availability on public domain