The European soybean production is expected to increase nominally, owing to the decline in soybean acreage in countries, like Bulgaria, Slovakia, Austria, and Italy. The market for soybean seed treatment is expected to show the same trend, at a minor CAGR of 5.2% during the forecast period.
The soybean production is expected to grow at a marginal rate and the increase can be attributed to the incentive policies under Common Agriculture Policy (CAP). According to the USDA report on oilseed production in EU, it is expected that the production of soybean will increase between 2017 and 2018, but at a lower rate as compared to 2016 and 2017. The increase in production, as well as acreage are expected to drive the demand for seed treatment.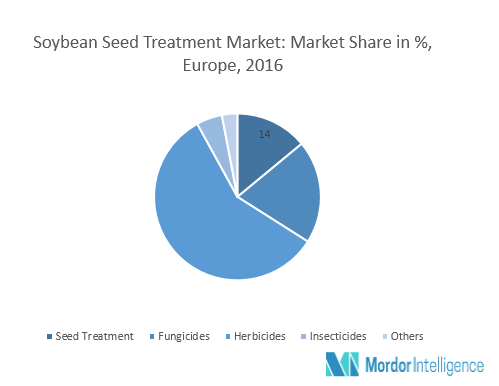 Use of Seed Treatment for Higher Yield
Seed treatment of soybean, one of the most important European crops, helps increase yield. This, in turn, reduces pressure on imports from Brazil and Argentina, accounting for 80% of Europe's soybean consumption. Owing to this, the seed treatment market for soybean increased manifolds in Europe. With regard to bean leaf beetles and soybean aphids, it is estimated that 45% to 50% of soybean is now treated with both insecticide and fungicide for higher yield and protection.
The seed treatment in Europe for soybean has the merit against sporadic and unpredictable pest infestations but these benefits are not widespread. The use of seed treatment on soybean crop can protect the yield, but when there is no pest the use of seed treatment is like an insurance. Only in the case of high risk from early season pest, the seed treatment has very high significance, else it is only an extra process.
Declining Sources of Imports Create Need for Domestic Production
Until 2015, the EU imported over 33 million metric ton of soybean and its related commodities from North and South America every year. But lately, there have been increasing concerns over this because exporting countries, like Brazil, Argentina, and the United States, mainly cultivate glyphosate-tolerant genetically modified organism (GMOs) varieties. With the on-going controversies related to glyphosate and the extension on its usage over the next five years, this is hampering the market. In Europe, the subject of GMO versus non-GMO is already an important factor promoting the idea of a domestic soybean market, and therefore, more number of seeds are being treated to supplant the imports, and hence, driving the seed treatment market for soybean.
Major players: Bayer CropScience AG, Plant Health Care, Syngenta AG, BASF SE, Adama Agricultural Solutions Ltd., DowDuPont, and Advanced Biological Marketing Inc. among others.
Reasons to Purchase the Report
Identify the dominating and fastest-growing countries in the Europe soybean seed treatment market and their growth trends during the forecast period
Analyzing various perspectives of the market with the help of Porter's five forces analysis
Identify the latest developments, market shares, and strategies employed by the major market players.
3-month analyst support, along with the Market Estimate sheet (in Excel)
Customization of the Report
This report can be customized to meet your requirements. Please connect with our representative, who will ensure you get a report that suits your needs.
1. Introduction
1.1 Key Deliverables of the Study
1.2 Market Definition
2. Research Scope and Methodology
2.1 Study Deliverables
2.2 Study Assumptions
2.3 Research Methodology
2.4 Research Phases
3. Market Dynamics
3.1 Drivers
3.1.1 Need for Yield Enhancement
3.1.2 Government Regulations and Policies
3.1.3 Declining Sources of Imports Create Need for Domestic Production
3.1.4 New Product Developments
3.2 Restraints
3.2.1 Impending Ban on Neonicotinoids
3.2.2 Ban on Glyphosate in Major European Countries
4. Industry Analysis
4.1 Porter's Five Forces Analysis
4.1.1 Bargaining Power of Buyers
4.1.2 Bargaining Power of Suppliers
4.1.3 Threat of New Entrants
4.1.4 Threat of Substitute product and services
4.1.5 Degree of Competition
5. Market Segmentation
5.1 By Application
5.1.1 Chemical
5.1.2 Non-chemical
5.2 By Geography
5.2.1 Spain
5.2.2 United Kingdom
5.2.3 France
5.2.4 Germany
5.2.5 Russia
5.2.6 Italy
5.2.7 Rest of Europe
6. Competitive Landscape
6.1 Market Share Analysis
6.2 Major Strategies Adopted by Leading Players
6.3 Most Active Companies
7. Company Profiles*
7.1 Adama Agricultural Solutions Ltd
7.2 Advanced Biological Marketing Inc.
7.3 BASF SE
7.4 Bayer Cropscience
7.5 DowDuPont
7.6 Monsanto
7.7 Plant Health Care
7.8 Syngenta AG
*List not exhaustive
8. Future of the Market
9. Appendix
10. Disclaimer