The Egypt polyurethane market is expected to register a CAGR of about 4.53% during 2018-2023 (the forecast period). Foam is the largest segment dominating the market and is likely to continue its dominance during the forecast period
Construction Industry to Boost the Demand for the Polyurethane Market
Polyurethane is a polymeric plastic, which is formed by the combination of alcohol and isocyanate. Unlike most other plastics, polyurethane is directly made into the final product, instead of reshaping, followed by manufacture. The final properties of the product are dependent on the initial constituents. Rising construction activities in the country, primarily infrastructure projects, are likely to have a positive impact on the Egypt polyurethane market. Initiative by the president to boost the infrastructure projects in the country is also likely to fuel the demand for polyurethane market in the country.
The Foams Segment Likely to Continue its Dominance during the forecast Period
Polyurethane has wide range of applications and is used in various end-user industries such as construction, automotive, electronics, footwear etc. It is widely used as foam in automotive, construction, electric appliances etc. Recovery of commercial vehicle production in the country is likely to boost the demand for polyurethane foams market. Additionally, increasing consumption of electronic products is also likely to have a positive impact on the market.
Major Players: BASF SE, The Dow Chemical Company, Huntsman International LLC, and Covestro AG, among others.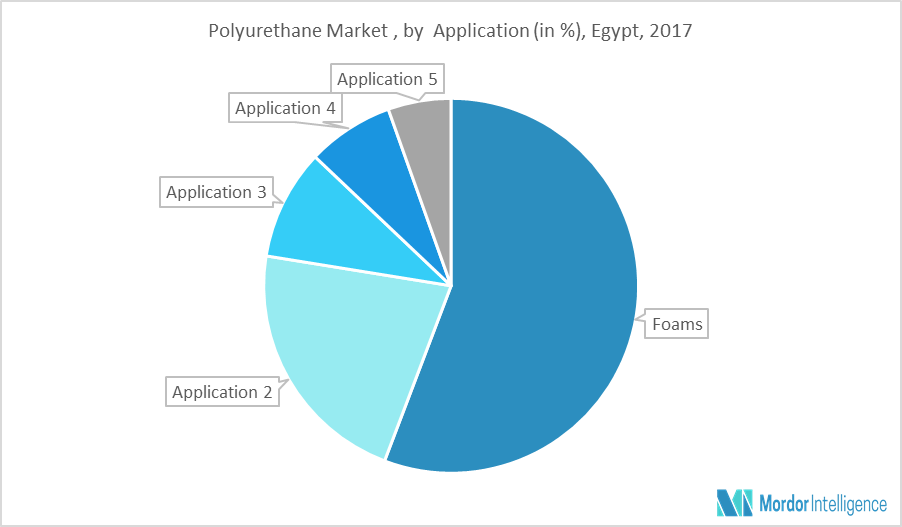 Notable Developments
Q4 2017: BASF developed a special polyurethane system, which is used in the manufacture of boots.
Q1 2017: An agreement between Dow Polyurethanes and H&S Anlagentechnik was signed to develop recycled polyols from end-of-life matresses.
Reasons to Purchase this Report
PESTEL analysis of the country
The various market perspectives, with the help of Porter's five forces analysis
The largest end-user industry
The fastest growing application during the forecast period
The latest developments, market shares, and strategies that are employed by the major market players
3 months analyst support, along with the Market Estimate sheet in excel
Customization of the Report
This report can be customized to meet your requirements. Please connect with our analyst, who will ensure that you get a report that suits your needs.
1. Introduction
1.1 Research Phases
1.2 Study Deliverables
1.3 Scope of the Report
2. Executive Summary
3. Market Insights
3.1 Industry Value Chain Analysis
3.2 Industry Attractiveness - Porter's Five Forces Analysis
3.2.1 Bargaining Power of Suppliers
3.2.2 Bargaining Power of Consumers
3.2.3 Threat of New Entrants
3.2.4 Threat of Substitute Products and Services
3.2.5 Degree of Competition
4. Market Dynamics
4.1 Drivers
4.1.1 Growing demand in construction industry
4.1.2 Environment-friendly and recyclable products
4.2 Restraints
4.2.1 Decreasing automotive industry market
4.2.2 Competition from fiberglass and polystyrene foam
4.3 Opportunities
4.3.1 Growing demand for Bio-based Polyurethane
4.3.2 Increasing research and development facilities
5. Market Segmentation (Market size, forecast and CAGR)
5.1 By Application
5.1.1 Foams
5.1.1.1 Rigid Foam
5.1.1.2 Flexible Foam
5.1.2 Coatings
5.1.3 Adhesives & Sealants
5.1.4 Elastomers
5.1.5 Others
5.2 By End-user Industry
5.2.1 Furniture and Interiors
5.2.2 Construction
5.2.3 Electronics and Appliances
5.2.4 Automotive
5.2.5 Footwear
5.2.6 Packaging
5.2.7 Others (Industrial, Textiles, Fibers, Medical and Marine)
6. Competitive Landscape
6.1 Mergers & Acquisitions, Joint Ventures, Collaborations and Agreements
6.2 Market Share Analysis**
6.3 Strategies Adopted by Leading Players
7. Future of the Market
8. Company Profiles (Overview, Financials**, Products & Services and Recent Developments)
8.1 BASF SE
8.2 Covestro
8.3 DowDuPont
8.4 Huntsman
8.5 Foamhouse
8.6 Horus Foam Manufacturing Co. SAE (Masterbed)
8.7 Hannecard
8.8 KAPCI coatings
8.9 Tredco
8.10 SOCHEMA Group
*List not exhaustive
9. Disclaimer
**subject to availability on public domain