The global carbon fiber reinforced plastics (CFRP) market is expected to register a moderate growth during the forecast period (2018 - 2023). In 2017, North America was estimated to have the highest market share, followed by Asia-Pacific and Europe.
Rising Demand for Fuel Efficient and Light-Weight Vehicles
Growing environmental concerns, due to the increasing amounts of exhaust emissions, are consistently putting pressure on automobile manufacturers to manufacture vehicles that are fuel-efficient, thereby, minimizing the exhaust emissions. Light-weight materials and designs have become an important aspect in the design and manufacture of automobiles in recent times. In addition, the shifting focus of the governments across the world toward minimizing carbon emissions and enhancing the fuel economy of the vehicle has increased the importance of lightweight materials in the production of automobiles. Hence, the rising demand for light-weight vehicles is driving the studied market over the forecast period.
Thermosetting CFRPs is Dominating the Market
Thermoset resins are made of polymers that cross-link together during the curing procedure of carbon fiber to formulate an irreversible chemical bond at high temperatures. In 2017, the thermosetting CFRPs segment dominated the market for carbon fiber reinforced plastics and accounted for the largest global market share. CFRPs with thermoset resins offer improved temperature resistance, strength, rigidity, and greater performance at high temperature. Thermosetting CFRPs are highly used in end-user industries such as aerospace, automobiles, building & construction, and wind-power industry. However, these industries are focusing more on developing carbon fiber reinforced thermoplastics than on thermosetting plastics, due to their advantageous properties. The growing demand for thermosetting CFRPs in end-user industries across the world is a primary driver for the demand and consumption of carbon fiber reinforced plastics during the forecast period.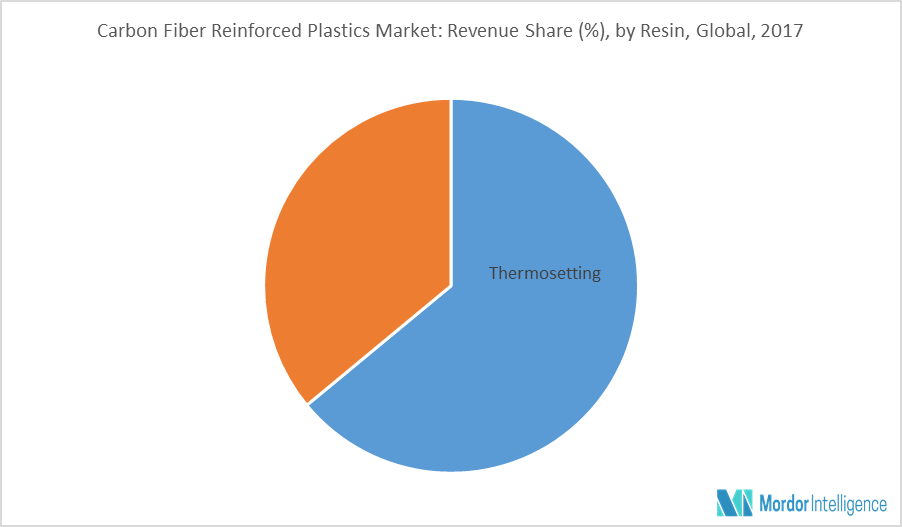 North America to Dominate the Market
North America dominated the global carbon fiber reinforced plastics market in 2017. The demand for CFRP is the region is mainly due to growing end-user industries. CFRPs are extensively used in major end-user industries in the region, such as aerospace, wind power, building & construction, and automotive. CFRP is considered to be a key ingredient in numerous areas of the automobile industry. The enactment of fuel economy norms has led the automobile manufacturers to using CFRP in the manufacturing of vehicles in place of steel and aluminum components and body. In addition, many automotive companies are expanding their production plants in countries, including the United States, Canada, and Mexico. Therefore, the demand for CFRP in North America is expected to grow during the forecast period.
Notable Developments in the Market
October 2017: Hexcel Corporation completed the acquisition of Structil SA, a French manufacturer and supplier of high-performance composites to the aerospace, defense, and industrial markets.
December 2017: Hexcel acquired the Oxford Performance Material's aerospace & defense Business.
Major Players: Cytec Solvay Group, Toray Industries Inc., Formosa Plastics Corporation, Hexcel Corporation, and Mitsubishi Rayon Co. Ltd, among others.
Reasons to Purchase this Report
Market analysis for the global carbon fiber reinforced plastics market, with region specific assessments and competition analysis on the global and regional scales
Market definition, along with the identification of key drivers and restraints
Identification of factors instrumental in changing the market scenarios, rising prospective opportunities, and identification of key companies that can influence this market, on a global and regional scale
Extensively researched competitive landscape section, with profiles of major companies along with their market shares
Identification and analysis of the macro and micro factors that affect the global carbon fiber reinforced plastics on both, global and regional scales
A comprehensive list of key market players, along with the analysis of their current strategic interests and key financial information
A wide-ranging knowledge and insights about the major players in this industry and the key strategies adopted by them, to sustain and grow in the studied market
Insights on the major countries/regions in which the industry is growing and to identify the regions that are still untapped.
3-month analyst support, along with the Market Estimate sheet (in Excel).
Customization of the Report
This report can be customized to meet your requirements. Please connect with our representative, who will ensure you get a report that suits your needs.
1. Introduction
1.1 Research Phases
1.2 Scope of the Report
1.3 Study Deliverables
2. Executive Summary
3. Market Insights
3.1 Industry Value Chain Analysis
3.2 Industry Attractiveness- Porters Five Forces Analysis
3.2.1 Bargaining Power of Suppliers
3.2.2 Bargaining Power of Consumers
3.2.3 Threat of New Entrants
3.2.4 Threat of Substitute Products and Services
3.2.5 Degree of Competition
3.3 Raw Material Analysis
3.4 Patent Analysis
4. Market Dynamics
4.1 Drivers
4.1.1 Growing Demand from Aerospace Industry
4.1.2 Rising Demand for Fuel Efficient and Light-weight Vehicles
4.1.3 Other Drivers
4.2 Constraints
4.2.1 High Cost of the CRFPs and Inadequate Production Capacity
4.2.2 Inefficiency Prior to Recycling
4.2.3 Other Restraints
4.3 Opportunities
4.3.1 Growing Demand from the Emerging Market and Asia-Pacific Region
4.3.2 Shifting Focus towards the Development of Low Cost Products and technologies
4.3.3 Other opportunities
5. Market Segmentation and Analysis (Market Size, Growth, and Forecast)
5.1 By Raw Material
5.1.1 PAN (Polyacrylonitrile) Based
5.1.1.1 Virgin Fiber (VCF)
5.1.1.2 Recycled Fiber (RCF)
5.1.2 Pitch Base
5.1.2.1 Virgin Fiber (VCF)
5.1.2.2 Recycled Fiber (RCF)
5.2 By Resin Type
5.2.1 Thermosetting CRFPs
5.2.2 Thermoplastics CRFPs
5.3 By End-user Industry
5.3.1 Aerospace
5.3.2 Automobiles
5.3.3 Sports and Leisure
5.3.4 Building & Construction
5.3.5 Wind Power Industry
5.3.6 Other Industries
6. Regional Market Analysis (Market Size, Growth, and Forecast)
6.1 Asia-Pacific
6.1.1 China
6.1.2 India
6.1.3 Japan
6.1.4 South Korea
6.1.5 Rest of Asia-Pacific
6.2 Europe
6.2.1 Germany
6.2.2 UK
6.2.3 France
6.2.4 Italy
6.2.5 Rest of Europe
6.3 North America
6.3.1 USA
6.3.2 Canada
6.3.3 Mexico
6.3.4 Rest of North America
6.4 South America
6.4.1 Brazil
6.4.2 Argentina
6.4.3 Rest of South America
6.5 The Middle-East & Africa
6.5.1 South Africa
6.5.2 Saudi Arabia
6.5.3 Rest of Middle east & Africa
7. Future of the Market
8. Competitive Landscape
8.1 Mergers & Acquisitions, Joint Ventures, Collaborations, and Agreements
8.2 Market Share Analysis**
8.3 Strategies Adopted by Leading Players
9. Company Profiles (Overview, Financials**, Products & Services, and Recent Developments)
9.1 Fiber Manufacturers
9.1.1 A&P Technology Inc.
9.1.2 Applied Sciences, Inc.
9.1.3 Cytec Solvay Group
9.1.4 Formosa Plastics Corporation - Tairylan Division
9.1.5 Hexcel Corp.
9.1.6 Holding Company Composite (HCC)
9.1.7 Mitsubishi Rayon Co, Ltd
9.1.8 Nippon Graphite Fiber Corp.
9.1.9 Quickstep Technologies Pty Ltd
9.1.10 SABIC
9.1.11 SGL Group-The Carbon Company
9.1.12 Teijin Limited
9.1.13 Toray Industries, Inc.
9.1.14 Toho Tenax Co, Ltd
9.1.15 Magna International Inc.
* List not Exhaustive
9.2 Component Manufacturers
9.2.1 Allred & Associates Inc.
9.2.2 Carbonmade
9.2.3 Cristex Composite Materials
9.2.4 Elite Carbon Fiber Ltd.
9.2.5 EPSILON COMPOSITE
9.2.6 Formtech Composites
9.2.7 Germa Composite
9.2.8 Italica S.p.A
9.2.9 Nikkiso
9.2.10 NORCO GRP Ltd
9.2.11 Polar Manufacturing Ltd
9.2.12 ReVerie Limited
9.2.13 Rochling Group
9.2.14 Senior PLC
* List not Exhaustive
10. Disclaimer
** Subject to availability on public Domain