The polymer emulsion market in Brazil is expected to register a moderate growth during the forecast period, 2018-2023. The market is majorly driven by stringent government regulations regarding emissions, however, availability of substitutes, such as high solid coatings and powder coatings are hindering the market.
Strict Government Regulations Driving the Market
Emulsion polymerization produces polymers with high molecular weight and very less viscosity which reduces VOCs' emission. Volatile Organic Compounds (VOC) are major environmental concerns, therefore governments are levying stringent policies to either curtail or completely ban them. This is driving the market in Brazil. The cooperation of the Brazilian government with EPA has resulted in intensifying the regulations for environment degradation, which are resulting in production of low VOC containing paints. In 2016, AkzoNobel has launched Coralar, a low-VOC wall paint, to comply with the increasing VOC regulations.
Acrylic Emulsions - the Fastest Growing Segment
Based on product type, acrylic emulsion has a highest share, and is expected to be the fastest growing segment because of increasing demand from end user industries like construction and automotive. This demand is in response to rapid urbanization, which has resulted in growing population and rising disposable income. This, consequently is increasing residential houses, thereby driving the demand for acrylic emulsion. In Brazil, the government is planning to resume about 7,000 construction projects with an investment of BRL 131 billion. With programs like 'My House, My Life', the government is planning to provide affordable housing.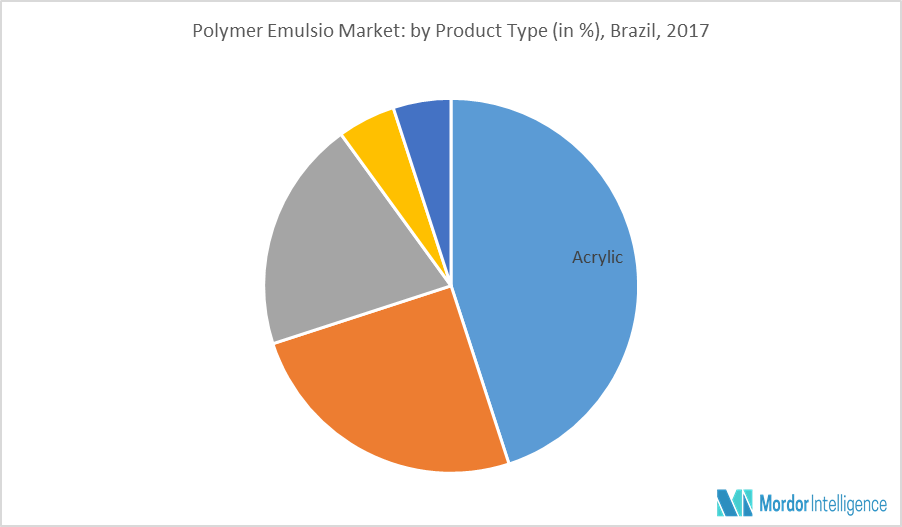 Notable Developments
November 2016: Sumitomo Chemical has announced the opening of Latin America Research Center ("LARC") in Brazil. LARC, Sumitomo Chemical Group's first research and development base in Latin America, is operated by Sumitomo Chemical Brazil, the Company's wholly owned subsidiary.
Major Players: 3M, Akzo Nobel NV, Arkema SA, BASF SE, Clariant AG, DowDuPont, Synthomer PLC, and Wacker Chemie AG among others.
Reason to Purchase this Report
Analyzing various perspectives of the market with the help of Porter's five forces analysis.
To understand the dominating product type and application in the market.
Countries expected to witness the fastest growth during the forecast period.
Identify the latest developments, market shares, and strategies employed by the major market players.
3 months analyst support, along with the Market Estimate sheet (in excel).
Customization of the Report
This report can be customized to meet your requirements. Please connect with our representative, who will ensure you get a report that suits your needs.
1. Introduction
1.1 Scope of the Report
1.2 Research Phases
1.3 Study Deliverables
2. Executive Summary
3. Market Insights
3.1 Industry Value Chain Analysis
3.2 Industry Attractiveness – Porter's Five Force Analysis
3.2.1 Bargaining Power of Suppliers
3.2.2 Bargaining Power of Consumers
3.2.3 Threat of New Entrants
3.2.4 Threat of Substitute Products and Services
3.2.5 Degree of Competition within the Industry
4. Market Dynamics
4.1 Drivers
4.1.1 Strict government regulations regarding VOCs
4.1.2 Other Drivers
4.2 Restraints
4.2.1 Availability of substitutes
4.2.2 Other Restraints
4.3 Opportunities
4.3.1 Recovering Building and Automotive Sector
4.3.2 Other Opportunities
5. Market Segmentation and Analysis - (Market size, Growth, and Forecast)
5.1 By Product Type
5.1.1 Acrylics
5.1.2 Polyurethane (PU) Dispersions
5.1.3 Styrene Butadiene (SB) Latex
5.1.4 Vinyl Acetate
5.1.5 Others
5.2 By Application
5.2.1 Adhesives & Carpet Backing
5.2.2 Paper & Paperboard Coatings
5.2.3 Paints & Coatings
5.2.4 Others
5.3 By End-user Industry
5.3.1 Building & Construction
5.3.2 Chemicals
5.3.3 Automotive
5.3.4 Textile
5.3.5 Others
6. Future of the Market
7. Competitive Landscape
7.1 Mergers & Acquisitions, Joint Ventures, Collaborations, and Agreements
7.2 Market Share Analysis
7.3 Strategies Adopted by Leading Players
8. Company Profiles (Overview, Financials**, Products & services, Recent Developments)
8.1 3M
8.2 Akzo Nobel NV
8.3 Arkema SA
8.4 BASF SE
8.5 Clariant AG
8.6 Cytec Industries Inc
8.7 DIC Corp
8.8 DowDupont
8.9 Reichhold Inc
8.10 Sumitomo Chemical
8.11 Synthomer plc
8.12 Wacker Chemie AG
*List not exhaustive
9. Disclaimer
**Subject to availability on public domain