Brazil Manufacturing Predictive Analytics Market - Introduction
The Brazilian manufacturing predictive analytics market was valued at USD 87.92 million in 2017, and is expected to register a robust CAGR of 22.23% over the forecast period. Predictive analytics in manufacturing is a technique that uses statistical tools to predict the future events, by making use of data from the past and present. In the era of smart manufacturing, predictive analytics is considered to play an important role in advancing the manufacturing industry to the next level, by making the the industry transform toward digital revolution. Brazil's share in world manufacturing exports increased from 0.59% in 2015 to 0.61% in 2016. The indicator reversed a downward trend observed since 2012. In 2017, Brazil's share remained at about the same percentage recorded in 2016.
Increased Adoption of Advanced Technologies due to Evolution of Industry 4.0
The technologies that form Industry 4.0 are an opportunity for Brazil to create a new industrial sector. The predictive analytics technology in manufacturing is a very new advancement in the Brazilian market. The software is increasing being implemented by FMCG manufacturers to simply processes and improve efficiency. Though there are technological gaps in the Brazilian manufacturing industry to fully adopt and use the predictive analytics software, multinational companies have helped push the technological horizon and brought about the introduction of this technology in Brazil. The industry in Brazil is in need of the advancements brought about by solutions provided by Industry 4.0. With the shrinking Brazilian manufacturing market, manufacturers and the government are reaching out to technological approaches to improve the market. Brazil is a potential market for the implementation of predictive analytics solutions in various verticals, such as BFSI, healthcare, and manufacturing, among others.
Increasing Demand for Off-premise Could Service
The off-premise segment of the manufacturing predictive analytics market in Brazil was valued at USD 69.18 million in 2017. Predictive analytics in manufacturing industries uses a combination of IoT, cloud, and analytic technology to monitor machine conditions. Off-premise basically includes cloud-based and served-based systems. In the recent years, the low cost and ease of implementation have made cloud deployment a highly desirable delivery model among enterprises, worldwide. The cloud is a major component of Industry 4.0 in Brazil, allowing on-demand access to data and communication. Connectedness and networked models, all depend on the successful adoption and implementation of the cloud. Cloud computing has opened the door for many other technologies, including analytics, industrial IoT, and robotics.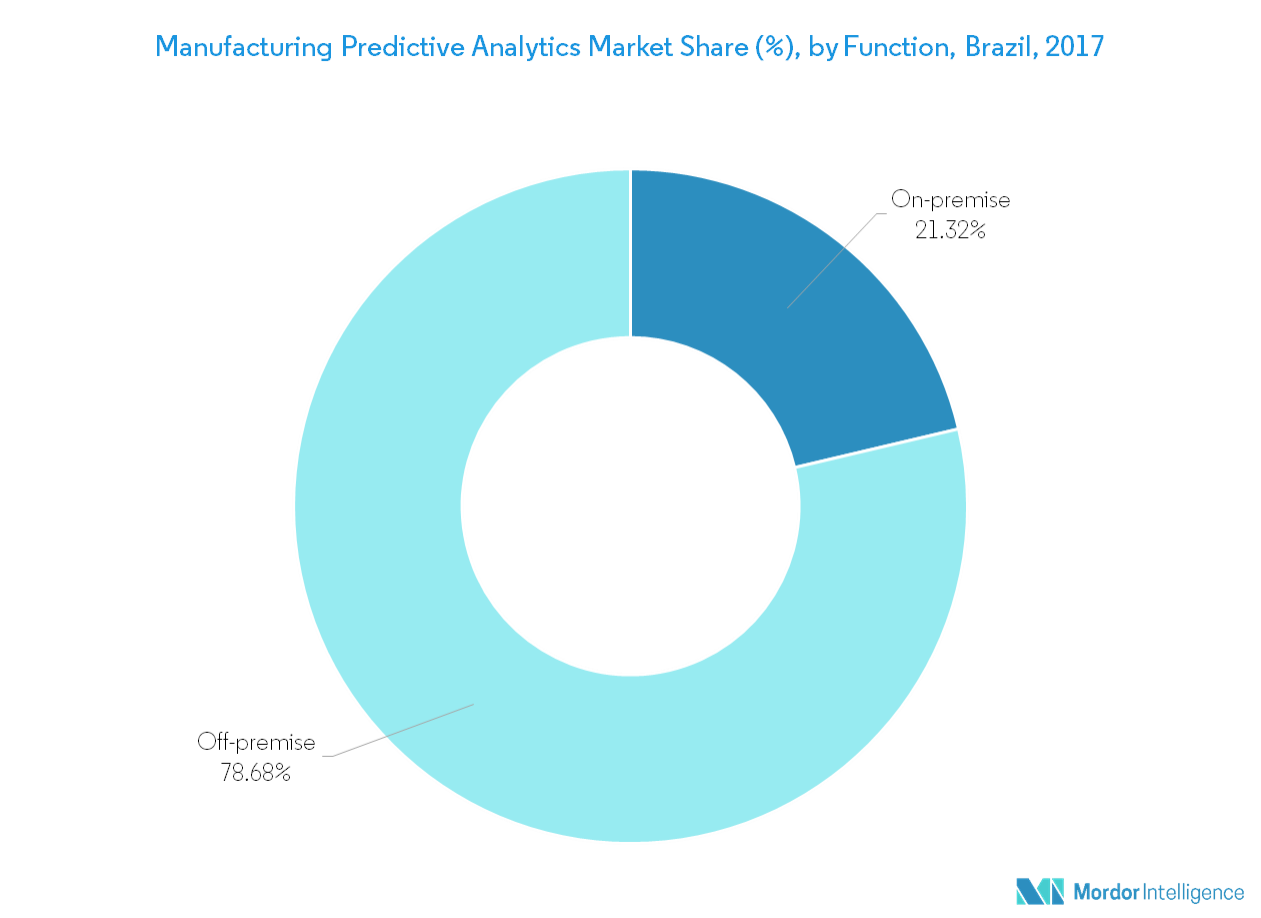 Significance of Machine Learning and Artificial Intelligence (AI) in the Market
ML helps the manufacturing sector in the production, quality control, and overall equipment effectiveness (OEE), optimizing the supply chain and predictive maintenance. According to industry sources, more manufacturers are likely to adopt machine learning and analytics to improve predictive maintenance. For instance, Mercedes-Benz has turned to AI to support its digital transformation. The brand runs a large-scale production plant in Brazil, where it manufactures a range of trucks and buses. The sheer size of the operation means the brand needs to be as smart, agile, and streamlined as possible when it comes to all areas of business, including sales. With Azure Machine Learning (product of Microsoft), the manufacturer has managed to revolutionize its sales process. The tool brings together internal and external data, which includes registration numbers, macroeconomic indicators, local legislation, sales information, and statistics.
Additionally, Microsoft helps boost the capabilities of smart factories, from production to management. Some companies use Azure DocumentDB and HDInsight to collect production histories, and Azure Machine Learning to keep factories running. The system can predict defects before they happen as well.
End-use Case Study
Fibria is a Brazilian pulp and paper company, created by the merger between Aracruz Celulose and Votorantim Celulose e Papel. The company has a production capacity exceeding six million metric ton of pulp and paper ,produced in seven factories and distributed in five Brazilian states. Much of the production goes to exports. As per the company's official sources, through the implementation of SAP BusinessObjects Predictive Analytics software with the SAP HANA platform, Fibria has optimized technology center operations and mill operations, achieving ROI in less than one year. Fibria's was the first analytics project in Brazil to use SAP BusinessObjects Predictive Analytics and the first-ever project involving wood pulp to use the software. The outcomes were so positive that Fibria achieved a remarkable Return on Investment (ROI) in less than one year of deploying the software in production. The outstanding outcomes experienced in the two initial projects have led Fibria to consider gradually deploying predictive analytics with SAP HANA in other projects that were identified in the strategic IT business forums.
Investment Outlook
According to a global survey, Brazilian organizations plan to invest more (about 77% of respondents) in hiring additional data and analytics talent. Additionally, most of the organizations plan to use data and analytics to analyze how current products and services are used, to develop new products and services, and to drive strategy and change. Most of the organizations plan to invest and leverage around advanced and predictive analytics. But in terms of taking advantage of analytical capabilities, the manufacturing department was ranked seventh, preceded by IT, finance, customer service, sales, field service, and marketing. To allow predictive analytics to penetrate into the market, more investments are needed.
Key Players
International Players
IBM, Microsoft, Oracle, SAS, SAP SE, and Tableau, among others
Local Players
Tivit, Falkonry, C3 IoT, Uptake, and Presenso, among others
Brazil Manufacturing Predictive Analytics Market Report Summary
| | |
| --- | --- |
| Metrics | Details |
| Industry | Brazil Manufacturing Predictive Analytics Market |
| Study Period | (2017-2023) |
| Market Size in 2017 | USD 87.92 million |
| Market Size in 2023 | Provided in the Full Report |
| Growth Rate | 22.23% |
| Companies Covered | IBM, Microsoft, Oracle, SAS, SAP SE, Tivit, Falkonry, C3 IoT, Uptake |
| Report Offerings | Brazil Manufacturing Analytics Market offers latest trends, growth prospects, industry competitiveness, major players, segment market share, and forecast till 2023. |
Reasons to Purchase this Report
To study the current and future analysis of the developed and emerging markets
Analyze various perspectives of the market with the help of Porter's five forces analysis
Detailed analysis of the segment that is expected to dominate the market
Regions that are expected to witness fastest growth during the forecast period
Identify the latest developments, market shares, and strategies employed by the major market players
3-month analyst support, along with the market estimate sheet in Excel
Report Customization and Benefits
This report can be customized to meet the desired requirements. Please connect with our analyst, who will ensure that you get a report that suits your needs.