The Europe Bio-polymers market is expected to grow at a healthy rate during the forecast period, 2018 - 2023. The major factors driving the growth of the bio-polymers market in Europe are the developments in drop-in biopolymers and the stringent environmental regulations in the region. A majority of the demand can be attributed to the significant demand from rigid packaging applications in the region.
Drop-in Biopolymers Leading the Way
Drop-in solutions provide a method of producing bio-based polymers through the conventional processing techniques used for developing petrochemical based polymers. This is done by replacing petrochemical feedstock with biogenic feedstock, which is aiding the manufacturers as the property profiles and processes involved have already been established. A great deal of focus is being given to the production of renewable monomers, which directly replace petroleum derived alternatives. Polyethenes and polyesters that are 100% renewable are being produced and this trend is expected to grow in the coming years. Owing to the wide range of applications, the demand for bio-based PE and bio-based PET is expected to propel during the forecast period in region.
Packaging Industry the Largest End-user Industry
Increasing usage of bio-based and biodegradable materials such as Polylactic acid (PLA), Polyhydroxyalkanoates (PHA), cellulose and starch blends offer the required packaging solutions, along with enhanced properties, such as biodegradability and compostability. PLA is growing as an interesting prospect for the rigid packaging market, owing to its high stiffness in turn enabling manufacturers to go for thinner-walled packaging. Increasing applications of fully bio based PET for manufacturing bottles has proven to be a viable choice for replacing conventional PET bottles. Also, bio-based PE is being used for packaging of cosmetics. Major brands, such as Coca-Cola, Vittel, Volvic, Procter & Gamble, Heinz and Johnson & Johnson are moving towards using bio-based packaging materials for their products. Owing to these factors, the demand for biopolymers in the region is expected to propel in near future.
Germany to Witness Strong Growth for Biopolymers
Germany is one of the largest markets with a huge potential for the growth of bio-polymers in the Europe region. The usage of biopolymers is widely supported in Germany, with the Government supporting the usage of bio-based and compostable biowaste plastic bags for the collection of biowaste, according to the Biowaste Ordinance. In 2017, a new packaging law has been passed in the country to support the usage of bio-based packaging materials, which is expected to propel the usage of bio plastics during the forecast period.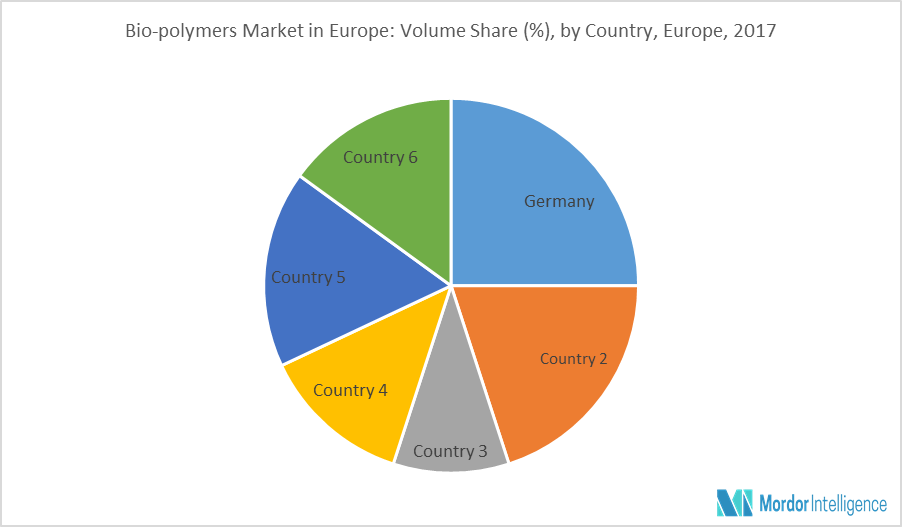 Key Developments
November 2017 – BASF SE has shut down its ecoflex and ecovio bio-plastics manufacturing plant at Ludwigshafen, Germany
Major Players: BASF SE, Novamont, Natureworks LLC, Corbion, DSM, and Sulzer Ltd., among others
Reasons to Purchase this Report
Current and future of the Europe bio-polymers market in the developed and emerging markets
Analyzing various perspectives of the market with the help of Porter's five forces analysis
The segment that is expected to dominate the market
Countries that are expected to witness fastest growth during the forecast period
Identifying the latest developments, market shares, and strategies employed by the major market players
3-month analyst support, along with the Market Estimate sheet (in excel)
Customization of the Report
This report can be customized to meet your requirements. Please connect with our representative, who will ensure you to get a report that suits your needs