Automotive Upholstery Market
The global automotive upholstery market is expected to register a CAGR of 8.92% during the forecast period of 2018–2023. Leather and vinyl upholstery will see the highest growth during the forecast period.
Growing Demand for Comprehensive Interiors
Automotive upholstery is a vital part of interiors, both in the line fit and retrofit market, where seats alone, account for 5% of the vehicle's cost and 6% of its weight. Car buyers, especially in the Asia-Pacific and Middle East regions are very particular about the interiors of the vehicle. They demand relatively better quality of upholstery than their European counterparts. This trend will propel the growth of the premium upholstery market. In addition, super luxury car sales, across the globe, in 2016 increased to 15.9% over 2015, which was majorly fueled by the growing demand in United States, followed by the United Kingdom, and China.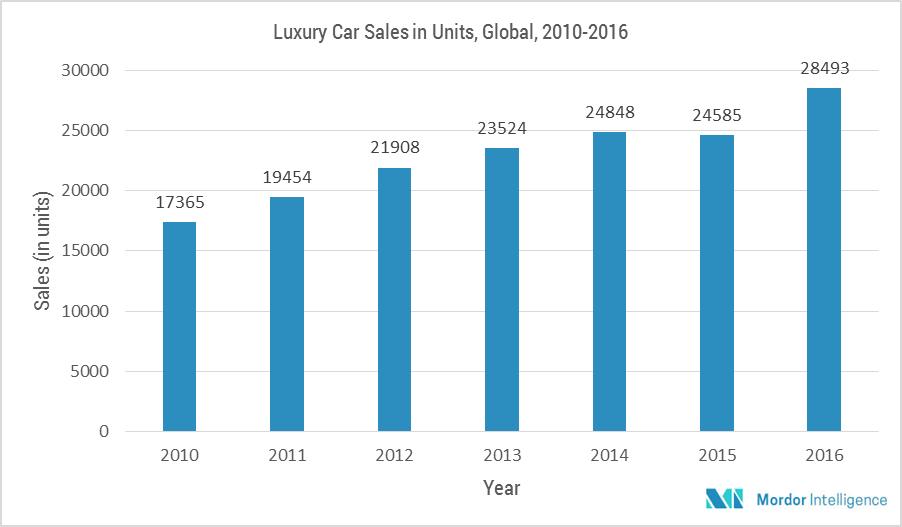 Source: JATO/ Mordor Intelligence Analysis
The Asia-Pacific region, led by China, Japan, and India, is currently the largest market for automotive upholstery and is expected to lead the growth in the forecast period.
Customization in Upholstery Expanded Aftermarket Share
The original equipment manufacturers (OEMs) are expected to register faster growth than the aftermarket but the aftermarket suppliers will also experience expansion. Factors, such as greater customization trends, rising mechatronics in automotive upholstery design, and the rise in the affordability range of buyers, significantly contributed to the aftermarket share of about 30% of the automotive upholstery market. The average cost of vehicles is increasing gradually in the Asia-Pacific region and this will boost the market for the original equipment manufacturers.
Key Developments in the Automotive Upholstery Market:
April 2016: Faurecia's Cover Carving Technology for automotive seats, has won the Automotive News PACE Award. The technology was successful in cutting the tooling costs by 80% and is 50% lighter than a plastic back panel.
In 2016: Mercedes-Benz banged first in the global luxury brand sales pushing back BMW and Audi, where the Mercedes-Benz models majorly supplied with standard Tunja fabric for Upholstery.
Automotive Upholstery Market Major Players:
Faurecia.
Johnson Controls.
Toyota Boshoku.
Katzkin.
Reasons to Purchase Automotive Upholstery Market Report:
Latest technology trends adopted by the manufacturers in the automotive upholstery market.
Analyzing various perspectives of the market with the help of Porter's Five Forces Analysis.
Study on material type and end markets that are expected to dominate the market.
Study on the regions that are expected to witness fastest growth during the forecast period.
Identify the latest developments, market shares and strategies employed by the major market players.
3-month analyst support, along with the Market Estimate Sheet (in Excel).
Automotive Upholstery Market Report Customization:
This report can be customized to meet your requirements. Please connect with our analyst, who will ensure you get a report that suits your needs.
1. Introduction
1.1 Scope of the Market
1.2 Market Definition
2. Research Methodology
2.1 Study Deliverables
2.2 Study Assumptions
2.3 Analysis Methodology
2.4 Research Phases
3. Executive Summary
4. Automotive Upholstery Market Overview
4.1 Current Market Scenario
4.2 Technology Trends
4.3 Porter's Five Forces Analysis
4.3.1 Bargaining Power of Suppliers
4.3.2 Bargaining Power of Consumers
4.3.3 Threat of New Entrants
4.3.4 Threat of Substitute Products and Services
4.3.5 Competitive Rivalry within the Industry
5. Market Dynamics
5.1 Automotive Upholstery Market Drivers
5.1.1 Increasing Passenger Car Sales Across the Globe
5.1.2 Improvement and Advancement in Automotive Interior Components
5.2 Automotive Upholstery Market Restraints
5.2.1 Availability of Cheap Alternatives
5.3 Automotive Upholstery Market Opportunities
5.3.1 Personalized Interiors using 3D Printers
6. Market Segmentation and Analysis (Market Size, Growth, and Forecast)
6.1 Automotive Upholstery Market By Material Type
6.1.1 Leather
6.1.2 Cotton
6.1.3 Fabric
6.1.4 Vinyl
6.1.5 Others
6.2 Automotive Upholstery Market By End Markets
6.2.1 OEM
6.2.2 Aftermarket
7. Regional Market Analysis (Market Size, Growth, and Forecast)
7.1 North America Automotive Upholstery Market (2018-2023)
7.1.1 The United States Automotive Upholstery Market (2018-2023)
7.1.2 Canada Automotive Upholstery Market (2018-2023)
7.1.3 Rest of North America
7.2 Asia-Pacific Automotive Upholstery Market (2018-2023)
7.2.1 China Automotive Upholstery Market (2018-2023)
7.2.2 India Automotive Upholstery Market (2018-2023)
7.2.3 Japan Automotive Upholstery Market (2018-2023)
7.2.4 Rest of Asia-Pacific
7.3 Europe Automotive Upholstery Market (2018-2023)
7.3.1 Germany Automotive Upholstery Market (2018-2023)
7.3.2 The United Kingdom Automotive Upholstery Market (2018-2023)
7.3.3 France Automotive Upholstery Market (2018-2023)
7.3.4 Italy Automotive Upholstery Market (2018-2023)
7.3.5 Rest of Europe
7.4 Rest of the World
7.4.1 Brazil Automotive Upholstery Market (2018-2023)
7.4.2 Argentina Automotive Upholstery Market (2018-2023)
7.4.3 South Africa Automotive Upholstery Market (2018-2023)
7.3.4.4 Other Countries
8. Automotive Upholstery Market Competitive Landscape
8.1 Mergers & Acquisitions, Joint Ventures, Collaborations, and Agreements
8.2 Market Share Analysis**
8.3 Strategies Adopted by Leading Players
9. Automotive Upholstery Market Company Profiles (Overview, Financials**, Products & Services, Recent Developments, and Analyst View)
9.1 Adient
9.2 CMI Enterprises
9.3 Eagle Ottawa LLC
9.4 Faurecia
9.5 IMS Nonwoven
9.6 Katzkin
9.7 Naugahyde
9.8 Seirin
9.9 The Woodbridge Group
9.10 Toyota Boshoku
*List not Exhaustive
10. Future of the Automotive Upholstery Market
11. Disclaimer
**Subject to Availability on Public Domain